Cell Phone Carriers Provide More Parental Controls
Techlicious editors independently review products. To help support our mission, we may earn affiliate commissions from links contained on this page.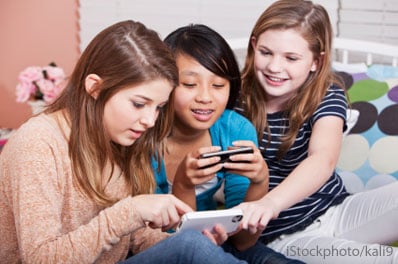 A cell phone is a big responsibility, especially in the hands of a child. It raises the specter of texting while driving, exposure to mature content, cyberbullying, neglect of schoolwork and astronomical cell phone bills. But the cell phone service providers aren't leaving you hanging.
Recently, Sprint announced Sprint Guardian ($9.99 for up to 5 lines), which will address all of these issues in one plan when it launches this summer (currently you have to subscribe to three separate services). And while Sprint may have the most comprehensive set of parental controls, including location tracking, alerts when your child texts an unknown number and when he's downloaded a new app, all of the major carriers —AT&T, T-Mobile, Verizon and Sprint—have started offering more parental controls.
Here's what you get and how the carriers stack up.
Keeping Track of Your Kids
All four major carriers let you track the location of your child and set up zones where your child is allowed to go —giving you an automatic alert (to either your cell phone or computer) if they leave that zone. Verizon's Family Locator ($9.99 for up to 10 lines) and Sprint's Family Locator ($5 for 4 lines) use the GPS on your child's phone to pinpoint their location. AT&T's FamilyMap ($9.99 for 2 lines) and T-Mobile's FamilyWhere Check ($9.99 for up to 10 lines) services will use GPS, if it's available, or triangulation using cell phone towers. The latter isn't quite as accurate, but works better indoors and means the service can be used with phones without GPS.
Talk Time
T-Mobile and Verizon let you put a cap on minutes. And all carriers let you limit outbound phone calls to specific times or days — Sprint, T-Mobile and Verizon will limit in-bound calls as well. Of course, your child can still make 911 calls to emergency services and a set of pre-designated contacts at any time.
Text Messaging
For starters, it can be a terrific time waster and, if you don't get a plan with unlimited text messaging, the costs can really add up. You can also protect your child from unwanted messages with number blocking. AT&T, T-Mobile and Verizon let you put a cap on the number of messages and all let you block messaging or just picture messaging or texts from specific numbers.
Entertainment
Entertainment on a mobile phone can be anything from games to music to ring tones to video. Downloading new content to a phone can cost extra on a pay-as-you-go service plan, so again, you need to put a cap on things or establish limits with your child. While Verizon, AT&T and T-Mobile make a big deal out of their entertainment offerings, they will let you set a spending cap. Sprint only allows you to turn this feature on or off. All have content filters that prevent your child from viewing mature content.
Driving Controls
Looking to lock out texting while driving for your teen? Sprint's Drive First ($2 per line) and T-Mobile's Drive Smart ($4.99 for up to 10 lines) will automatically lock out texting when the phone reaches a driving speed, or about 10 miles per hour. AT&T offers a free Android app, but it requires the user to activate the controls.
Monitoring
Sprint takes the lead here with its Sprint Mobile Controls ($4.99 per line), a service that lets you see the apps your child downloads, who they talk and text with, as well as receive alerts when your child is exhibiting risky behavior. Risky behavior could be anything from late hour texting to overriding the lock screen to calling an unknown contact.
Discussion