We may earn commissions when you buy from links on our site. Why you can trust us.

Comparing iWork for iCloud to Google Docs & Microsoft Office Web Apps
Everyone uses Microsoft Office. The problem is, it's expensive—starting at $140 for a single computer license or a whopping $99 a year under Microsoft's new subscription plan. But if you're upgrading to a new computer or buying one for a child heading back to school, you may not want to put out that much cash.
And you don't have to.
There are alternatives to Microsoft Office that provide many of the most commonly used features of Word, Excel and PowerPoint at a much better price—free. And unlike older Office alternatives, such as OpenOffice, the new online office suites from Apple, Google and Microsoft, too, will work on your Android and iOS devices, as well.
Here's how the big three stack up.
iWork for iCloud
A beta version of Apple's iWork—a suite of apps called Pages, Numbers and Keynote for creating documents, spreadsheets and presentations, respectively—is now integrated into iCloud, Apple's cloud storage service. It lets you create and edit documents using Safari, Chrome or Internet Explorer on your PC or Mac and then access and edit them from your iOS devices, as well as vice versa.
While you used to have to pay for iWork, code discovered in iOS 7, which may be released next month, suggests Apple will give iWork away for free. If so, Apple joins the ranks of Google and Microsoft, both of which have had similar free web app offerings for a while.
iWork for iCloud predictably feels markedly "Applesque" and smacks of simplicity. Compared to Google's and Microsoft's suites of apps, Pages (word processing), Numbers (spreadsheets) and Keynote (presentations) are much less complex, with fewer features wrapped up in simple, intuitive—even beautiful—interfaces.
That said, it only lets you email documents to others whereas Google Docs and Microsoft Office Web Apps have excellent collaboration features that let others edit files (if you let them) while keeping the shared document updated with everyone working on it in real time. And, it doesn't work on Android devices.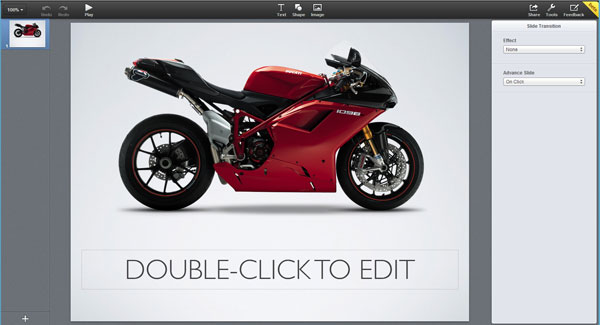 Google Docs
If you're heavy users of Google's products, it might make sense to continue doing so. I have an Android phone, use Google Maps all the time, prefer Hangouts to Skype and use Google+ pretty often. I like how these products work well together so I tend to opt for Google products when I can.
Google Docs is no exception. It comes with the most generous number of free fonts and templates for word processing and presentation docs, it supports simple charts in the spreadsheet program (unlike Microsoft Office Web Apps) and autosaves your documents. Google also gives you 15GB of free storage with Google Drive, which is the most generous of the three.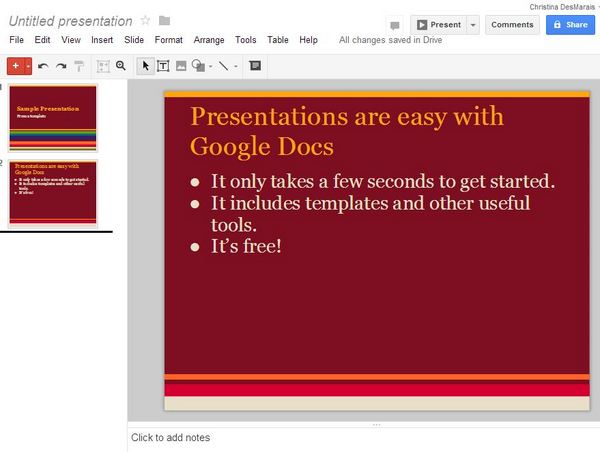 Microsoft Office Web Apps
If you're accustomed to using Office on your desktop the Microsoft's suite of web apps will feel very familiar. The online version of Microsoft Word, for example, looks almost exactly like Microsoft Word 2013 which is installed on my computer, although it's less busy on top, indicating it has slightly fewer features. Office Web Apps also works seamlessly with the full versions of the Office products, which will may be important if you need to work with Office docs.
Of the three choices, Office Web Apps is the only one that works on Windows Phone and gives you the most flexibility in terms of choosing inexpensive upgrades to storage. Plus, the SkyDrive interface is better than Google Drive—it's clean, modern and easy to figure out.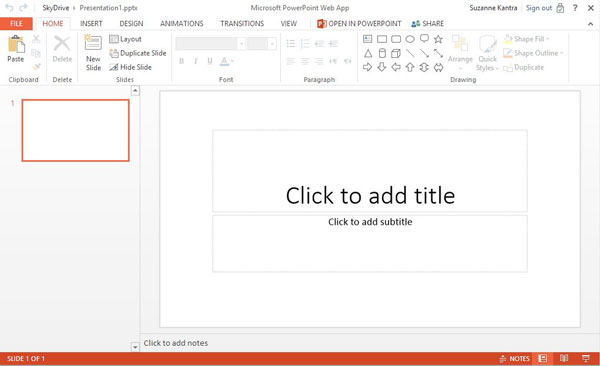 Still on the fence? Here are more differences between the three.
Free Cloud-Based Software Suites

| | | | |
| --- | --- | --- | --- |
| Software Suite | iWork for iCloud | Google Docs | Microsoft Office Web Apps |
| Free Storage | 5GB | 15GB | 7GB |
| Yearly cost to upgrade storage space | $20 to add 10GB; $40 to add 20G; $100 to add 50GB | $60 for 100GB | $10 to add 20GB; $25 to add 50GB; $50 to add 100GB |
| File transfer encryption | Yes | Yes | Yes |
| Versioning (lets you open prior save points) | Coming soon | Yes | Yes |
| Selective Sync (lets you choose which files are synced with which computer or device) | No | Yes | No |
| Share files | Yes | Yes | Yes |
| Collaboration | No | Yes | Yes |
| Social Features | Yes: follow other users, share on Facebook, Twitter and Tumblr | Yes: share station on Facebook and Twitter | Yes: like and share tracks and stations on Facebook and Twitter |
| Works on | PC, Mac, iOS | PC, Mac, iOS, Android | PC, Mac, iOS, Android, Windows Phone |
At the end of the day it's all good news for you. Not only are they all free, they all let you access and edit your files from anywhere you have a data connection. Your best bet is to choose the one that is connected to services you already use.

---
Discussion