14 Useful Products that Work with Alexa
Techlicious editors independently review products. To help support our mission, we may earn affiliate commissions from links contained on this page.
In the two years since the Amazon Echo launched, the Alexa voice assistant has become my personal assistant, entertainer, encyclopedia and central command for my home. As Alexa has gained new capabilities over time, I've come to rely on it more and more. Some new capabilities come from the skills added by other partners and manufacturers, such as reordering Starbucks for pickup or Pizza Hut for delivery, paying credit card bills and reading news and recipes.
It seemed like Alexa was everywhere at this year's CES, with products that were either Alexa-enabled or Alexa-integrated. An Alexa-integrated device has a built-in microphone that can complete most of Alexa's commands the same way as an Amazon Echo, Dot or Tap. You'll be able to turn on lights and other home devices or creating shopping and to-do lists by speaking commands just as you would an Amazon speaker. An Alexa-enabled gadget can be controlled by Alexa. These devices include smart power switches, light bulbs, vacuum cleaners and the Dish Hopper receiver.
When you're buying an Alexa-controlled product, look for the Amazon "Certified Works with Amazon Alexa" logo.
Alexa-integrated devices
Alexa-integrated products have Alexa built in. Use them alone to control your smart home devices, make lists, order pizza and more. It isn't necessary to have an Amazon Echo or other voice-activated speaker.
LG Smart InstaView Refrigerator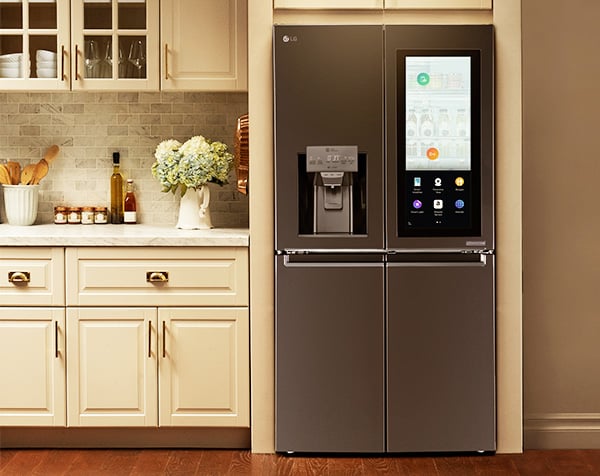 Alexa is at its best in the kitchen. Alexa in a smart refrigerator, like this LG Smart InstaView Refrigerator, makes perfect sense. Look up a recipe based on the ingredients in your fridge using the All Recipes skill, and then follow along as Alexa tells you how to make it step by step. Add eggs to your shopping list as you take out the last ones — or better yet, order the eggs right now, if Amazon PrimeNow is available in your city. Let Alexa be your cooking timer, or ask if food may be spoiled using the FridgeStorageTimeHelper skill.
The Smart InstaView Refrigerator is expected to be available in 2017, with the price still to be determined.
Guess Connect Smartwatch

The Guess smartwatch isn't like an Android watch or Apple Watch. It looks like an old-fashioned analog watch with hands and an LED readout, but it can connect to your phone and has its own Amazon Alexa. It's pretty handy. Wherever you are, you can ask Alexa for the nearest coffee shop or gas station. Find answers to math questions like "How much is 60 percent off of $85?" Look up the weather where you are or where you are going.
At home, Alexa waits conveniently on your wrist to control your smart devices from anywhere in your home. Turn on the lights downstairs before going down in the morning. Set timers, get a weather or traffic report, look up game scores, answer simple math questions or control your Nest thermostat. Our favorite: unlock the door when your hands are full.
The Guess Connect Smartwatch starts at $199.
iHome iAVS16 Bedside Clock Speaker System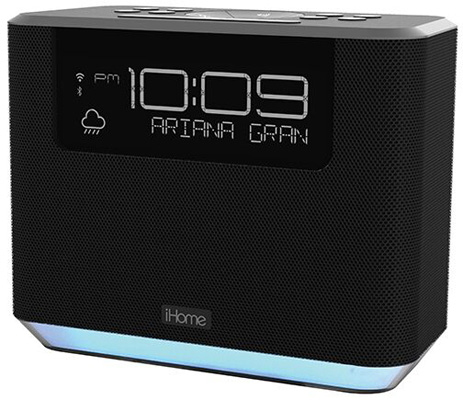 For a number of years, iHome has been making modern clock radios that connect to smartphones, a natural to include Alexa. Far-field voice activation lets it react to commands whether you're lying next to it in bed or standing across the room. Tell Alexa to control your Nest thermostat before getting out of bed, turn the lights on or off, play music (including services such as Spotify, Pandora, iHear Radio and Amazon Music), listen to soothing bedtime sounds, play an audio book or set an alarm when you go to bed. Check your schedule, the weather and the traffic and get headlines when you wake up, or ask Alexa to snooze the alarm.
The iAVS16 has physical buttons as well in case you want to bash the clock to snooze or press a music preset button to play a Spotify playlist. It includes Bluetooth stereo speakers and has a USB port to charge mobile devices.
The Bedside Clock Speaker is expected to be released in fall 2017 at an expected price of $199.
Seiki, Westinghouse and Element Amazon TVs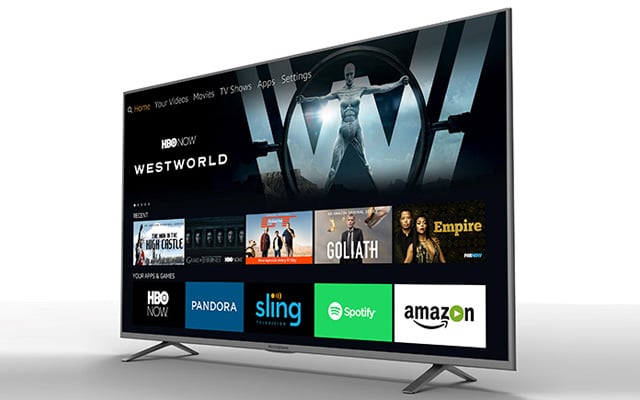 Seiki, Westinghouse and Element have all announced they will be releasing TVs this year including the Amazon Fire TV platform. The operating systems of these TVs will be based on the Fire TV media player menus and will include Alexa.
Alexa on Amazon TV can find titles, control video playback and play music. It can also help you control your smart home. Turn off the lights to watch a movie, or turn up your smart thermostat when you get a chill while sitting on the sofa. Lock your door or control other compatible connected home features. Ask Alexa to solve a math problem, and see the answer onscreen. Look up facts on historical figures, science, astronomy and other information. A Fire TV shows photos to accompany the facts; if you ask how far the sun is from earth, the system also displays a picture of the sun.
The Alexa-enabled TVs are expected to be released in the first half of 2017. No pricing has been set.
Brilliant Smart Home Control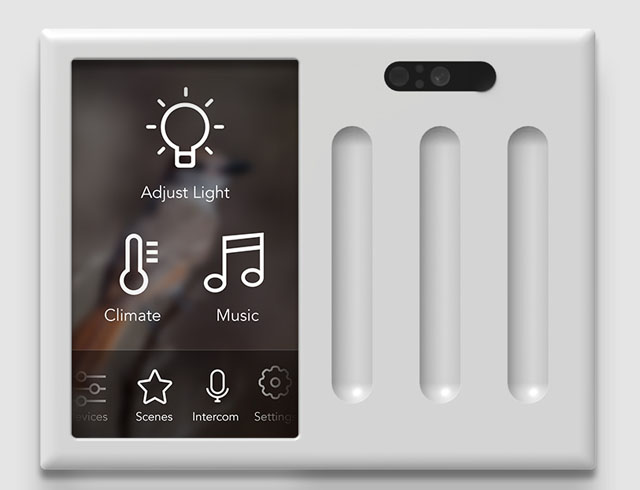 Available later this year, the innovative Brilliant smart home control system uses a touchscreen and voice-controlled panel to replace your light switch. The idea is similar to expensive Crestron panels but doesn't require professional installation.
Rather than relying on having your smartphone or tablet with you to control your smart devices, you can interact with Brilliant when you are in the room where it is installed. Anyone in the house can control lights, music and more without having a smartphone or tablet with an app. Along with Brilliant's own voice control, Alexa is included. Brilliant is capable of controlling almost any smart switch, lightbulb, door lock, thermostat or other smart home device. It can also connect to Sonos to play music throughout your home.
Brilliant will be available in fall 2017 for $199 per panel.
Ford Sync 3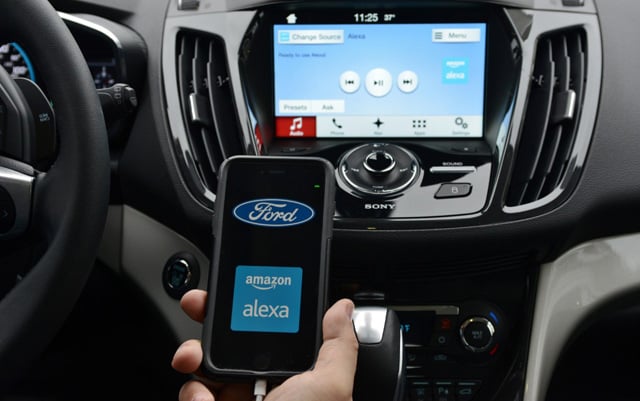 Take Alexa with you in the car as part of Ford's Sync 3 voice-activation system. With Alexa, drivers can listen to audiobooks, search for local destinations and get GPS directions, play music and add items to your shopping list, calendar or to-do list. From the car, Alexa can control your smart devices at home, including lighting, the thermostat, security systems and garage doors, so you can get out of the car with your home ready to welcome you. If you aren't within range of your home network, you'll need an additional Alexa device at home to carry out the commands. Alexa in your home will also be able to control the Ford to start or stop your car engine, lock or unlock doors and check on car data like fuel or electrical charge.
The Alexa-enabled (-controllable) Sync 3 is available as an upgrade on a number of 2016 vehicles and most of the 2017 lineup. In-car Alexa that can control your home remotely will be added by summer 2017.
Alexa-enabled and -controlled devices
While an Alexa-integrated device can be used in place of an Amazon Echo, an Alexa-enabled device can be controlled by Alexa. The types of devices that can be controlled by Alexa are expanding far beyond smart home devices such as lights, electrical outlets, door locks and thermostats. This year's Alexa-enabled products include home security systems, a vacuum cleaner and DISH Network's satellite receiver.
ADT Pulse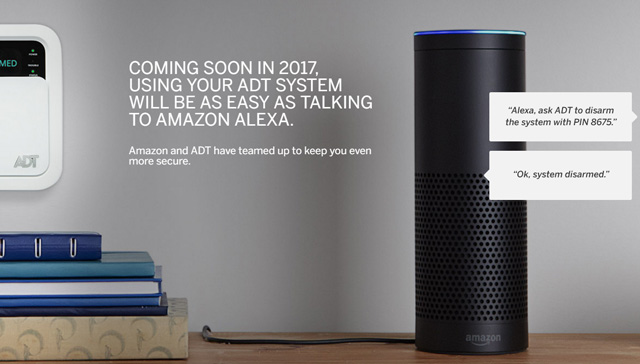 Security company ADT has been adding features like a mobile device app and will soon launch an Alexa skill that allows the ADT Pulse to be controlled by Alexa. With Alexa, you can check the status of your ADT security system and monitor, arm or disarm the security. You can also use it to control thermostats, or use Alexa on a Fire TV to augment video surveillance. The Pulse will be able to secure your home when you say, "Alexa, tell ADT to lock the front door."
Price varies based on your personal needs. Contact ADT for a quote.
Kwikset, Schlage and Yale Smart Locks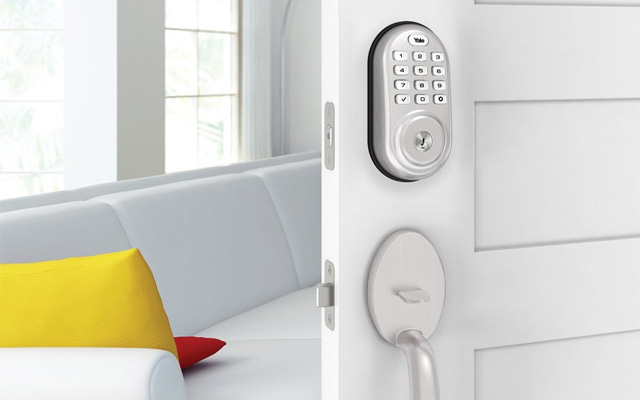 If you're not ready for a whole alarm system, you can get a lock that's Alexa-enabled. Through a recent update, smart locks that work with Samsung SmartThings and Wink hubs are now compatible with Alexa. You'll be able to check to see if the door is locked or lock the door using Alexa. You will not be able to unlock your door via Alexa for security purposes.
Compatible locks include Kwikset's Z-wave locks (starting at $140 on Amazon), Schlage Connect ($175 on Amazon), and the Yale Real Living (starting at $119) smart locks.
Samsung POWERbot R9350 Turbo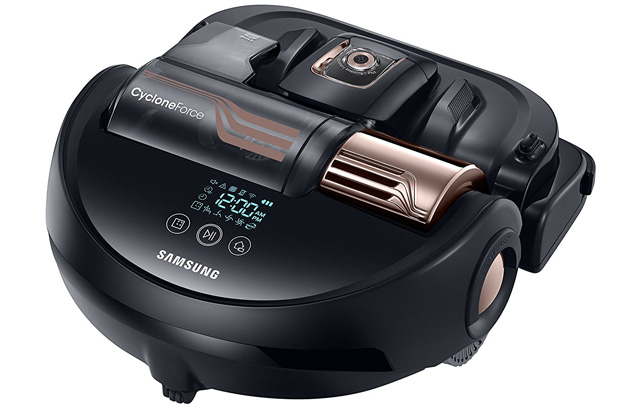 Samsung's top-of-the-line VR9350 POWERbot Turbo robo-vac can be controlled by Alexa. Start or stop the robot vacuum, and change between max, normal or quiet modes. When it's done, send it back to its charger by saying, "Alexa, ask Samsung to return Powerbot home," or "Alexa, ask Samsung to return robotic vac to charger doc." The company's next-gen VR7000, which is 28% slimmer will also be Alexa-enabled.
The Samsung VR9350 POWERbot Turbo is priced at $998 on Amazon. Pricing and availability for the VR7000 have not been set.
Dish Hopper Satellite Receiver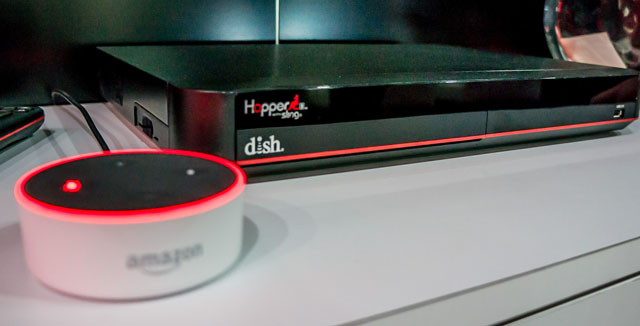 Dish Network's Hopper satellite receiver has led the way in innovations like skipping commercials and automatically recording prime-time network shows. This year, the Hopper will become Alexa-enabled. At first, Alexa will work with Hopper for voice search to find TV show and movie titles, genres and other searchable terms. Initially, you will be able to ask to tune to a specific channel as well. A Dish spokesperson says the goal is for the Alexa commands to take over all functions of the remote control including playback, navigation through menus, volume, changing channels, channel recall and more.
Customers that own a Dish Hopper will receive a software update that enables Alexa in the first half of 2017.
Incipio CommandKit Smart Power Strip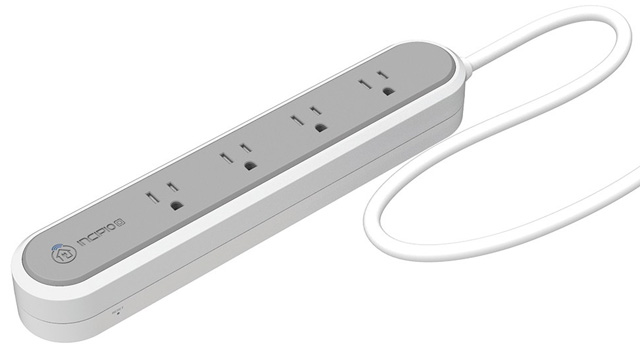 Incipio is adding to its line of smart switches and lightbulb controllers with a four-outlet smart power strip with Alexa control. Plug in a lamp, a fan and a TV and control each separately with an Alexa voice command. The unit has energy metering, so you can ask how much energy each plugged-in device has been using; turn it off if you find it's an energy vampire.
The CommandKit smart power strip will be available in spring 2017 for $99.
TP Link, Wemo and D-Link Smart Outlets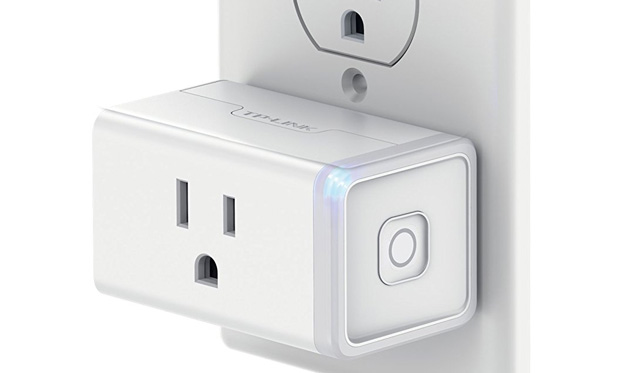 TP link has joined D-Link and Belkin (maker of Wemo devices) to offer smart outlets that don't require a hub connected to your home network router. Each smart outlet connects via Wi-Fi to your home network and can be controlled using Alexa. Once an outlet has been given a unique name, the lamp or electronic device can be controlled by saying, "Alexa, turn off [name of device, like living room light or TV]." It's particularly handy for turning off holiday lights.
All smart outlets are available now. The TP Link with monitoring is $50, and an Alexa-controlled version without monitoring that covers only one outlet is $35. D-Link's DSP-W215 with monitoring is $45. The Wemo Insight Switch with monitoring is $50.
Plex App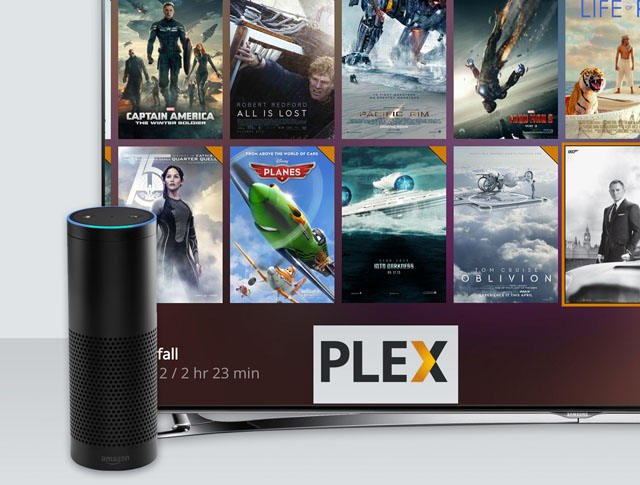 If you've downloaded a lot of media — movies, music and photos — the Plex app can help organize your library. It adds cover art, bonus videos, cast lists and more to make your library look like a streaming service.
Plex is available on most media players. This month, Plex added an Alexa skill that adds control over your Plex library. Tell Alexa to play a specific title, or ask Alexa to suggest something to watch and she may recommend a movie or TV series you've already started or a title you've recently added to your library.
Initially, the voice commands work best when the app is open on the media player. To begin, Alexa voice control works with the Plex app on the Fire TV (using the built-in Alexa or an external Amazon Echo), Apple TV, Amazon TVs (the NVIDIA Shield) and Roku.
Alexa voice commands are available to both free and premium PressPass users. Download a Plex server for free.
[Image credit: Voice control concept via BigStockPhoto, LG, Guess, iHome, Westinghouse, Brilliant Home Technology, Ford, ADT, Yale, Samsung, Dish Network, Incipio, TP Link, Plex ]
Discussion