14 Incredibly Useful Double-Duty iPhone Cases
Techlicious editors independently review products. To help support our mission, we may earn affiliate commissions from links contained on this page.
Considering how exquisitely Apple's signature device is designed, slapping on a case over an iPhone seems an aesthetic misdemeanor. On the other hand, considering how much you pay for an iPhone, protecting your elegant steel-and-glass investment in rubber or plastic armor seems only sensible. Therefore, if you're going to encase your iPhone's exterior artistry, said case ought to do more than just protect.
Fortunately, there is a plethora of cases for the iPhone X models that provide both artistic form and protection-plus function. These double-duty iPhone cases fall into three general categories: kickstand for hands-free reading or video viewing, battery to supply extra operating life, and wallet with slots to store a combination of credit cards and folded mad-money cash. Not surprising in our capitalistic culture, wallets comprise the overwhelming majority of dual-purpose iPhone cases.
In almost all these case cases, choices are available for a variety of iPhone sizes, as well as other phone models (usually Samsung Galaxy), and in a variety of colors. The options presented here are for the most recent X-series, the Xs Max, the Xs, and the Xr.
Other than their extra functionality, the great differentiator between all these double-duty cases is their ability to maintain an iPhone's Qi wireless charging capability. Obviously, this isn't an issue for everyone but is for anyone used to and desirous of maintaining cable-free charging convenience.
KICKSTAND CASES
A good kickstand case should have a kickstand that adds to or blends into the aesthetic of the case. And, of course, it should provide a stable prop for your phone. Here are our favorite combined case and kickstand options.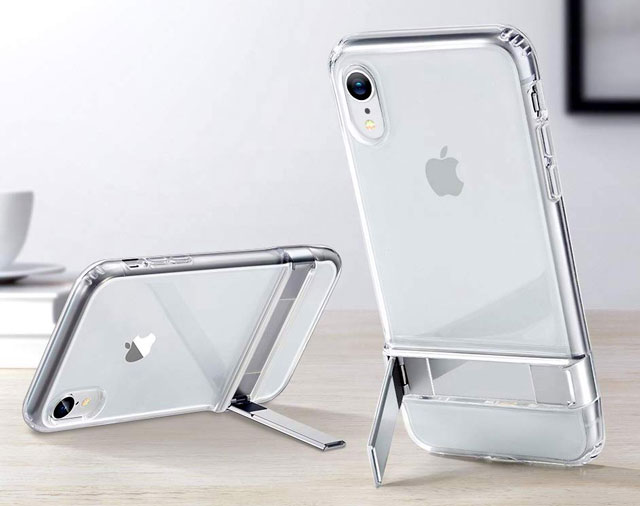 ESR Kickstand Case
This is about as simple – but as functional – as it gets for a double-duty case. You simply pull out the metal sliver slab on the rear of the case, and your iPhone stands steadily at around a 65-degree angle when oriented horizontally and around 75-degrees when oriented vertically. ESR says its kickstand cases are SGS-certified military drop protected, but this protection applies only to the black and silver versions, not the translucent or clear editions, so caveat emptor. If you hold your iPhone in your right hand, you can use the kickstand slab as an extra grip, and the top edges of the case are raised to protect the screen when you put your iPhone face down.
Wireless charging compatible? Yes
Price: $19.99 on ESR Gear, check price on Amazon for iPhone Xs, Xs Max, and Xr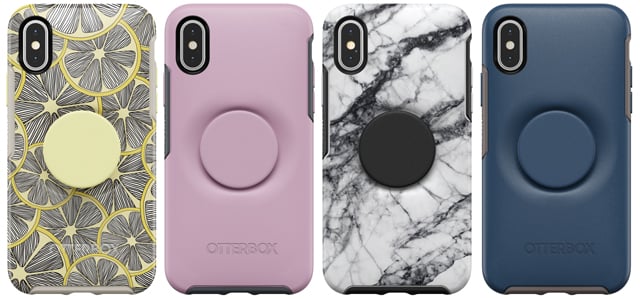 OtterBox Otter+Pop Defender Series
Okay, technically these aren't kickstand cases. But we had to include Otterbox's over-protective Otter+Pop cases for the ultra-active (or extra klutzy) amongst us. They include a built-in and nearly flush customizable PopSockets PopTop grip on the rear. Available in a teal-ish Winter Shade, burgundy Fall Blossom and basic black, among other colors, Otter+Pop armor includes an outer soft slipcover to absorb impact and a raised bumper around the top perimeter to help protect the screen from rubbing up against a surface when placed screen down. A couple of caveats, though: One, the case is difficult to get your iPhone into, so if you only need its extreme protection on special occasions you may want to pass. And two, while OtterBox says the case is Qi compatible, you may have to remove the PopTop for wireless charging.
Wireless charging compatible? Yes
Price: starting at $59.99 on Otterbox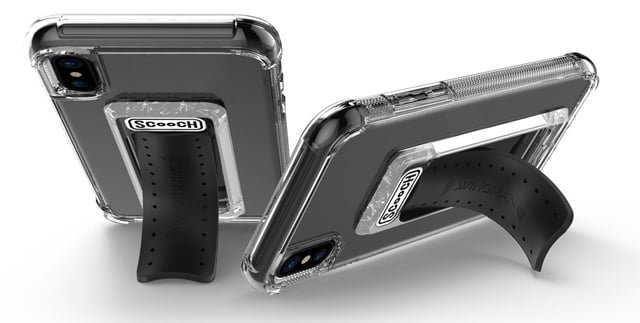 Scooch Wingman
In addition to hands-free viewing, the Scooch Wingman make it easy to keep a tight grip on your iPhone. The case has ridged sides, the unique Wingman pop-out kickstand doubles as a hand grip, and the case can be secured into most car air vents for safer driving. The rubbery Wingman kickstand springs up out of the center rear of the case after pressing its middle and provides a bouncy 35-degree viewing angle when oriented horizontally and a steadier 50-degree viewing angle when placed vertically. You can also add a Scooch Wingmount universal magnetic car mount attachment ($29.99 on Scooch Case, check price on Amazon). Scooch says the Wingman, available in black, electric violet and clear, is protected from falls up to six feet.
Wireless charging compatible?No
Price: $44.99 on Scooch Case, check price on Amazon for the Xs, Xs Max, and Xr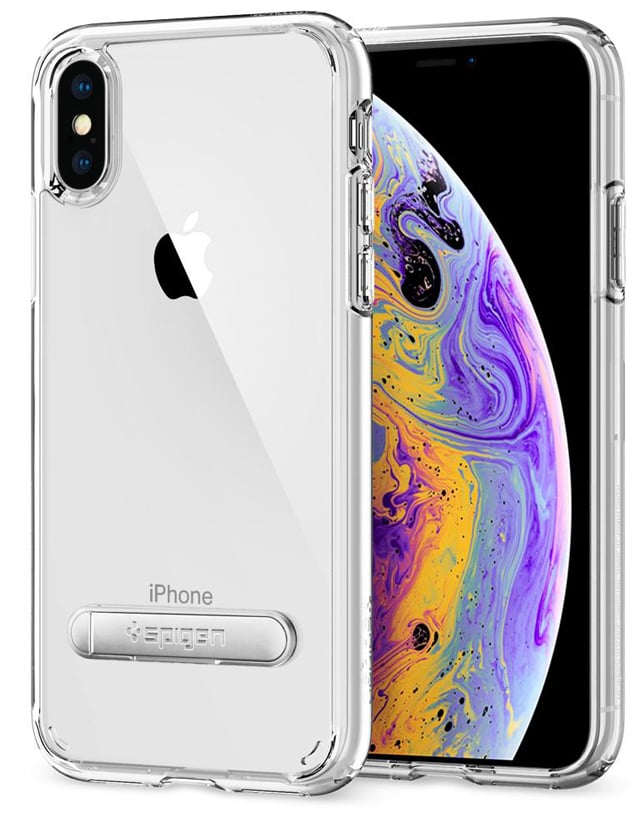 Spigen iPhone Xs Case Ultra Hybrid S
Spigen makes several protective "tough" and "slim" Armor cases with kickstands. But to keep iPhone's beauty intact, and not double its size, the Case Ultra Hybrid S employs the company's military-grade Ultra Hybrid S material, with a firm rear and an impact-absorbing perimeter. The good news: it's selling for an insanely low price. The bad news: it's available only for the Xs, not the Xr or Xs Max.
Wireless charging compatible? Yes
Price: $24.99 on Spigen, check price on Amazon
BATTERY CASES
The problem with most iPhone battery cases is that they cover the Lightning jack with a micro USB jack, which is fine for re-charging the battery and your iPhone, but useless for connecting Apple's Lightning-to-headphone jack and other accessories. Apple makes its own iPhone battery case ($129.00 on Apple, check price on Amazon for the Xs and Xr), but considering the cheaper and arguably better alternatives, it's hard to recommend Apple's case. Instead, check out these cases, which also solve the Lightning jack problem.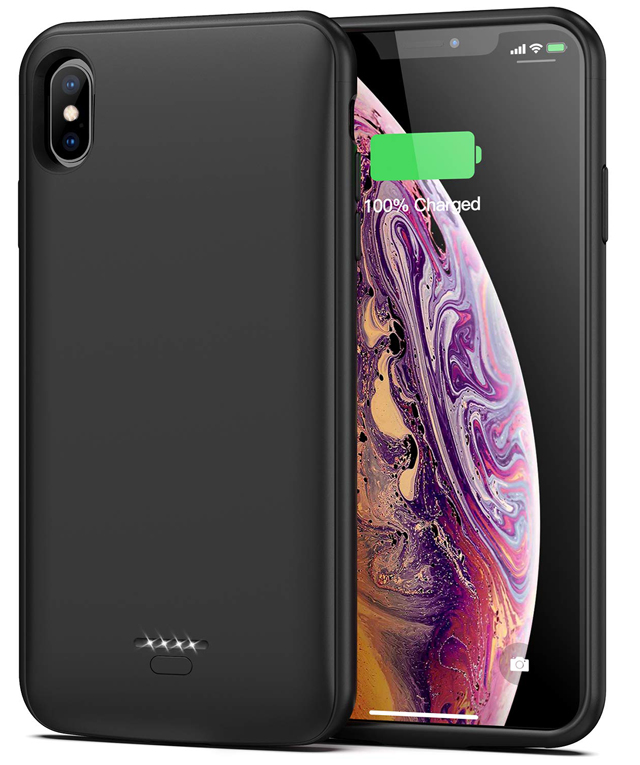 Lonlif Battery Case
Here's one of the most inexpensive (and highest rated) extra power solutions we could find. While the Lonlif Battery Case doesn't accommodate wireless charging, it does include a Lightning jack that works the same as the iPhone's jack for both charging and wired headphone connectivity. For power, you get a 5,000 mAh battery, which the company claims will add 15 hours of internet use, 18 hours of video playback, 30 hours of talk, and 65 hours of music play. Unlike other iPhone battery cases, the Lonlif is humpless, so it's better balanced and slips in and out of pockets more easily. The top piece comes off for easy iPhone insertion. Available in basic black or Apple-like rose gold.
Wireless charging compatible?No
Price: starting at $35.98, check price on Amazon for the Xs, Xs Max, and Xr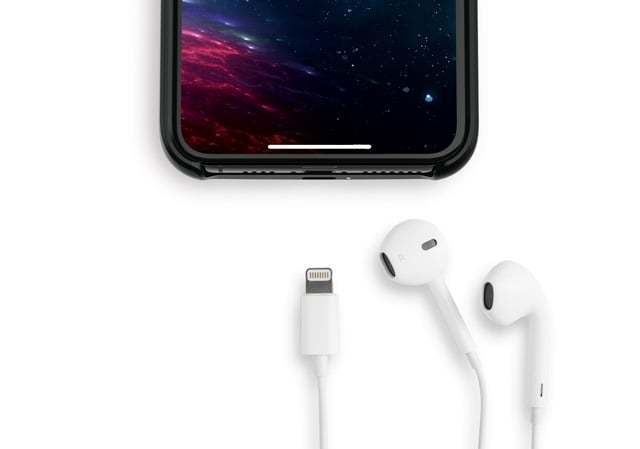 Mophie Juice Pack Access
Instead of blocking iPhone's Lightning jack, Mophie's Juice Pack Access leaves the base of your iPhone clear. You can wirelessly charge both the Juice pack and your iPhone simultaneously (your iPhone will charge first) or charge them separately via a wired USB-C connection – Mophie even includes the cable. The 2,000 mAh Juice Pack, available in black, sand and red for the Xr version plus blue for Xs Max and Xs, adds 25 (Xs/Xs Max) or 31 hours (Xr) of power for your iPhone, more than Apple's more expensive Smart Battery Case. And since the Juice Pack is two pieces, it's far easier to get on and off than Apple's hinged alternative, and its polycarbonate exterior provides slightly more impact protection than Apple's silicon wrap.
Wireless charging compatible? Yes
Price: $99.95 on Mophie, check price on Amazon for Xs and Xs Max
WALLET CASES
When you use a wallet case, your iPhone will be completely covered. But, you also can eliminate carrying a wallet, especially handy if you're out running a quick errand or just running for exercise. And, you also don't necessarily have to worry about losing wireless charging, either. Modern chip-based cards are immune to Qi charging (you might want to remove older mag stripe cards) and are perfectly safe to store when wirelessly charging your iPhone in a wallet case with cards stored in its rear.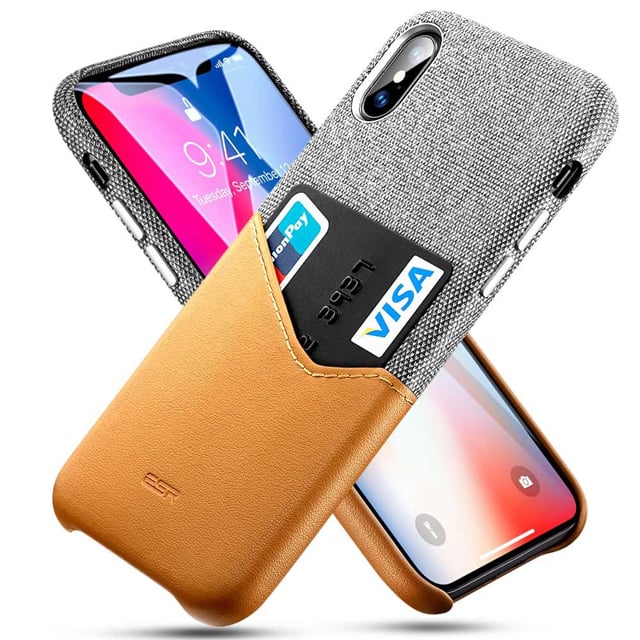 ESR Metro Series Wallet Case
ESR doesn't charge a lot for its Hermés-evocative wallet case, nor do you get a lot – but that's a good thing. That's because this is a really slim wallet case, actually, more like a case with a slim pocket where you can slip a couple of credit cards or a single card and a couple of folded bills. Instead of the usual rubber or plastic, the ESR Metro has a silkily cloth-covered inside to protect the iPhone X's glass rear, and outside, the slip pocket is made of PU leather (which feels like the real thing) in either black or brown.
Wireless charging compatible? No
Price:$16.99 on ESR Gear, check price on Amazon for Xs, Xs Max,and Xr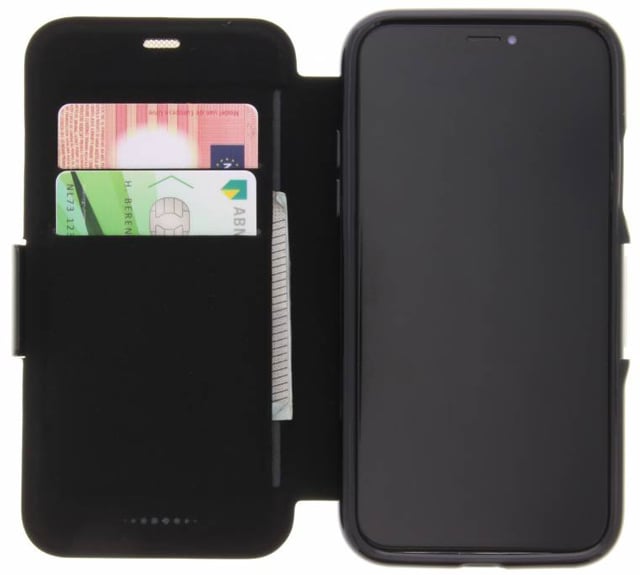 Gear4 Oxford
Possibly the most drop resistant of all these wallet cases is this slim Gear4 Oxford thanks to its lining of the seemingly magic D30. This soft, gooey substance is incredibly impact absorbent, and Gear4 claims this surprisingly thin flap-type wallet case can withstand drops from 10 feet. Inside the cover flap are two card slots and a wider slot for a couple of folded bills. The flap can be comfortably folded behind for one-handed operation or tucked under to create a triangle stand for handsfree landscape viewing, and a magnetic clasp helps the flap stay put.
Wireless charging compatible? Yes
Price: $69.99 on Gear 4 for the leather Xs case, Xs Max case and Xr case, check price on Amazon for the Xs, Xs Max, and Xr cases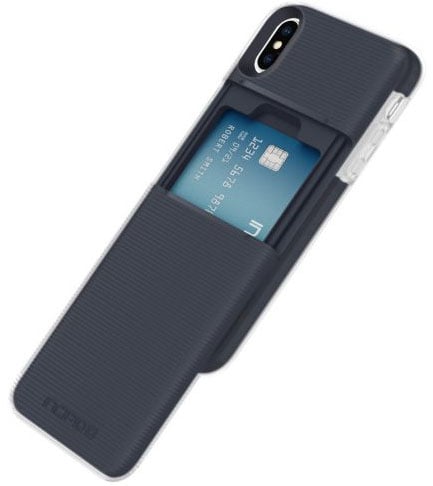 Incipio Stashback 2.0
From the outside, The Stashback 2.0 looks like your average protective silicon case supplying military-grade shock protection. But slide down the back of the case and you'll find a rear compartment that'll store up to three cards plus a folded bill. It takes a tug to open (which is a good thing), and the slide securely clicks into place so it won't accidentally open. Plus, the side buttons are flush with the case, which means fewer accidental activations. Even with the case and cards inside, your iPhone will still wirelessly charge, although it may take a bit of shifting on the charging pad to find the sweet spot. Stashback 2.0 comes in two colors: a dark blue and a lighter asphalt gray-ish black.
Wireless charging compatible? Yes
Price: $39.99 on Incipio, check price on Amazon for Xs, Xs Max and Xr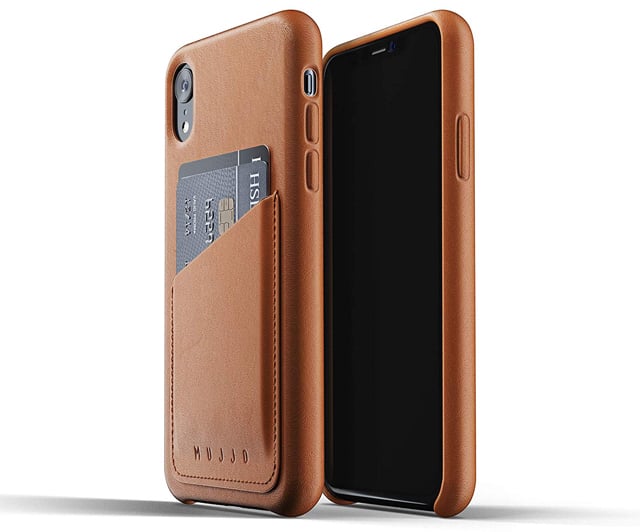 Mujjo Leather Wallet Case
While this slim, distinguished and relatively inexpensive wallet slip-on case may seem like a me-too product when you see a picture of it, you'll feel different after you hold it. Its austere design, visible stitching, suede lining, and soft leather exterior give Mujjo's leather wallet case a distinctly luxurious feel. Practically, the rear pocket can hold three cards, but they do get jammed in there – leather doesn't stretch. Available in black, blue, olive and natural brown.
Wireless charging compatible? Yes
Price: starting at $46.19 on Mujjo, check price on Amazon for Xs, Xs Max, and Xr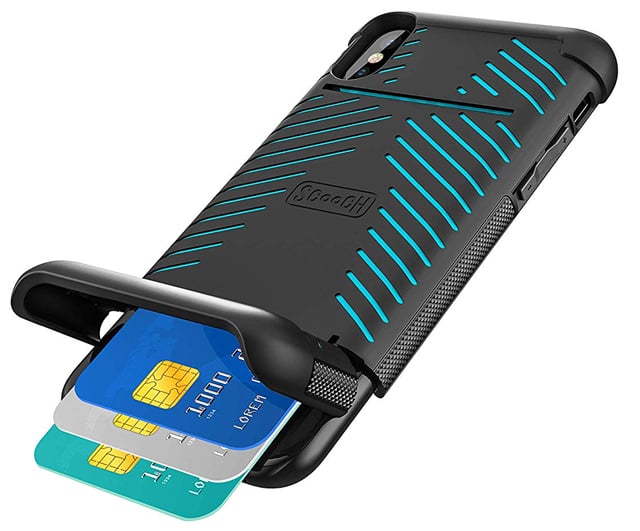 Scooch Wingmate
Rather than slots, Scooch's unique Wingmate wallet includes a compartment inside the rear of the hard shell case that can hold up to three cards – two will rattle around – with access via the bottom of the case. Just pull up the bottom, and your cards will come sliding out. There is a shallow slot on the rear of the case where you can wedge a card to create a fragile kickstand for either horizontal viewing at a steep 80-degree angle or vertical at a more reasonable 50-degree angle. Wingmate will protect your phone from a drop of six feet, is available in two color schemes: "ultramarine" – black with teal chevron stripes, and "stone" – black with gray stripes, and can be car mounted via Scooch's Wingmount universal magnetic car mount attachment ($29.99 on Scooch Case, check price on Amazon).
Wireless charging compatible? Yes
Price: $44.99 on Scooch Case, check price on Amazon for Xs, Xs Max and Xr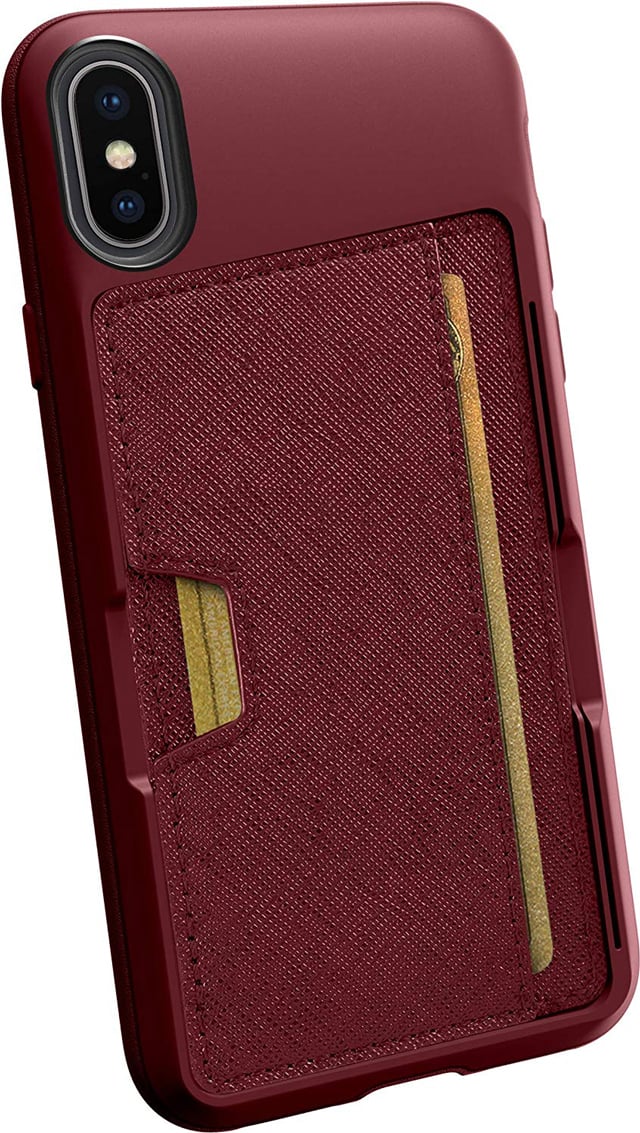 Silk Wallet Slayer Vol. II
Not only does Silk supply you with a thin case with a stretchy rear pocket that can accommodate three cards and some cash, but you also get a screen protector as well. Just above the card pocket is a slot into which you can insert a credit card to create a stand for widescreen viewing. The case itself, which comes in black, blue, red and blue with a floral pocket design, is a soft, rubber plastic with textured sides for a firm grip, especially if your hands are a little slick from water. Silk claims keeping cards in the back will not interfere with wireless charging unless the cards are too thick and won't demagnetize a magnetic striped card (check out this video test that Silk made). During my testing, all of my Qi pads worked with two cards in the pocket – but don't tuck one of those new metal cards or a hotel key card back there.
Wireless charging compatible? Yes
Price: $24.99 on Silk Smartish, check price on Amazon for Xs, Xs Max and Xr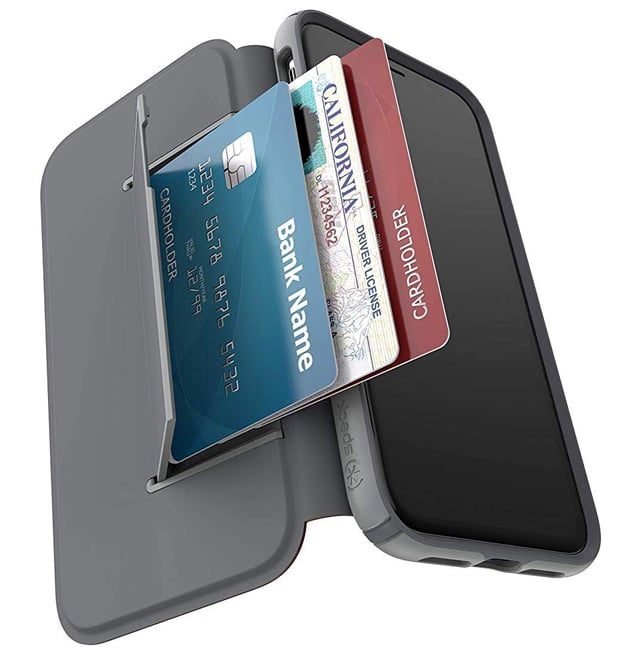 Speck Presidio Folio
Inside the cover of the Speck Presidio Folio case is a plastic-framed, flap-covered compartment that can comfortably cache three cards and keeps them hidden from the criminally inclined. Tthe compartment cover clicks closed to keep your cards secure. Like some other front-cover wallet cases, the Folio can be folded to create a triangular landscape stand. There are two Folio versions, both identically-priced: a fabric-covered edition available in six color combos including easy-to-spot heartbeat red, and a distinguished leather-on-plastic edition in black or brown.
Wireless charging compatible? Yes
Price: starting at $44.95 on Speck Products, check price on Amazon for Xs, Xs Max and Xr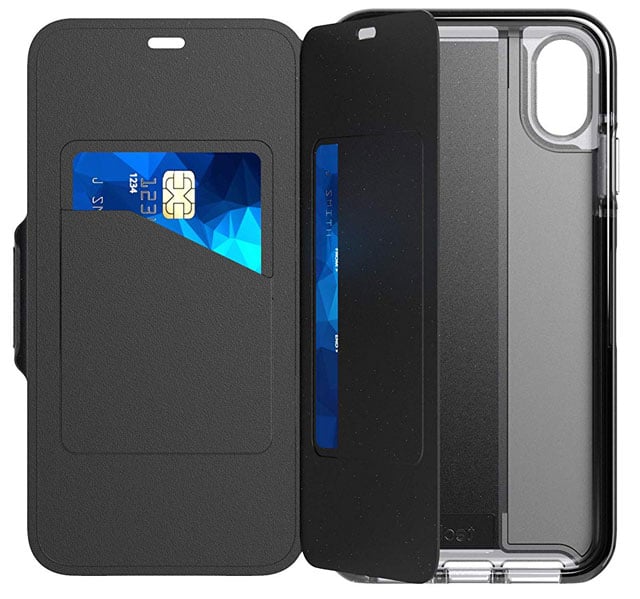 Tech21 Evo Wallet
Tech21's Evo Wallet entry offers several pluses: it includes two front flaps – a stiff main cover and thin, supple supplementary flap, each with a slot to hold either a card or two or three bills. And, you can reverse fold the flaps to create a landscape stand for hands-free video watching. However, while the flaps do fold back, Evo Wallet is not designed for extensive one-handed use. To protect your iPhone, Tech21 claims the Evo Wallet will survive a drop from 12 feet. Evo Wallet comes in two colors: charcoal and hot pink.
Wireless charging compatible? Yes
Price: $49.95 on Tech21, check price on Amazon for Xs and Xs Max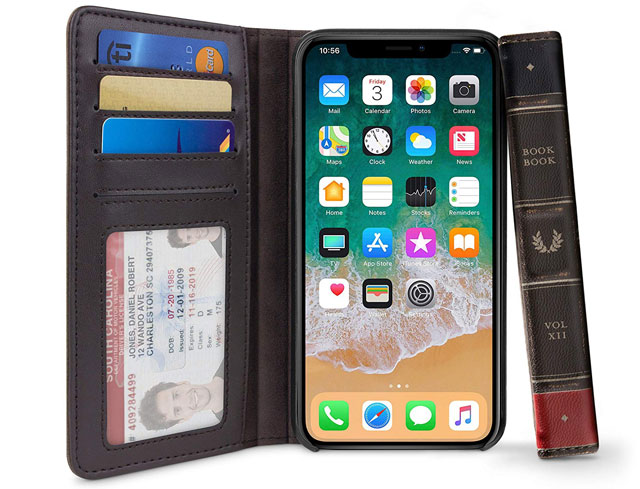 Twelve South BookBook
If you really want to toss your wallet and just carry an iPhone, the leather Twelve South imitation book case is a fun solution. BookBook is, in fact, two pieces: a standard hard shell cover that attaches to the back inside cover the BookBook via six slide hooks. By sliding the cover down all the way, you can create a triangle stand for video viewing. Inside BookBook's front cover are four card slots, including one with a clear front for your ID, and a bill pocket, although you'll have to fold your cash in half. BookBook comes in black and brown and is a conversation piece in either color.
Wireless charging compatible? Yes
Price: starting at $59.99 on Twelve South, check price on Amazon for Xs, Xs Max and Xr
[Image credit: Mujjo, Twelve South, Speck, ESR, Tech21, Silk, Incipio, Gear4, Mophie, Lonlif, Scooch, Spigen, Otterbox]
Discussion