We may earn commissions when you buy from links on our site. Why you can trust us.

8 Essential Accessories for your iPhone 6 or 6s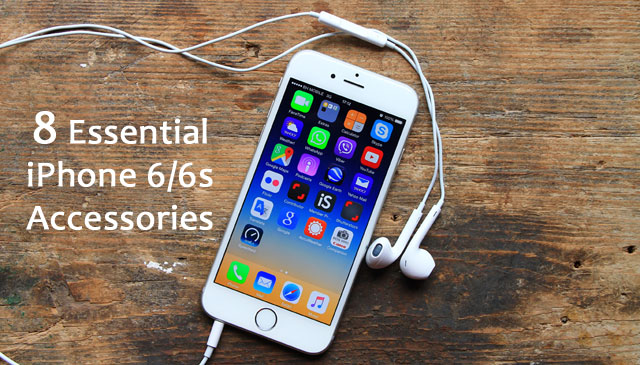 Though you can certainly use your iPhone 6 or 6s right after setting it up, adding accessories to the mix will help you get more out of your smartphone — from protecting it to keeping it charged up. Here are our top picks for accessorizing your iPhone 6 or 6s.
Screen Protector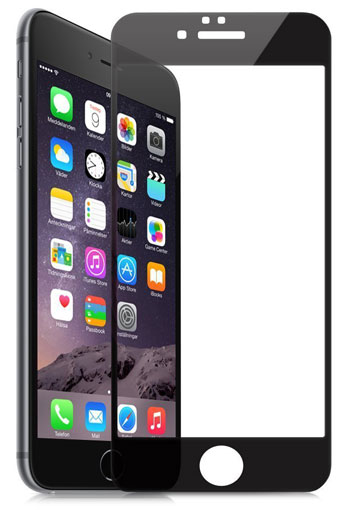 Though the iPhone screen is made from super-tough Gorilla Glass, that doesn't mean it's invulnerable to scratches, scuffs, or cracks. And those scratches can reduce your phone's resale value. So if you don't always treat your phone with reverent care — say it gets tossed in your purse with your keys or handed off to one of the kids to play games — a high-quality screen protector will help keep your phone in one piece.
Our favorite protector, the Akiko 2.5D Full Tempered Glass Screen Protector and is made of shatterproof tempered glass. It's only 0.3mm thick and light enough that you won't notice it once it's on the phone. Not only does tempered glass offer better protection than clear film protectors, it's also easy to install, with no need to worry about air bubbles getting trapped under the screen. And unlike some other screen tempered glass screen protectors, it goes edge to edge for full coverage.
Price: $8.95 on Amazon
Fast Charger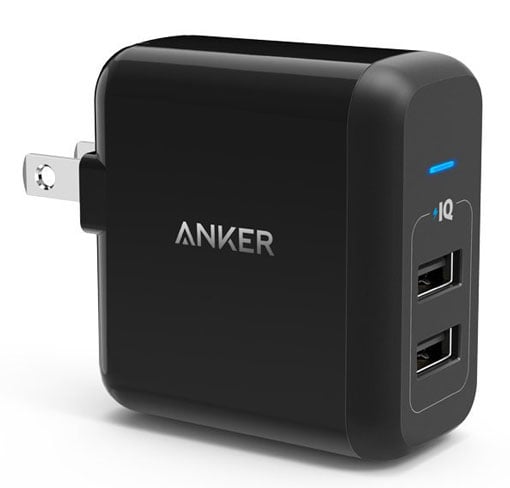 Fully charging your iPhone can take hours. Fortunately, there is a way to charge it faster. The latest iPhones can safely charge with a 2.1 amp (12 W) supply, like the type that comes with the Apple iPad, in addition to the 1 amp (5 watt) charger that comes in the box.
For speedy charging, we like Anker's PowerPort 2, which has two USB ports and can charge most USB gadgets. .For Apple lovers, it can charge both your iPhone and iPad. Also a great travel charger, it removes the need to take multiple power adapters for each of your gadgets. (Anker also offers 4, 6 and 10-port versions—enough to keep an entire family's-worth of smartphones and tablets ready to go.)
Price: $10.99 for a 2-port charger, $26.99 for a 4-port charger, $35.99 for a 6-port charger, $39.99 for a 10-port charger on Amazon
Portable Charger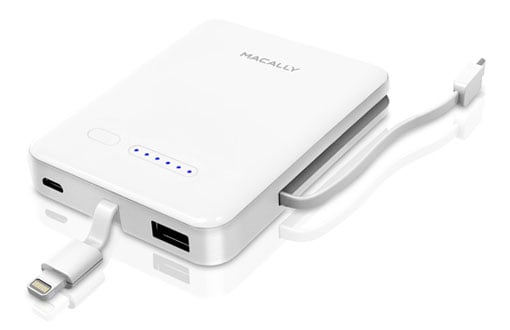 Finding yourself with a dead phone is the worst. So you'll want to make sure you have a portable battery charger on hand to stash in your bag. The 300mAh Macally MBP30L portable battery charger, our pick for the the best portable battery charger under $50, hits the sweet spot of easy portability (it's 3.75" x 3" x 0.75" and just 3.24 ounces), with enough power to charge your phone once.
The Macally has a built-in Lightning cable and 5-LED battery-level indicator and outputs 2.5amps, making it easy to charge your phone (or iPad) without having to remember cables. And if you have a friend or family member who doesn't own an Apple device but needs to charge up, they can also plug in using the built-in USB charging cable.
Price: $48.99 on Amazon
Charging Case
If you don't want to carry around a separate battery to give your iPhone a boost, you need a battery case. Battery cases are just what they sound like: phone cases with a built-in battery that charges your phone. We like the Trianium Atomic S case because it has a great balance of features for the price.
The Trianium Atomic S's 3100mAh battery has enough juice to fully charge your iPhone 6 or 6s once, giving you 14+ hours of talk time or 10 more hours of web surfing while only adding .32 ounces of weight. A 4-level indicator lets you know how much battery is left. You can charge both your case and phone simultaneously using a single cable. Easy! And, you have your choice of white with blue, green or silver trim, or black with black, blue or orange trim.
Price: $35.99 on Amazon
Rugged, Water-Resistant Case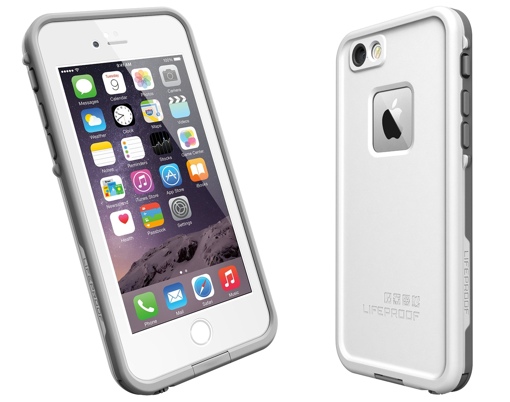 For many of us, a typical day in the life of our phone is it being carried from home to work and back and being used throughout the day. But if you're taking your phone off the beaten path where it's likely to encounter drops and water, you'll want a sturdier case like our pick, the Lifeproof FRE.
The FRE fully encases your phone with a built-in touchscreen cover and covers for all of the ports. Once you've put it on correctly (it comes with installation instructions), your phone is waterproof (to 6 feet), snow proof, dust proof, and drop proof. So take your phone on your next ski trip without fear.
The FRE comes in black, white, blue, purple, dark gray and orange.
Price: from $70.79 on Amazon
Sports Band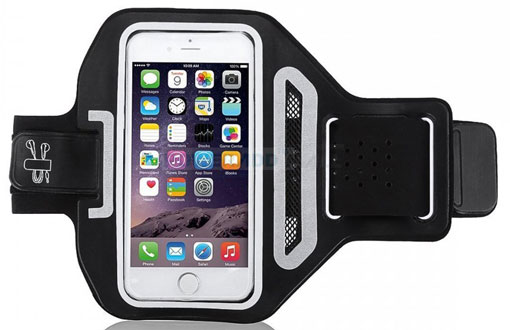 With so many health-friendly features in our iPhones — from Apple's own Health app to fitness apps like RunKeeper (not to mention our favorite soundtracks) — it's no surprise that we want to carry our phones with us during exercise. The problem is that many workout clothes don't have room for our must-have gadgets, necessitating a carrier like our pick, the TuneBand.
The TuneBand is a silicon case that your iPhone fits snugly into and a strap threads through, making it slip free. Now you can focus on your workout rather than whether your phone's about to fall out of your pocket!
The TuneBand comes in black, green, pink, purple, green camoflauge and glow-in-the dark white/green
Price: $22.99 on Amazon
Heavy-duty Cable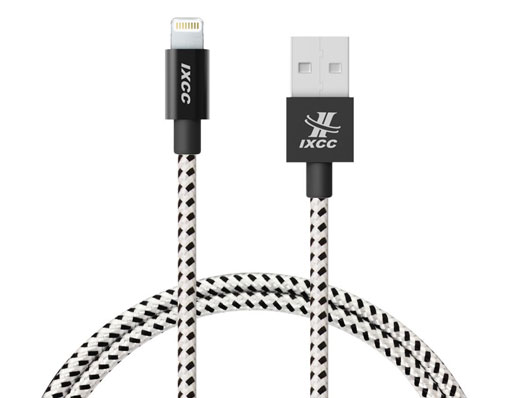 Nothing's certain in life but death and taxes… and, in the modern age, broken iPhone cables. While Apple aficionados may love their gadgets, the cables often leave much to be desired, wearing out quickly even when subjected to only casual use. Fortunately, there's a fix for that: replace your original iPhone cable with a better, stronger one.
We like iXCC's Ascend Series Nylon Braided four-foot cable. It's extra durable, with a flexible braided nylon jacket over an aluminum inner casing as well as reinforced joints, preventing the cable from wearing or breaking at the connectors. This cable is tangle-free and comes in a four-foot length. And, these Lightning cable is Apple-certified to work with iPod, iPhone, and iPad devices with a Lightning connector, which makes it a perfect companion for your iPhone.
Price: $9.99 on Amazon
Anti-Bacterial Screen Cleaner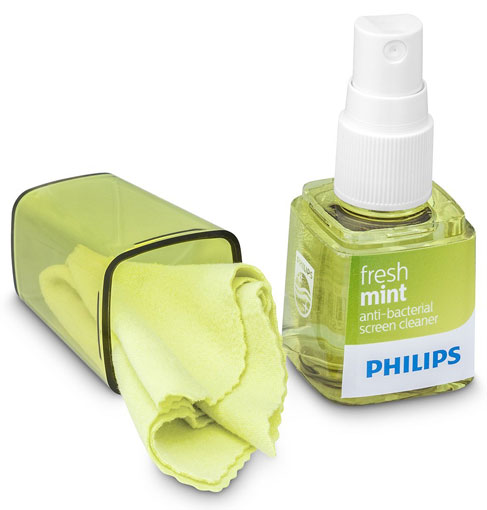 They're called touchscreens for a reason. Throughout the course of the day, we touch our phones after pressing elevator buttons, riding in taxis, changing diapers, prepping food, not to mention handing them to our friends and kids. In fact, Dr. Cain of the american Academy of Family Physicians told the Wall Street Journal that people are just as likely to get sick from their phones as from bathroom door handles. So it makes sense to subject your phone to regular cleaning to keep germs at bay.
However, spraying your phone with ordinary household cleaners could damage them, so be sure to use a cleaner specifically designed for your gadgets, like out pick, Philips Scented Anti-Bacterial Screen Cleaner. This handy cleaner kills germs, removes fingerprints, repels dust and has a pleasant scent (mint, lavender, rose or chamomile). A microfiber cleaning cloth is included in the case for wiping down your phone, so just drop the bottle into your bag or purse and you'll be good to go.
Price: $9.99 on Amazon
[image credit: iPhone 6 via Ellica / Shutterstock.com, Aikiko, Anker, EasyAcc, Tiranium, Lifeproof, iXcc, TuneBand, Philips]
---
Discussion