We may earn commissions when you buy from links on our site. Why you can trust us.

The Best Portable Battery Charger Under $50
Review summary: The Macally MBP30L portable battery charger offers the best combination of portability, power, connectivity and price, making it the best portable battery charger under $50.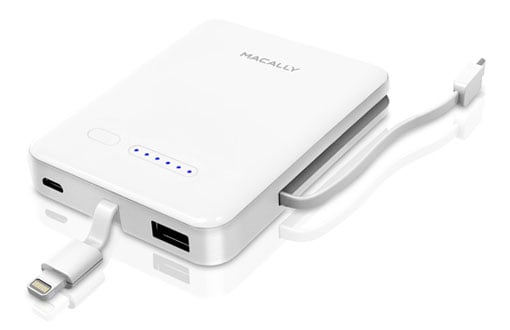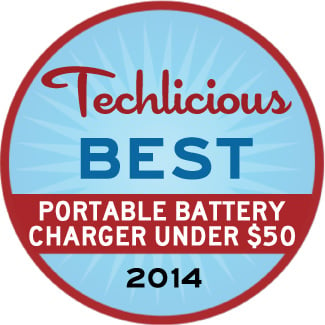 Considering how reliant we are on our smartphones and how short-lived their batteries are, no smartphone owner should leave home or office without some form of backup battery. In my previous testing, I found that the myCharge Hub 9000 was the best portable battery charger available. But at a price around $100, that may be too much to spend for many people. And it's not exactly super-slim.
Fortunately, you can buy a smaller, less expensive emergency power solution that will fit more comfortably in your purse or pocket and still give you a decent amount of backup power.
I researched the options and narrowed down the selections to a small group that I personally tested to find out which one is the best portable battery charger for under $50. Key criteria were 1) small size, 2) built-in microUSB and Lighting cables, 3) high power (at least 2500 mAh) and 4) costs under $50. I also included the myCharge Hub 3000 (the lower-powered version of my previous pick) in the mix, even though it was slightly over $50, to see how it fared.
Limiting the choices to those with built-in cables took many contenders out of the running, but I strongly believe it should be a critical decision factor. If you have to schlep charging cables for all your power-draining devices, it sort of obviates the whole owning-a-tiny-charger thing. And a cable is just one more thing to forget when you're rushing out the door to a meeting.
My final testing group included the Macally MBP30L ($69.99, or $38.99 on Amazon), the myCharge Hub 3000 ($69.99, or $63.75 on Amazon), the Skiva Powervault Lightning A2600 ($59.99, or $28.99 on Amazon) and the Digital Treasures ChargeIt! Universal Power Bank ($49.95, or $29.99 on Amazon).
In the end, I found the best portable battery charger is the Macally MBP30L. Read on to learn why.
Small but powerful charging
The Macally MBP30L fulfills the criteria on my small battery charger wish list. It includes a built-in Lightning cable (which extends only about an inch) and a built-in microUSB cable (which extends about 4 inches), as well as a USB jack so you can connect a proprietary cable or a second device. The only thing I wish it had are built-in AC prongs for recharging (as on the far more expensive, MyCharge Hub 9000). Rather, the MBP30L recharges via a microUSB input jack.
Inside, the MBP30L provides 3000 mAh of power, enough to charge a dead iPhone about one and a half times. And while it won't fully charge a tablet, the MBP30L has a 2.5-amp output that's sufficient for charging tablets, something rarely found in a charger this size. The MBP30L also has a convenient six-segment LED that shows remaining charging capacity.
While not the smallest of its ilk, the MBP30L measures a flat 3.75" x 3" x 0.75", about the size of a wide deck of playing cards. At just 3.24 ounces, it's lighter than most of its smaller competitors.
Other small chargers
By comparison, the slightly heavier (3.7 ounces) but one-third smaller (2" x 0.9" x 3.7"), 3000-mAh myCharge Hub 3000 also includes a longer Lightning and a microUSB cable, but costs nearly twice as much. The myCharge Hub3000 also lacks a multi-segment LED indicator.
At 3.5" x 0.5" x 0.5", the Skiva is an oversized lipstick-shaped charger; at one end is a 1-inch microUSB cable. At its other end is a cap that cleverly contains a Lightning cable and full-sized, covered USB jack for recharging its internal battery. Along one side is a four-meter LED power level indicator.
While the Skiva is small, it's slightly heavier (5 ounces) than the larger Macally. It also suffers two other potential drawbacks: the Lightning cable embedded in the cap will only fit phones without a case and, with only 2600 mAh of juice, it only filled a dead iPhone to 94 percent.
The ChargeIt gives you 600 more mAh (3600 mAh total) than the Macally, enough juice to charge an iPhone twice. Essentially the size of an inch-thick business card (3.6" x 2.4" x 1.1"), the oval ChargeIt feels like a half-used bar of soap in your hand. The ChargeIt also has a built-in 30-pin Apple connector in case you're toting a power-hungry iPhone 3G, 3GS, 4 or 4S.
However, the ChargeIt is a very slow charger. Just to get an iPhone from completely dead to 4 percent—the point at which the phone's display will light—took 40 minutes. A full iPhone 5 recharge required four-plus hours, twice as long as the other chargers I tested, including the Macally.
Final call
In the end, the Macally MBP30L offers the best combination of portability, power, connectivity and price, making it the best portable battery charger under $50. It's the one I'd recommend carrying for everyday use.
Macally MBP30L


---
Macally MBP30L
Dimensions: 3.75" x 3" x 0.75"
Weight: 3.24 oz.
Capacity: 3000 mAh
Output: 2.5 amps
Cables: Built-in Lightning and micro-USB
Discussion