7 Smartwatches That Are Fashionable and Functional
Techlicious editors independently review products. To help support our mission, we may earn affiliate commissions from links contained on this page.
Most smartwatches offer pretty similar features. Almost all of them run Google's Wear OS, which means that they have access to most of the same apps and handle notifications, fitness tracking and mobile payments in pretty much the same way. That means when you're shopping for a smartwatch, one of the biggest differences is style — and there are lots of fashionable options beyond the usual boring fitness band.
Here are our favorite fashionable smartwatches.
Fossil Q Gen 4 Smartwatch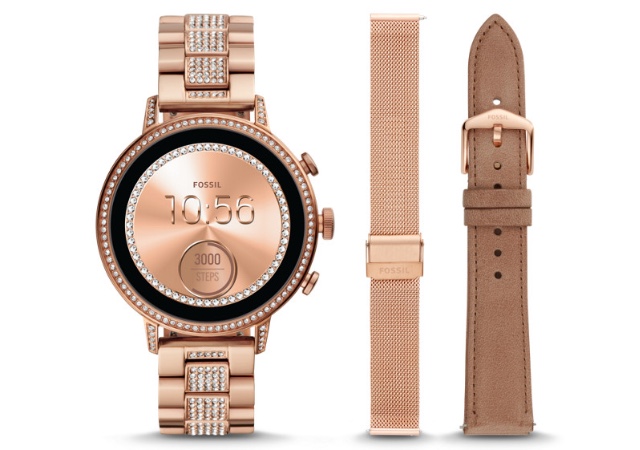 The Fossil Q line is all about looks, with plenty of options. This 40mm, round-faced watch comes in silver, black, gray and rose gold, with a border that's perfectly smooth or accented with notched detailing or crystals. That gives you a lot of options for looks, from simple and sleek to glitzy and glam. You have even more options with bands, which come in leather, silicone, and stainless steel (with or without crystal accents). And if any of the bands that come with the watch don't thrill you, any 18mm watch band will work.
When it comes to features, the Fossil Q Gen 4 has everything you would expect in a modern Google Wear OS smartwatch. It supports Google Pay for mobile payments and It has a good suite of fitness tracking tools. The watch is water resistant for swimming and has a built-in GPS monitor for running or cycling — and like most smartwatches, it has a heart rate monitor.
There's nothing revolutionary to this smartwatch, but it checks off every essential smartwatch feature and it's stylish to boot.
Price: from $255.00 on Fossil (check price on Amazon)
Tory Burch ToryTrack Gigi Touchscreen Smartwatch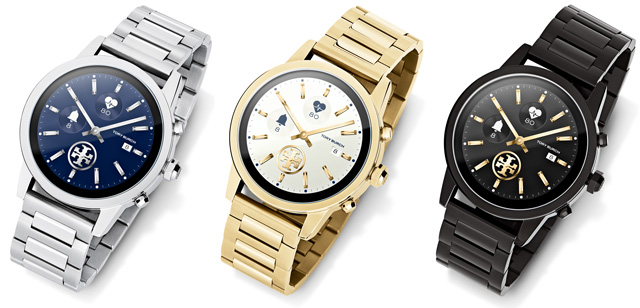 Tory Burch's entry into the smartwatch market has a handsome, traditional look inspired by the brand's iconic Gigi design. It's a 40mm round-faced watch that comes in gold, with and silver with stainless steel chain bands. You can swap out the band for other Tory Burch styles, but that's still not much customization for the physical watch — however, you can choose from eight different Tory Burch watch faces to suit your aesthetic.
Much like the Fossil Q Gen 4, beyond its looks, the ToryTrack Gigi offers all the features you want from an Android Wear OS smartwatch. It supports Google Pay and has a solid set of fitness tracking tools. It lacks built-in GPS, but includes a heart rate monitor, swim-friendly water resistance, and storage for music so you can listen while you're working out, even if you aren't carrying your phone. As long as your exercise routine doesn't include running or cycling that you want to track without carrying your smartphone, you may not miss the GPS functionality at all.
Price: $395 from Tory Burch
Kate Spade Scallop Touchscreen Smartwatch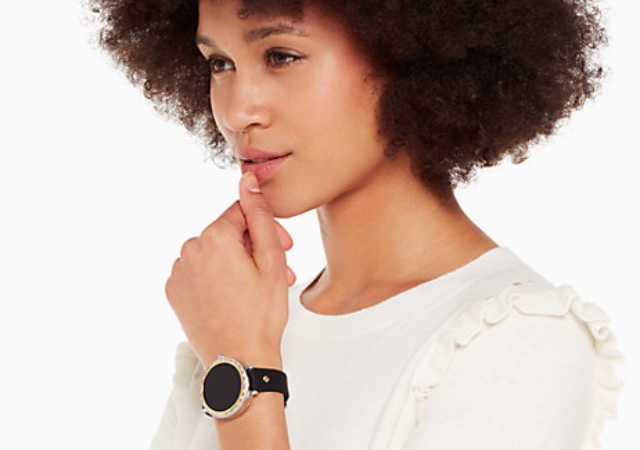 There are plenty of smartwatches out there with a masculine look to them, but the Scallop Touchscreen Smartwatch from Kate Spade has a feminine style without being overdone. The round-faced 42mm watch is a slim 9mm thick, and features scalloped details around the edge of the watch face — a detail that gives the watch a lot of character. It comes with straps in leather, stainless steel bracelet in rose gold or silver and gold, and silicon with its own scallop detail.
The watch comes with a few playful Kat Spade watch face designs to use, as well as a Choose Your Look app that makes a watch face just for you reminding on your day's wardrobe. That's a fantastic fashion feature we'd love to see on other watches to make them easier to accessorize.
While the watch runs Google Wear OS, its smart features are a bit on the basic side, however. It tracks fitness stats and handles smartphone notifications, but it doesn't have a heart rate monitor, it isn't swim-proof, and it doesn't support mobile payments. Still, it does all the basics and it does them with a lot of style.
Price: from $275 on Kate Spade (check price on Amazon)
LG Watch W7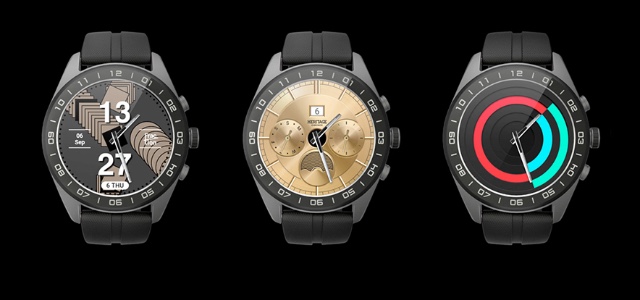 The LG Watch W7 is another smartwatch that tries hard to look like an analog watch. The 44.5mm stainless steel watch comes with a black band — a conventional look with few customization options besides switching up the digital watch face.
However, it has one feature that makes it stand out from other smartwatches: it has mechanical watch hands on top of a screen, so when the display isn't showing off its smarts, it acts exactly like an analog watch. Besides giving it a classic watch look, this also gives it great battery life: in Just Watch Mode, you can check the time for 100 days between charging. (Expect it to last a day or so with all the smart features enabled, which is fairly normal for a smartwatch.)
However, the Watch W7 lacks a few features you'll find in many other Google Wear OS smartwatches. It skips advanced fitness tracking features: there's no heart rate monitor or GPS. It also doesn't offer mobile payments, which you'll find on most smartwatches. The watch's analog looks and features are fantastic, but you do lose some smart features to get them.
Price: $449 on LG (check price on Amazon)
Samsung Galaxy Watch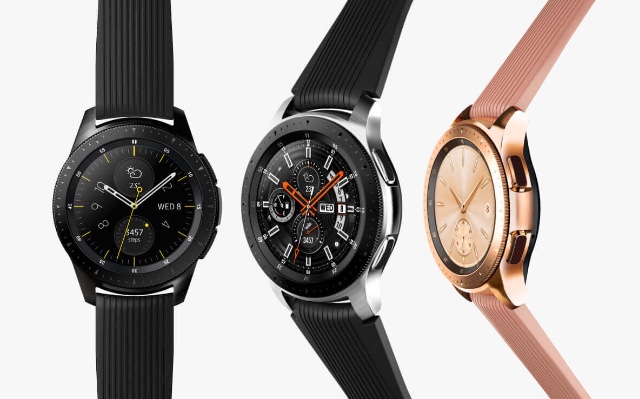 Samsung pulled out all the stops to disguise the Galaxy Watch as a traditional timepiece. Beyond having a more conventional round watch face, the sharp sAMOLED display mimics shadows under the watch hands — and the display is always on, so it looks like a watch all the time. To complete the illusion, it makes a ticking sound as though mechanical watch hands were moving. (But if that traditional look isn't your thing, there are more than 1,000 faces to choose from.) It's available in 42mm or 46mm sizes, with silver, black and rose gold finishes, with black, blue and gray strap options. That's not as much customization as you'll find with some watches, but it's a sharp-looking watch regardless.
It's also loaded with smart features. A daily briefing will give you a rundown of your schedule in the morning and again in the evening. You could also use the My Day watch face, which shows your day's schedule blocked out alongside the time alongside the hour marks. Both make it easy to stay on top of your day. And if you have a SmartThings-powered smart home, you can control it right from your watch. For workouts, it's swim-proof, has built-in GPS to map your runs, and it can track 39 different workout activities. It has Samsung Pay for mobile payments (Android phones only), and you can also buy it with cellular connectivity to make calls and send messages when you don't have your phone. One downside: it runs on the Tizen, not Google Wear OS, so there are fewer apps. But all in, it's a great feature set for a watch that starts at $260.
Price: from $260 on Samsung (check price on Amazon)
Misfit Vapor 2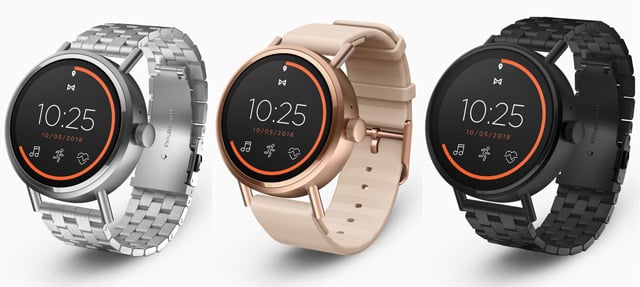 The Vapor 2 has a minimalist design that's all sleek lines. This circular watch is available in either 41mm or 46mm sizes with a slim, 11mm height so even the larger size doesn't look too bulky. It's available in black, rose gold and silver, and a variety of bands offer even more customization options, with sports, leather stainless steel, braided nylon and more options so you can always wear a band that suits your style.
Beyond its excellent looks, the Vapor 2 is a Google Wear OS Watch with all of your must-have features. It supports Google Pay for mobile payments. It tracks fitness stats, with a heart rate monitor, built-in GPS, and water resistance for swimming (as long as you don't go deeper than 50 meters). It also has 4GB of onboard storage so you can listen to music without carrying your smartphone around — which is always a welcome feature so you can work out to music without hauling your phone around. It has all-day battery life, but if you find "all day" doesn't quite add up to all day, a quick charge will boost the watch to 80% in 10 minutes.
Price: from $249 on Misfit (check price on Amazon)
Apple Watch 4

Apple Watch doesn't pretend to be anything other than what it is: a modern, high-tech accessory. Its rectangular shape and sleek, rounded edges are instantly recognizable.
But while it has a very specific look, the Apple Watch has more customization options than any of the watches on this list. It's available in 40mm and 44mm sizes, the smaller ideal for women's wrists — unless you prefer the chunky look of a larger watch. The case comes in gold, black and silver, with an array of bands to suit any fashion need. Pick up a sports band for workouts or a more casual look, or decide on the stainless steel Milanese loop or choose leather Hermès band for high-end aesthetic. (Or pick up several and swap them to suit your mood.)
On the technical side, the Apple Watch Series 4 is one of the most advanced — and most expensive — smartwatches out there. There's a version with cellular connectivity so you can stay connected even if you aren't carrying your phone. The watch has the expected fitness tracking features, including built-in GPS, automatic workout detection, and water resistance for swimming. But it has a particularly advanced heart monitor which can tracks heart rhythm as well as heart rate, letting it produce an electrocardiogram. On the safety side, it can detect falls and can contact emergency services if you take a tumble and then don't respond, and an emergency SOS feature lets you quickly call emergency services and send your location to your emergency contacts.
The Apple Watch only works with the iPhone, and although other smartwatches also work with your iPhone, Apple Watch works more seamlessly with an iPhone than other smartwatches. It supports Apple Pay and can use many iOS apps, meaning it integrates nicely with iPhone.
Price: from $399 on Apple
[Image credits: Fossil, Tory Burch, LG, Samsung, Apple, Misfit, Kate Spade]
Discussion