Fun Gadgets & Toys for Star Wars Fans
Techlicious editors independently review products. To help support our mission, we may earn affiliate commissions from links contained on this page.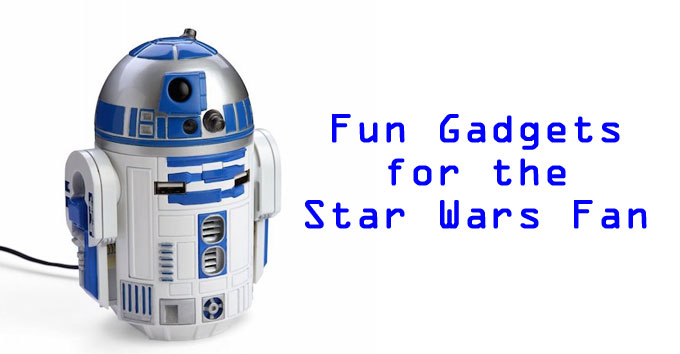 As fans of Star Wars anxiously await the opening of the newest film in the franchise, "Star Wars: Rogue One," Star Wars products are shifting into hyperdrive. And that means lots of great gift items for the Star Wars lovers in your family.
Check out our picks for the best intergalactic gadgets. They're sure to awaken the force within any Star Wars fan.
Sphero BB-8 App-Enabled Droid

What Star Wars fan wouldn't want to own a personal droid? Give a hot robotic gift that kids and adults alike will want to play with, Sphero's app-enabled BB-8 Droid. This little cutey drives around with some big droid personality.
Use your smartphone or tablet to guide BB-8 through its paces. It can recognize your voice and respond to commands — and yes, you can record and watch your own holographic displays, just like Princess Leia. The BB-8's adaptive personality adjusts its interactions with you the more you use it. Use your droid to record and watch virtual holographic videos on your phone or tablet. Make sure to shop early; this little guy is sure to be in big demand.
Price: $121.86 at Amazon
Darth Vadar Waffle Maker

There's nothing like getting your fill of Star Wars, so why not start your day on the dark side at breakfast? With the Darth Vadar Waffle Maker, you can do exactly that.
Darth Vadar in the form of a waffle lets you destroy the super villian again and again. Signal lights let you know when your waffle is ready. Stainless steel construction with a non-stick coating helps you make perfect waffles every time. With a dial that allows you to set how long you'd like your waffle toasted, you can choose exactly how you'd like your waffle cooked, on the dark side or the light side.
Price: $39.99 at Amazon
SMS Audio STREET by 50 First Edition Star Wars Headphpnes

You haven't heard the last of Darth Vader, especially if you're wearing the Star Wars Darth Vader headphones. These over-ear headphones with 40mm drivers and memory foam earcups are an easy way to listen to your favorite Star Wars soundtrack or podcast. The earcups themselves are marked with the Star Wars emblem. For plugged-in kids and tuned-in grownups, these headphones are sure to please your Star Wars fan.
Not ready for the Sith Lord himself? Choose the Stormtrooper style for a lighter, brighter touch of the dark side.
Price: Darth Vader style, $44.99 at Amazon; Stormtrooper style, $39.70 at Amazon
PowerA Star Wars Rogue One Xbox One Controller

If the Star Wars lover in you life also loves plays games, he or she will want the new Star Wars: Rogue One Controllers for Xbox One with images from "Rogue One: A Star Wars Story". These limited edition controllers feature dual rumble motors, impulse triggers and 9.8 foot cable. And, they can play silently by plugging a pair of headphones in the 2.5mm audio jack.
Will you choose the Rebel Alliance, alongside Jyn Erso? Or will you choose the Death Trooper, and follow The Empire?
Price: Rebel Alliance style for $45.80 at Amazon (in stock), $39.99 at Amazon (not expected to arrive by Christmas)
Star Wars R2-D2 USB Car Charger

Are you ready to take a bit of Star Wars on the road? While this R2-D2 USB Car Charger can't actually do repairs on your car, it can charge two tablets, smartphones or other USB-chargable devices while sitting comfortably in your vehicle's cup holder. Plug the R2 into your vehicle's 12-volt power adapter (cigarette lighter) to get 2.1 amps through each charging port.
As for special effects, R2-D2's head rotates and lights up when you begin charging your devices. An LED light (red/blue) in his front "eye" lens lets you know your port power status, and you can rev him up further by pushing a button in his center to activate power to the ports. This officially licensed Star Wars item measures 5 ½ inches tall and comes with a 36-inch cable.
Price: $32.50 at Amazon
Star Wars Lightsaber BBQ Tongs with Sounds

If you want to become the Sith of your grill, these officially licensed Star Wars Lightsaber BBQ Tongs will give you the power. The 22-inch tongs come with a heat-proof plastic handle and a red storage case. They're perfect for turning your burgers to the dark side.
The real fun starts once you're at the grill. Hold up your tongs with the ends together, and a lightsaber appears in hand as you watch your burgers and steaks cook up to the dark side. Open the tongs to hear the familiar hum of the lightsaber, which turns off automatically.
Price: $29.99 at Amazon
It's easy to please a Star Wars fan when you choose these gifts that bring a little bit of the dark side to the light side of your life. In the oft-repeated words of Obi-Wan Kenobi, may the force be with you.
[Image credits: Sphero, Pangea Brands, SMS Audio, PowerA, Underground Toys]
Discussion