Get the Most Money When Selling Your Old Electronics
Techlicious editors independently review products. To help support our mission, we may earn affiliate commissions from links contained on this page.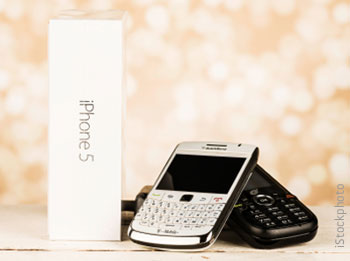 It's easy to forget that a smartphone's actual value is hundreds of dollars greater than the subsidized price you pay when you sign a two-year contract. In fact, even an older model iPhone 4 that's "free" on contract costs $450 today without one. So if you bought one back in 2010 and are ready to upgrade to a new phone, you could get up to $164 by trading in your old iPhone 4, if you've kept it good shape.
The same holds true for your other electronic gadgets. If you've been dreaming about a new phone, camera or computer, consider the value you can get out of your current model as a starting point.
Trading-in your old products is really simple. Just bring your device to a brick-and-mortar store, such as Best Buy or Radio Shack, or use an online trade-in site to find out how much your old item is worth. If you like the price, you'll get cash or credit towards a new device.
When using a trade-in website, you start by finding the exact product you want to sell in the site's listings. After you've answered questions about the condition of your item, you will receive an estimate of its trade-in value. If you agree to accept this payment, the program will provide a pre-paid shipping label—and in some cases packaging material—for you to send the item to an evaluation center.
Once it's received at the center, your item will be inspected. If its condition matches your assessment, the agreed-to payment will be processed and should be mailed to you within a week or two.
If it turns out your vintage gadget has no value, many of the brick-and-mortar stores and online programs will recycle your product in an environmentally safe manner for free.
How they stacked up
I set out to evaluate some of the largest programs to see how they compared. I picked three items that would be typical for someone looking to upgrade — an iPhone 4 16GB, a Canon Rebel T3i digital SLR and a MacBook Air (circa late 2010).
Some sites only pay with gift cards, including Best Buy, Amazon and Radio Shack. So if you're looking for cash, go elsewhere.
uSell consolidates bids from dozens of trade-in programs, helping you find the best deal with the least effort, but the range of products it supports is limited.
One outlier is Glyde. It operates as a connector of buyers and sellers, similar to eBay, but with fixed prices. Glyde handles the listing for you and provides prepaid shipping materials. The result is a higher potential price for your device than on the traditional trade-in sites but, unlike the others, there is no guarantee of when your your product will be purchased, if at all. You can choose Glyde's product category list is also quite limited.
iPhone 4 16GB
Canon Rebel T3i
(Body only)

Apple MacBook Air
(MC505LL/A)

Check/
Gift card
Amazon
$131.00
$128.25
$368.00
Gift card
Best Buy
$140.00
$172.26
$250.00
Gift card
BuyMyTronics
$145.00
$260.00
$216.00
Check
eBay
$164.08
$146.56
n/a
PayPal
uSell
$156.00
n/a
$216.00
Check, PayPal
Gazelle
$155.00
n/a
$217.00
Check, PayPal, Amazon gift card
Glyde
$159.00
n/a
n/a
Check
Radio Shack
$154.08
$115.86
$164.65
Gift card
As you can see from the chart, there was no clear cut winner. Best Buy and Glyde stand alone on the list for not providing free return shipping if their evaluation of your product's condition doesn't match what you claimed online and you choose not to accept their revised offer. And once Best Buy sends you a revised offer, you only have three days to respond or they assume the offer is accepted. You're probably better off taking your item to a store for evaluation to avoid these issues.
And remember, though all of these sites (except Glyde and Best Buy) say they will clean out your personal data before they resell it, none of them will guarantee it. So make sure you shred the data on your phone and perform a factory reset before sending it in. And, if you are trading in a laptop, follow these steps to save your current information and protect your privacy.
Discussion