We may earn commissions when you buy from links on our site. Why you can trust us.

12 Gift Ideas for Pet Lovers
While the furrier members of the family may not be getting you anything this holiday season, they do provide slobbery kisses and warm cuddles every day of the year. Why not treat your pet to something a bit more exciting than a new chew bone or catnip mouse this year? We rounded up a list of gift ideas that are purrfect for your furry companions and those who love them.
Treat-flinging pet cameras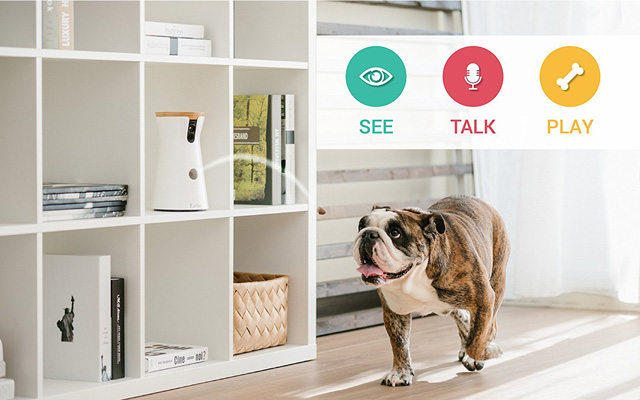 If you're not one of the lucky dog parents who get to bring their fur-baby to work, you might be wondering what yours is doing all day. Furbo is an interactive dog camera that lets you check in on and play with your dog remotely. It records in HD video and has night vision and two-way audio, so you can always see and hear what's going on.
Sure, you can check on your pets with a less expensive indoor security camera, but Furbo uses AI and "dog recognition intelligence" to keep tabs on what's going on and sends useful mobile alerts in real time. You can open the app to see what's going on at home, and even toss a treat. And you'll always know if the dog walker showed up on time.
Price: $169 at Furbo.com and Amazon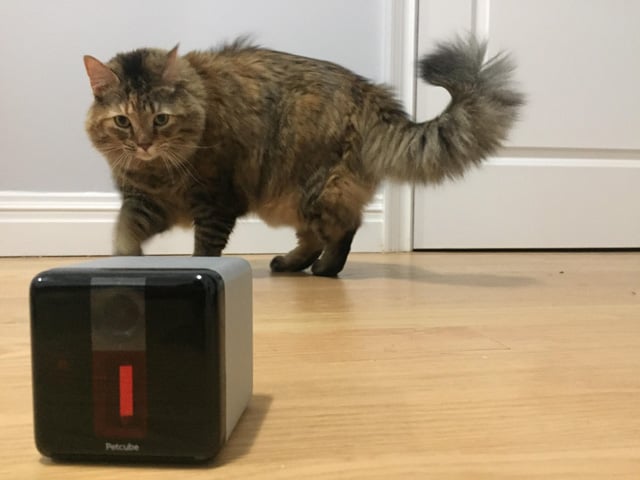 Cat parents can check in and have fun with their pets remotely with the PetCube play. Along with HD video, two-way audio and cloud recording, it has a built-in laser toy you control from an app on your phone. Just try not to LOL in the office as you watch your cat chase the red light around the living room. PetCube bites is the treat-tossing version of the HD camera (minus the laser toy).
Price: PetCube Play, $149 at Amazon; PetCube Bites, $199 at Amazon and PetCube.com
Smart pet feeder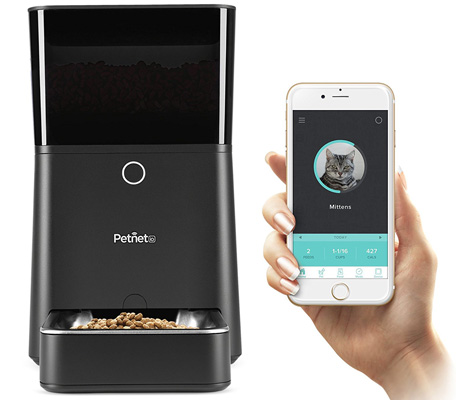 Who doesn't worry about being out late and not getting back to feed the dog? With the Petnet SmartFeeder automatic pet feeder, you can schedule feedings right from your smartphone. The battery-operated feeder stores dry food and doles it out in pre-measured portions, so you always know how much your dog (or cat) has eaten. You can set feeding times in advance or initiate them from your phone. The app lets you know when you're running low on food, so you can order more. We love the built-in, rechargeable battery so you're not constantly ordering AAs along with the pet food.
Price: $149 at Petnet.io and $120 at Amazon
LED lights for your walk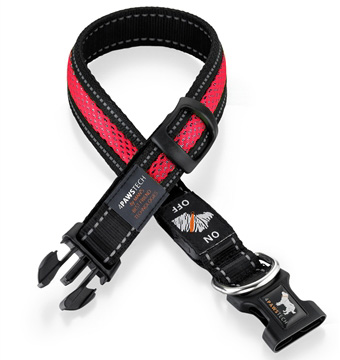 Keep your pets safe while walking at night with a nightlight LED collar from 4 Paws Tech. They come in bright, beautiful colors with a multi-mode LED light to make sure drivers see your precious pup in the dark. Furry fashionistas might want the matching LED leash as well. You can use a regular USB-to-micro USB cable to recharge the battery on both.
Price: Starts at $30 at 4 Paws Tech
GPS tracker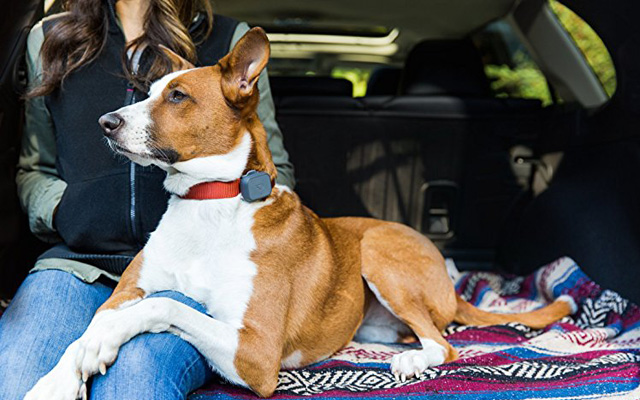 Keep tabs on your tabby with the Whistle 3 dog & cat GPS tracker and activity monitor. It's a small device with a rechargeable battery that attaches to a collar and tracks your pet's movements, sending location notifications to your smartphone. This is a great gift for a friend who lets their cat out for the day or someone who takes their dog to the park and lets them run off-leash. Users are notified if the pet leaves a preset location, and because it has built-in GPS, the pet can be located anywhere in the US. You'll need a subscription plan to use the cellular GPS tracking feature, but the additional cost — $6.99/month — seems well worth the peace of mind.
Price: $55 at Amazon
Activity tracking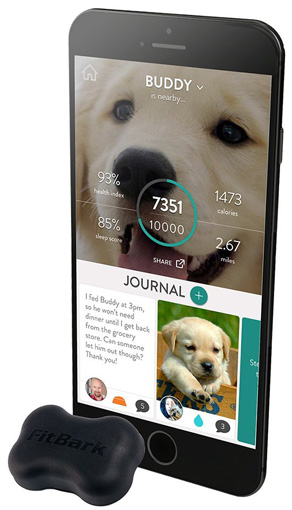 If you've always wondered whether those walks with your dog are enough exercise for him, or if he's getting enough sleep, get him a FitBit! Well, kind of. The FitBark 2 dog activity monitor keeps track of all your pet's activity; steps, sleep and yes, even calories burned. You can sync the data to an app on your smartphone or link it to your activity tracking app, so you know who got the most steps and who still needs a walk. The device, which clips onto the collar, is waterproof and the battery lasts up to six months.
Price: $70 at Fitbark.com
Snuggle all year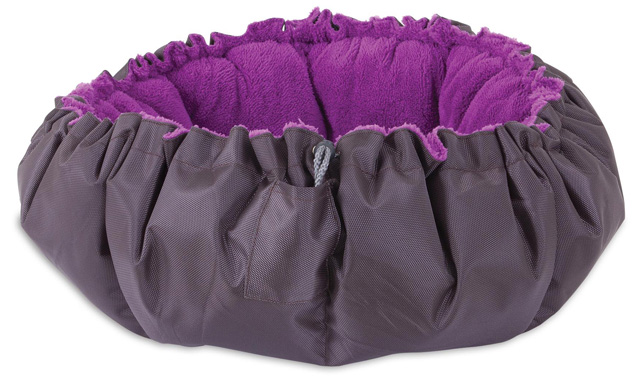 Cats love snuggling by the fire so pamper your precious kitties with a Jackson Galaxy comfy clamshell bed from Petmate. It's a dual-purpose bed for finicky cats. Lay it flat, and it's a soft, cushy blanket to sprawl out on. In cold weather, pull the drawstring tight, and it converts into a cozy cat bed, great for winter naps. We love the bold purple color and that its machine washable. Now that's a gift!
Price: $25 at JacksonGalaxy.com or $34 at Amazon
Keeping calm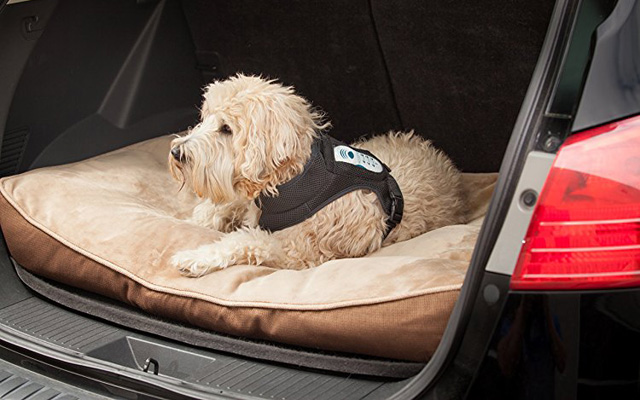 The holiday season can be just as stressful for dogs as it is for humans. Between relatives visiting the house, young kids chasing her around, road trips and New Year's Eve fireworks, the holidays can make even the most social pup want to hide under the bed for a week. Calmz anxiety relief system for dogs is designed to soothe your pooch with music and vibrations. The small device, tucked into an adjustable vest that fits over specific acupressure points, emits vibrations and tones and plays classical music, and can be set to turn on and off automatically when you're not home.
Price: $100 at Amazon
Water and wellness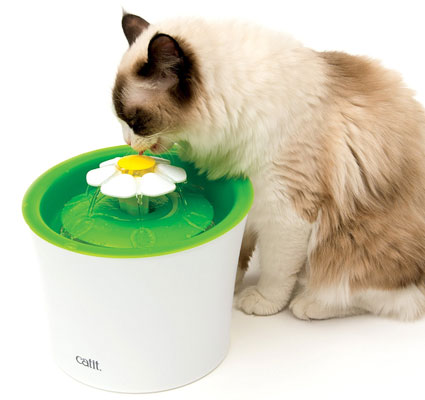 My cat, Max, loves to drink water straight from the faucet in the kitchen sink. It turns out lots of cats like to do this, which is why Catit makes the flower fountain, a water dish with a built-in pump, so the water gently flows all day long. There are three settings to choose from (since we know cats are finicky), and a filter to remove bacteria, debris and stray cat hairs.
Price: $30 at Catit.com or Amazon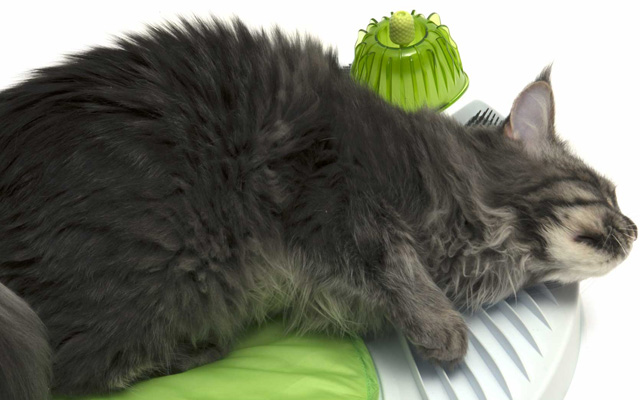 Catit knows cats — which is why their Senses 2.0 wellness center makes a great gift for any cat parent. It's like a kitty spa on steroids, with brushes for self-grooming, a massager for the head and scratching under the chin, a comfy cushion that can be sprayed with catnip (which you can also put on the massager) and, most importantly, a textured nub for cats to gnaw on, which cleans their teeth and stimulates their gums — because they really don't like going to the dentist.
Price: $25 at Catit.com or Amazon
Pet stocking stuffers
We know that sometimes the dog would rather just eat the stocking, and the cat would happily just sit in the box the toys come in, but if you're looking for fun pet toys to put under the tree or in a stocking, check out chewy.com. I order heavy items like cat food and cat litter from them, so I don't have to carry them from the grocery store. Sometimes I need to throw in an extra item to get free shipping, and that's where I always find fun toys that delight my kitties.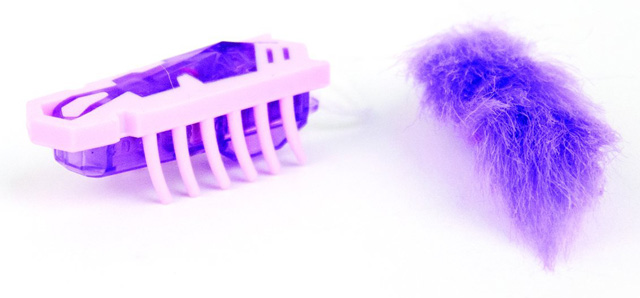 The Hexbug Nano robotic cat toy is a favorite in my house. A nano bug is a robotic toy that scampers across the floor using vibration technology, and my cats love chasing the furry tail attached to it. It can find its way around furniture and corners and flip itself over if it gets knocked upside down by a paw. You'll want to rescue it if it winds up under the fridge, or you'll learn the hard way how quickly the battery can run down.
Price: $9 at chewy.com or Amazon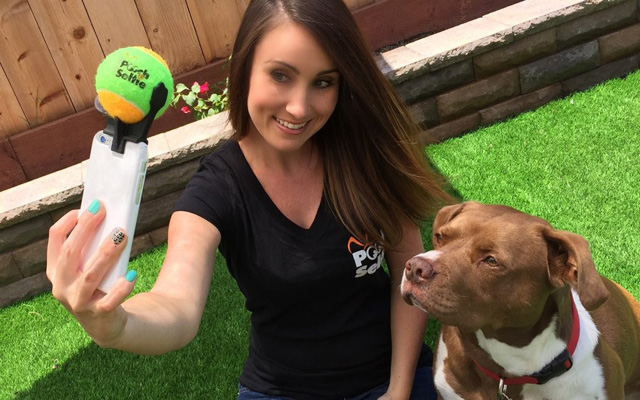 Who says dogs don't take great selfies? Pop the Pooch Selfie smartphone attachment onto your phone, squeak the tennis ball and you'll have Instagram-worthy snaps every time. The squeaky ball is removable, so when you're done with the photo shoot, you can toss it for a game of fetch.
Price: $10 at chewy.com or Amazon
[Image credits: Calmz, Hexbug, Catit, Jackson Galaxy, Fitbark, Petnet, 4 Paws Tech, PetCube, Furbo, Whistle, Clever Dog Products, Katilyn Wells/Techlicious]
---
Discussion