Compared: Microsoft Office Online vs Apple iWork vs Google Apps
Techlicious editors independently review products. To help support our mission, we may earn affiliate commissions from links contained on this page.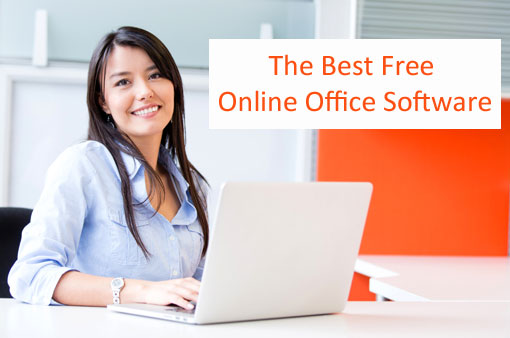 More and more of us are working remotely, collaborating with colleagues around the globe or simply working from home. Online office software that supports input and feedback has become the new essential for the collaborative remote workplace.
But while some 1.2 billion people use Microsoft Office, the godfather of office software may no longer be the indisputable king, especially when it comes to the collaboration features that are increasingly in demand.
Google, which counts 915 million users on its Gmail service alone, may be a latecomer to the world of office software, but its online-first (and now, mobile-first) approach to digital services makes its browser-based office suite, Google Docs, Sheets and Slides, downright easy to access from Gmail.
As for Apple, whose iWork office suite is available only for Mac users, the online iWork on iCloud provides a beautifully designed alternative to Google Apps and Office Online — and one that works for non-Mac users, too.
We compared Google's apps, iWork on iCloud and Microsoft Office Online for home user, looking at how easy it was to collaborate online, what offline options were available and how nicely each service played with basic formatting in existing files we uploaded (see the comparison chart at the end of this article). One thing these programs have in common: Each works best if you already use its corresponding services such as email or the desktop version.
Best Overall: Microsoft Office Online
Gone are the days of tech giants' "walled gardens" of software ecosystems. Office Online can be accessed on both Windows and iOS systems, on any browser and on either iOS or Android devices. The suite includes Word, Excel, OneNote and Powerpoint plus Sway, a newish, Powerpoint-esque app with simpler, more polished design features and the ability to add online content from sources including Facebook, YouTube and Bing. In fact, Sway is up there with Apple iWork in terms of slick, image-centric offerings that allow you to create smooth, modern reports, newsletters and more.
Each app comes with several templates to help you kick off your project. The minimalist, easy-to-navigate interface hearkens to Windows 10. Though the features in these browser-based apps are stripped-down versions of those offered in their desktop counterparts, as with Google Apps, the lineup of formatting options, spreadsheet formulas and design features here is sufficient for everyday use.
In terms of collaborating with others, Word, Excel and Powerpoint can easily be shared through email (auto-complete only present if you use an Outlook.com account). Sway's default sharing option is social media, though you can copy and paste a share link into an email. Collaborators can edit in real time, with changes reflected as they're made. As with iWork, you can stop sharing a particular file.
If you use the Microsoft Office desktop program, there's a handy button to open web-based files in their desktop counterpart. However, uploading existing files from your hard drive requires that you upload to OneDrive, then grab the file from there.
Office Online preserved basic formatting from desktop Office files, including the alignment, bullet points and font in our Word-created test resume.
Even if you're not sold on the Windows ecosystem, Microsoft Office apps for iPad and iPhone offer good editing and creating features and, on the iPad, support iOS 9 abilities such as split-screen viewing. If you decide you need more formatting and spreadsheet features, upgrade to Office 365 Home User (from $9.99 per month),with the added bonus of keeping all the files you've worked on, another 1TB of storage and the same benefits for up to five users.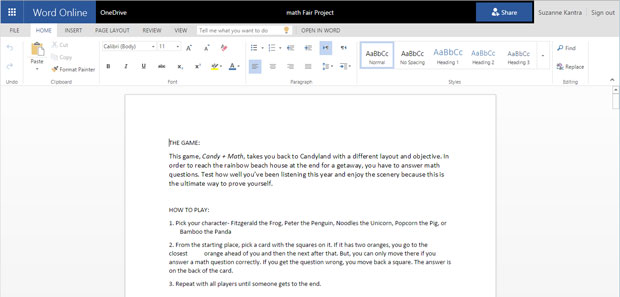 What you can do: Documents, spreadsheets, presentations, synced notes plus files including interactive or live elements
Storage: 5 GB on OneDrive
Cost: Free
Ease of collaboration: Excellent
Does it work offline? No; download files before going offline (although changes made during temporary disconnections will be synced once you're back online)
Compatibility: Microsoft Office; basic formatting is preserved
Killer app: The same highly functional interface as Microsoft Office, today's most-used office suite
But: Files need to be uploaded to OneDrive before you can open them directly in Office Online
Overall: A sleek, functional office suite with excellent collaboration features that work across any platform
Best for Collaborating (and Gmail users): Google's Apps
For a light, easy-to-use office suite that works perfectly online, Google's Docs, Sheets and Slides (presentations) can't be beat. In addition to the free set of browser apps, there's Google Forms for data surveys.
The apps come with templates for projects such as resumes, budgets and calendars as well as image-based portfolios and albums. You can load images from URL, hard drive albums, Google Drive or your webcam and open files from Google Drive as well as your hard drive.
Docs offers all the basic formatting options — tables and bullet points, for example — but only 17 fonts, although those are likely to be sufficient for most everyday word processing needs. When we opened our test resume document, its formatting was preserved, including a tri-column table header, bullet points and column alignments; however, when we copied and pasted the same document, the formatting was lost and the document was totally destroyed.
Similarly, Sheets offers a good range of formulas and calculation tools, though if you work with massive data sets (say, over 10,000 rows), the program starts to slow. Low-key users tracking things like household expenses or travel budgets will love the auto-calculation Insights feature.
Google Apps really shines in its collaboration features. Changes are tracked, and you can set sharing options to viewing, editing, commenting as well as "suggesting," if edits need to be approved. If you're a Gmail user, sharing files over email is a no-brainer with auto-complete addresses. If your collaborators are also Gmail users, they can sign in and chat via Google Talk right in whatever file you're working on.
Google Apps does work offline but only for Chrome users. Any files you want to work on offline must be opened before you go offline; changes are saved to Google Drive on your desktop and synced when you're back online. This is automatic for Google Apps personal users; business or education users need to manually turn it on in Settings / Offline Sync.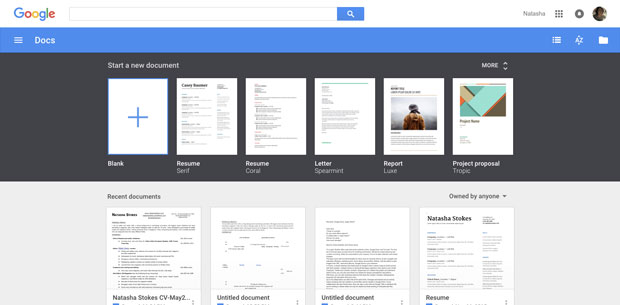 What you can do: Collaborate on documents and presentations, slideshows, spreadsheets, data collection
Storage: 15GB on Google Drive (some of which you may already be using for full-resolution photos and email)
Cost: Free
Ease of collaboration: Excellent; Google account users can chat in real time while working on a particular file; additional functions for "suggesting" if edits must be approved by someone else
Does it work offline? Yes, but you need to be using a Chrome browser and be signed in to both Chrome and Google
Compatibility: Microsoft Office; very easy to open files by uploading from your hard drive as well as Google Drive; basic formatting is preserved
Killer app: Google Forms lets you collect and analyze data, then send it to Google Sheets for more calculations
But: As with any web-based program, responsiveness could suffer if working with large amounts of data
Overall: The ideal choice if you and your collaborators are already in the Google ecosystem
Best for Design Work: Apple iWork
If it's fonts, formatting options and design extras you're after, Apple's Pages, Numbers and Keynote apps make a superior online office suite. Each app, accessible through iCloud.com (just sign in with your Apple ID or create one) or on its fuller-featured counterpart native to Macs, comes with dozens of templates for prettily designed files — everything from color-coded budgets and project planners to sophisticated word documents such as newsletters, flyers and brochures.
These apps offer more advanced controls for designing documents, spreadsheets and presentations, such as alignment guides for adding boxes or images, opacity sliders for color-coding and image effects such as borders and shadow reflections.
However, uploading existing documents to edit online requires the unwieldy maneuver of dragging a file from the Finder window onto the work area. As with Google Apps, our test resume was perfectly preserved, although copying and pasting the same document killed it.
Up to 100 collaborators can edit a document at the same time. Changes are tracked, and you can view previous versions. A password can be added to files, unlike Google Apps and Office, and you can also retract sharing from within iCloud — handy if you only want to set a limited time period for collaborative efforts.
Files can be downloaded in popular file formats, including PDF and Microsoft Office formats, and can be edited on any platform, including Android phones, so even if you aren't a Mac-olyte, iWork could work for you.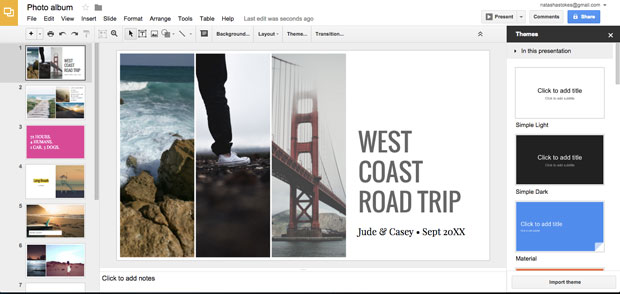 What you can do: Advanced documents such as newsletters and flyers; spreadsheets and budgets; presentations
Storage: 5GB
Cost: Free
Ease of collaboration: Up to 100 collaborators can edit at the same time; fewer options for refining sharing controls (only edit or view permitted)
Does it work offline? Yes; files are automatically synced to iCloud and stored locally so you can access recent documents offline; Handoff lets you open the same file across iPad, iPhone and Mac without an internet connection
Compatibility: Microsoft Office; basic formatting is preserved
Killer app: Excellent iPad features, including split-screen view and multitouch gestures
But: If you don't use Mac's native Mail app or aren't at your own computer, you can't email file-share links directly; you have to copy and paste the displayed link into your email program.
Overall: A full-featured online office with the best features for more design-oriented projects
The Best Free Online Office Software Compared
| | | | |
| --- | --- | --- | --- |
| | | | |
| Overall | The ideal choice if you and your collaborators are already in the Google ecosystem | A full-featured online office with the best features for more design-oriented projects | A sleek, functional office suite with excellent collaboration features that works across any platform |
| What you can do | Documents and presentations, slideshows, spreadsheets, data collection | Standard and highly designed documents such as newsletters and flyers, spreadsheets and budgets and presentations | Documents, spreadsheets, presentations, plus files including interactive or live elements |
| Storage | 15GB | 5GB | 5GB |
| Ease of collaboration | Excellent — Google account-holders can chat in real time within a particular file; up to 50 collaborators can edit and comment at the same time | Up to 100 collaborators can edit at the same time; fewer options for refining sharing controls (only edit or view permitted); ability to stop sharing | Excellent – real-time collaboration and the ability to stop sharing |
| Does it work offline? | Yes, but you need to be using a Chrome browser and be signed in to both Chrome and Google | Yes — files are automatically synced to iCloud and stored locally so you can access recent documents offline; Handoff lets you open the same file across iPad, iPhone and Mac without an internet connection | No — download files before going offline (although changes made during temporary disconnections will be synced once you're back online) |
| Compatibility | Microsoft Office; very easy to open files by uploading from your hard drive as well as Google Drive; basic formatting is preserved | Microsoft Office; basic formatting is preserved | Microsoft Office; basic formatting is preserved |
| Killer features | Google Forms lets you collect and analyze data, then send it to Sheets for more calculations | Excellent iPad features, including split-screen view and multitouch gestures; advanced design controls | The same highly functional interface as Microsoft Office, today's most-used office suite |
| Cons | As with any web-based program, responsiveness could suffer if working with large amounts of data | If you don't use Mac's native Mail app or aren't at your own computer, you can't email file-share links directly; you'll have to copy and paste the displayed link into your email program | Files need to be uploaded to OneDrive before you can open them directly in Office Online; interface is functional but charmless |
| Cost | Free; can upgrade for more storage | Free; can upgrade for more storage | Free; can upgrade to Office 365 for more features and storage |
[Image credits: woman working in office via Shutterstock, Microsoft, Google, Apple]
Discussion