9 Must-Have Kitchen Gadgets
Techlicious editors independently review products. To help support our mission, we may earn affiliate commissions from links contained on this page.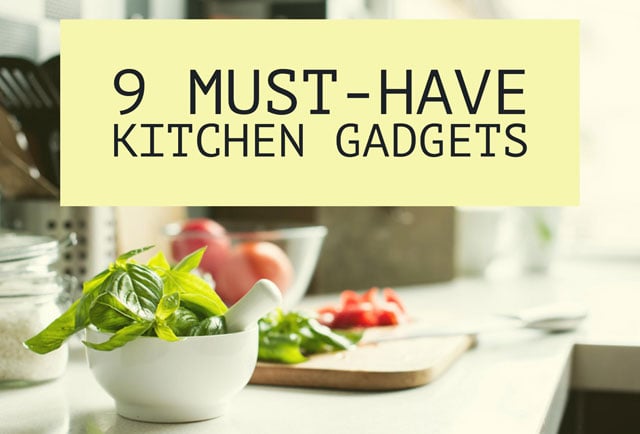 Tools maketh the man and nowhere is that more true than in the kitchen. The right implement can make all the difference between a buoyant mayonnaise and a sea of egg yolk suspended in an oil slick.
Whether your aim is healthier eating, cooking convenience or simply top-notch food, these gadgets help you turn basic cooking into a culinary experience.
---

Toaster Oven: Cuisinart Chef's Convection Toaster Oven
The toaster oven can be the hardest-working multitasker in your kitchen, second only to you, you expert work-life balancer. In our toaster oven face-off, this model from Cuisinart hit every note, from evenly browned toast to juicy roast chicken.
It comes with 15 preset cooking modes for foods like pizza or cookies, essentially combining settings for temperature, convection level and time. Digital controls allow you to further customize your settings. Choose from special modes for speed convection, sandwiches and bagels. Relax and enjoy 1800 watts of quick heat-ups to precise temperatures you can count on for perfect results every time.
With a cavernous (compared to competitors) 0.95-cubic-foot interior and handy internal light that lets you keep an eye on what's cooking, this toaster oven makes a decent substitute when you don't want to preheat your full-sized oven. It easily holds 12-inch pizzas or 13x9-inch baking pans sea-salted caramel dark chocolate brownies — just saying.
Price: $213.70 at Amazon
---

Coffeemaker: Braun Brew Sense Drip Coffee Maker
There are times you crave a sludgy espresso finished with a dollop of foamed milk — and then there are times you just need a cup of joe to be ready and waiting. The Braun BrewSense is a sleek stainless steel ode to the diner drip coffeemaker of Americana yore.
Brew the good stuff at regular or bold strengths in a sealed carafe that minimizes air exposure to maintain flavor and aroma. Its 24-hour programmable cycle can brew as you sleep, with a keep-warm setting for fresh coffee when you wake. A user-friendly, extra-large digital display and easy-to-read buttons make using this coffeemaker's features simple and accessible.
The carafe holds up to 12 cups, though a one-to-four cup setting lets you brew smaller batches. You'll appreciate the anti-drip system that lets you pause and pour in the middle of a brew with virtually no drips or mess.
Price: $73.52 at Amazon
---

Kitchen Scale: OXO Good Grips 11-Pound Food Scale with Pull-Out Display
Precise measurements are the cornerstone of successful baking. Measuring by cups might be good enough for the aforementioned brownies, but for anything more complicated, a digital scale ramps up the consistency — and often the quality — of your output by improving the accuracy of your measurements. And if you're trying to manage your portion sizes, knowing how much you're really putting on your plate is crucial for sticking to a healthy eating plan.
The OXO Good Grips Food Scale can weigh ingredients up to 11 pounds (or its equivalent in metric measurements) with an accuracy down to 1/8 an ounce (or 1 gram). With precision like this, you can venture into delicate patisserie baking as well as more practical meat and vegetable portion sizing. If you're weighing ingredients in bulky dishes, the LCD display pulls out for easier viewing. The zero function lets you zero out the scale while something's already on it, allowing you to add more ingredients while weighing them individually.
Price: 11-pound scale is $49.95 at Amazon, 5-pound scall is $29.99 on Amazon
---

Blender: Oster Versa Pro
A high-powered blender is an entirely different beast than a run-of-the-mill jug with blades inside. The Oster Versa Pro provides superb power and features for this price point. With its powerful 1400-watt motor, soup mode can get its six-pronged stainless steel blade whirring at 250 mph, blending veggies so quickly it generates enough heat to produce instant hot soup.
The speed of the blades is also sufficient to crush ice and grind nuts into healthy, delicious butters. The Versa Pro can pulverize seeds and whirl fruit and vegetable fibers into submission to produce whole food smoothies and juices that don't waste nutritious skin and pith, as many juicers do.
Choose from two more preprogrammed speeds for dips and smoothies, with a variable dial to crank up the speed as you please. The pulse function turns this blender into a food processor, dicing fruit and vegetables into fine chunks for salsa, for example. You'll appreciate that the 64-ounce container is BPA-free, and the product comes with a seven-year warranty.
Price: $199.99 at Amazon
---

Immersion Blender: Breville Control Grip Immersion Blender
Breville's powerful handheld blender has a 280-watt motor and 15 variable speeds that make it versatile enough to puree soup or even crush ice. A bell-shaped base and internal ribbing reduces suction to give you greater control and produce more efficient blending.
This immersion blender comes with a 1250-milliliter blending jug. A smaller chopping bowl fits into the jug for easy storage and offers food processor-esque uses like dicing veggies and chopping nuts. As any shortcut-savvy cook knows, emulsifying mayonnaise from oil and egg yolk is another of the talents of an immersion blender. A whisk attachment lets you whip egg whites and cream, making this device a handy replacement for an electric beater.
Price: $97.95 at Amazon
---

Steamer: Hamilton Beach Digital Steamer
We love steaming as a go-to method for cooking fish and vegetables of nearly any kind. More nutrients are preserved through steaming than boiling or poaching, and you're not adding calories in the form of oil, as in frying, or running the risk of drying out, as in grilling.
The Hamilton Beach is one of our favorite steamers for healthy cooking. Two transparent plastic tiers allow you to steam separate dishes simultaneously. Use one tier for small dishes, or stack both to steam an entire meal. Remove the central divider to steam larger foods.
With a total capacity of 5.5 quarts, this steamer can easily knock out a family meal for four. The convenient keep-warm setting gives you some wiggle room between the time the food is ready and the kids turn up at the table.
Price: $39.99 at Amazon
---

Digital Thermometer: Thermapen Mk4
Sure, you could judge the doneness of a barbecue pork shoulder by eye — or you could know for sure by sticking the Thermapen Mk4 into its fleshy underside. The needle of this digital thermometer can get an accurate reading in two to three seconds, which comes in handy when your sticking your hand into a 350-degree oven. The digital display automatically rotates to orient the numbers for easy viewing.
With a temperature range of -58 degrees to 572 degrees Fahrenheit (or the equivalent in Celsius), this handy accessory to your grilling gadget lineup gives you a trial-and-error-free way to ensure fish, chicken and meat are neither underdone nor overdone.
Price: $ $99 at ThermoWorks
---

Pressure Cooker: Instant Pot Smart Bluetooth-Enabled Multifunctional Pressure Cooker
If you want a ton of options for automated cooking, this all-in-one machine deserves a spot on your crowded countertop. Along with steaming and rice-cooking functions, the 6-quart pot can cook at high pressure to speed cooking times for soups and stews. In slow-cooker mode, it simmers down briskets and tough cuts into succulent, complex casseroles, no attention necessary.
Fourteen preset programs include modes for making yogurt and chili. The "sauté" setting offers three temperatures for browning, simmering and thickening. Bluetooth connectivity lets you manage cooking times and temperatures via iOS app (with an Android version incoming), as well as program complex steps such as brown, then simmer. Expand its functionality even more by upgrading the app and adding more recipe apps.
Price: $179.95 at Amazon
---

Sparkling Water Maker: SodaStream Source Sparkling Water Maker
Sparkling water is one of those binary things in life. People either hate it, or it's the only reason they're not guzzling soda all day. If you're in the camp that believes (rightly so) that sparkling water is a drink — nay, an event — unto itself, then a water carbonator like the SodaStream Source could be worth its counter space in gold.
A one-liter carbonator bottle slots into the carbonating unit itself, powered by a carbon dioxide cylinder you send in for refill every three to five months or so (judging by these users, at least). Control the level of fizz by how long you press down on the carbonator button. A handy LED indicator shows when you've achieved low, medium or high carbonation.
You can also make your own soda with the included diet and regular flavor packs (which happily contain neither the controversial high-fructose corn syrup nor aspartame), allowing you to precisely control the sweetness — an advantage over store-bought soda you may come to find delightfully addicting. Or, you can make your own syrups. There are tons of easy recipes, including this list of 50 sodas from the Food Network.
Price: $94.99 at Amazon
[Image credits: ingredients for cooking via BigStockPhoto, Cuisinart, Braun, Oxo, Oster, Breville, Hamilton Beach, Thermapen, Instant Pot, SodaStream,
Discussion