Emergency Tech Essentials for Your Home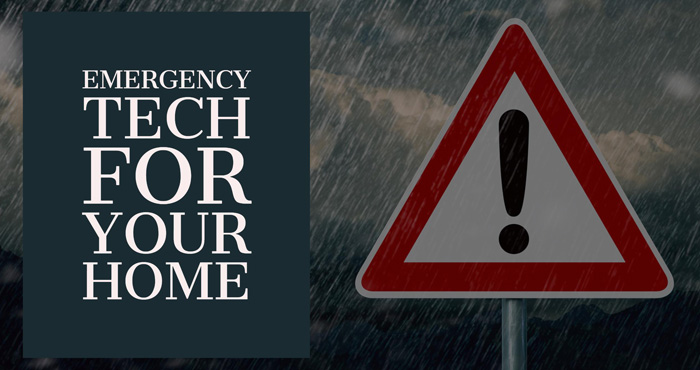 Whenever there's a storm or natural disaster, you'll want to stay on top of the news and weather in your area as well as find ways to communicate when the power goes out, taking the Wi-Fi with it. Luckily, technology can help with that. Make sure you have these gadgets on hand to help you through your next emergency.
Emergency weather radio with alarm clock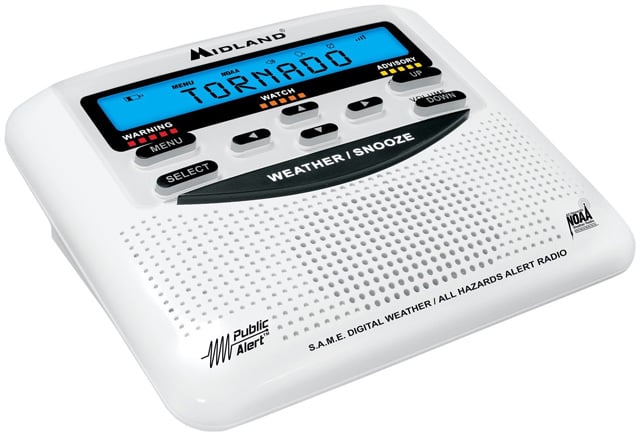 If you live in an area with frequent weather emergencies, it's wise to invest in a weather radio. The Midland WR120 NOAA Weather and All Hazard Public Alert Certified Radio with SAME ($35 on Amazon) is a great choice because it doubles as your alarm clock. It receives 7 NOAA channels with flood, tornado, thunderstorm and other warnings and will alert you with a 90dB siren, voice alerts or a flashing LED light. You can program in up to 25 counties into memory, so you'll only be alerted when there is danger nearby. In case of a power outage, the WR120 uses three AA batteries for backup power.
Hand-crank emergency weather radio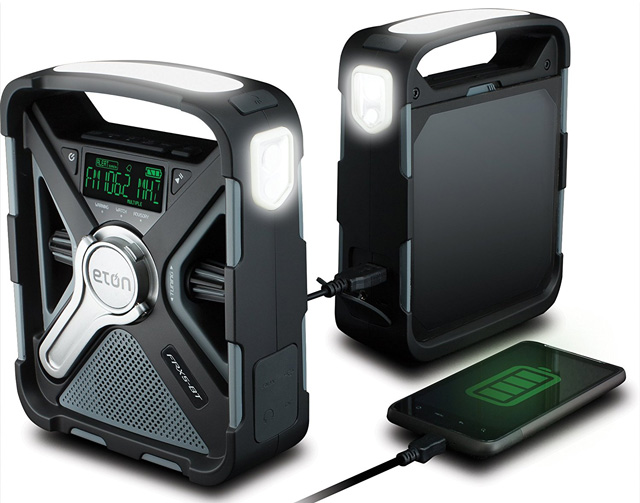 Eton's FRX5-BT ($100) is the best you can get. Turn it on to hear the latest weather alerts or set it to "Alert" mode to warn you when severe weather is coming your way. You can power the FRX5 with its internal rechargeable battery (2,000mAh, which can also be used to charge your smartphone), with AAA batteries, using a hand crank (four minutes of cranking gives you 10 to 15 minutes of power), or with solar power (the solar panel will charge the battery to full in five to six hours). All of these power options mean you'll never be without weather alerts.
The FRX5 also has a bright LED flashlight and can be used as a portable speaker, making it a great multipurpose companion for camping or road trips. Plug in a music source via the aux jack or pair your phone via Bluetooth.
Portable battery charger / Car Jump Starter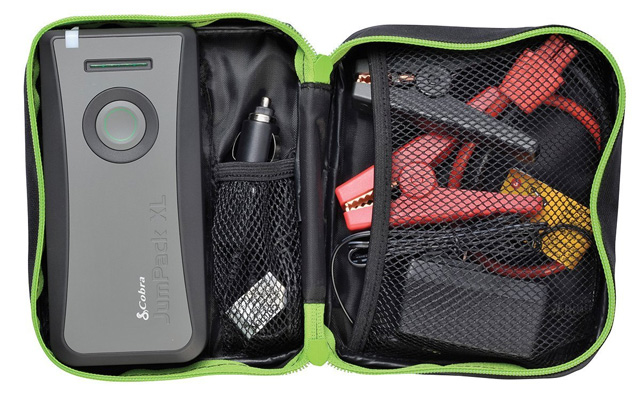 There's nothing that makes you quite as nervous as watching your phone battery deplete during a storm. You want to know you can communicate with the outside world, or just check in with family. The Cobra JumPack XL CPP 12000 ($140) is an 11,000mAh battery that can charge any of USB gadgets, including smartphones and tablets. It has a super-bright LED flashlight that can also serve as a flashing emergency light. And, it can jump start your car (with 300 amp starting current and 500 amp peak current) — you'll appreciate not having to wait for someone to come along and give you a jumpstart if your battery dies.
If you're looking to spend a little less or don't need the power of the XL, try the 6,000mAh JumPack CP8800 ($65). It has the same features as its bigger brother, but with a weaker battery. Still, with a 180 amp starting current and 360 amp peak current, it's enough to jump most cars and SUVs.
Multi-use flashlight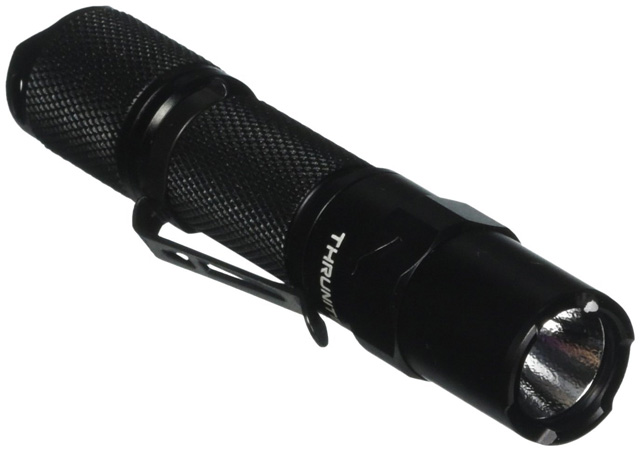 You know it's important to keep candles and flashlights nearby during a storm, but did you know LED flashlights actually shine brighter than regular flashlights? The CVLIFE XM-L T6 ($20) flashlight can generate 800-lumens to light up an area up to 700 feet in front of you. It has 5 Function Modes, three brightness levels — High, Medium and Low — plus strobe and SOS. The flashlight is water resistant (IPX6), so can be used in the rain. And, it uses rechargeable lithium batteries with circuitry to prevent over charge and over discharge. It comes with a regular charger and car charger.
Emergency light

The super portable Luci EMRG light ($15) is perfect for when you're headed out camping or just want to keep an emergency light on the car. Luci is solar-powered and 8 hours in the sun will fully charge this pocket-sized lantern. When you need light, inflate its balloon body and switch it on. Four LED lights (three white and one red) let it work as a lantern, flashlight, strobe light, or red-flashing SOS beacon. Luci floats, can be submerged up to one meter, and can be dropped without problem, making it a good companion no matter where your trip takes you.
If you make Luci part of your emergency kit, it loses about 5 percent of its charge for every month in your closet—but that's still enough to keep it in your emergency kit.
Back-up light bulb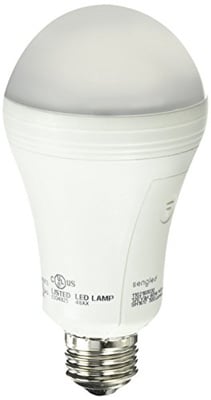 Beyond lanterns and flashlights, you can also make sure you have a few light bulbs that have their own backup battery pack. The Sengled Everbright LED Light Bulb ($20 per bulb) charges through the light fixture, so it's always charged, and will continue to work for up to 3.5 hours after a power outage. The bulb products 500 lumens (40 watt equivalent) of warm white light and has an expect lifespan of 25,000 hours.
Home generator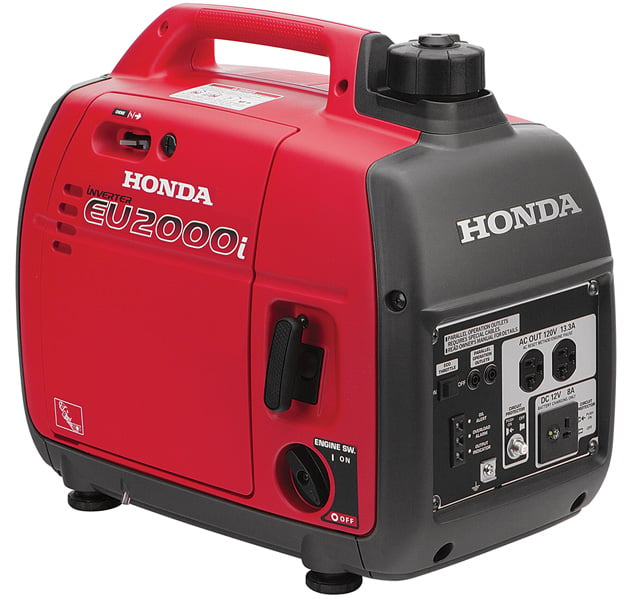 If you need to keep on more than the lights, you'll need a home generator. We recommend the Honda EU2000i ($999 on Amazon), which delivers 3.4 -8 hours of run time per gallon of gas for two 120-volt appliances [2000W max. (16.7A) ,1600W rated (13.3A)], including your refrigerator, coffee maker, hair dryer, air conditioner or microwave oven. If you want access to water, hot water and heat, you'll need to step up to a more powerful model and professional installation.
Water purifier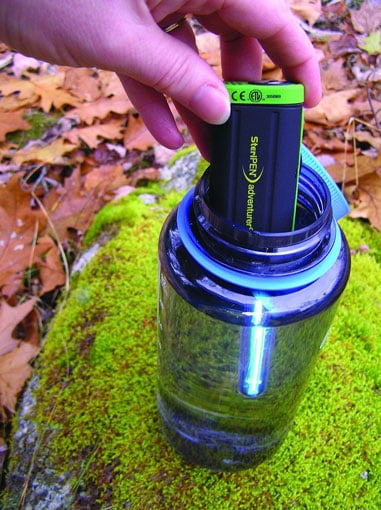 If you live in an area where your water supply could become compromised during a natural disaster, you'll want to ensure you have a method of securing purified water. The SteriPEN Adventurer Opti UV water purifier ($60) uses UV light to destroy 99.9 percent of harmful microorganisms in water (though before you use it you'll need to filter the water until clear) with the press of a button. It's designed to work with any water bottle with a wide mouth (1.75") and up to 1 liter capacity—just dip the SteriPEN into your water bottle, press the button to turn it on and stir. A green indicator light comes on when the water's clean, so there's no way to make mistakes. Each SteriPEN can purify up to 8,000 liters.
For a lower cost, low-tech option, consider the LifeSTraw Personal Water Filter ($20 on Amazon). Each straw removes 99.9999% of waterborn bacteria, which surpasses the EPA standards for water filters. Plus it removes 99.9% of waterborn parasites. Each straw filters up to 1000 liters of contaminated water.
[storm warning sign via BigStockPhoto, Midland, Eton, Cobra, CVLIFE, Mpowerd, Sengled, Honda, SteriPen]
Discussion