Techlicious 2018 Best of Toy Fair Awards
Techlicious editors independently review products. To help support our mission, we may earn affiliate commissions from links contained on this page.
By Jonathan Takiff, with reporting by Suzanne Kantra and Josh Kirschner
Tech and toys have been playmates since the first windups of the late 15th century, bringing glee to young and old alike. That still holds today, we found, shopping for fun at the enormous American International Toy Fair filling the Javits Center in New York City. Yes, the recent boom of internet-connected (and -managed) toys has largely fizzled, amidst concerns that distant computers (and people) could be tracking (or meddling) in the lives of the young 'uns. And then there's that anti-tech movement this year in truly juvenile toys celebrating things smelly, squeezy, goopy and even poopy. Still, your Techlicious team had no problems at Toy Fair finding scaled-down, certifiably safe and fun applications of grownup tech — from wireless Bluetooth and voice control to robotics to virtual and augmented reality (VR/AR) play activities. Our only problem — sifting through the masses of toys for the most clever and innovative, the ten most worthy of a Techlicious Best of Toy Fair honor and your hard-earned dollars. Welcome the winners!
Thames & Kosmos Sensors Alive
It's hard to make abstract physics concepts interesting, but Thames & Kosmos goes one step further making them fun and cool with Sensors Alive. This innovative gamified sensor physics lab deploys stylish, pod-shaped instruments to measure light, sound and heat. You feed the data you gather into an app-based game, which takes the data and uses it to create crazy creatures and habitats with appropriately matched characteristics. If your sensor has collected freezing temps, the game might hatch a goonie bird with a very furry coat who lives in a snowy climate — a creature you can then care for and play games with and that maybe, after some heat-gathering will fly south. Sensors Alive works with a tablet or smartphone operating on recent versions of iOS and Android.
For ages 8+.
Available summer 2018, $149.95
Crayola Crayon Melter

What a win-win. Old crayon stubs are saved from the trash and kids get to master new artistic techniques with this practical pen-like plaything. Simply stuff your unwrapped crayon bits — or even brand new ones — into the top of the handheld, powered stylus. Seconds later (doesn't take much heat to melt and it's merely warm to the touch) you're working a button-controlled liquid color dispenser that can draw a pretty straight line, produce a pixelated masterpiece or add extra textural layers of built-up design to paper or canvas, picture frames or other craft projects. Recommended for children 8 and (way) up. We're thinking parents will likely sneak the "crowns" melter away to toy with themselves.
For ages 8+.
Available fall 2018, $24.99
Leapfrog Leapster 3D
Leapfrog was a pioneer in adding sound to paper books and now they're leading the way again by adding video with its Leapster 3D, a book-based learning system for kids. By adding a 3D-like video display module at the top of the book system, kids are treated to sensory enhancement with new visual content for each two-page spread. Triggered when the system's smart stylus lands at specific spots on pages, the new floating image animations provide an extra layer of tutorial, gaming or "easter egg" surprise.The full LeapStart library (25+ books) is audio-compatible with the new LeapStart 3D, with select titles being upgraded to add the 3D-like visual extras. New licenses and titles, including "Mickey and the Roadster Racers Pit Stop and Go," "Disney Princesses" and "Pixar Pals," will soon grow the library.
For ages 2–5.
Available fall 2018, $49.99 for the system, $7.99 for the books
Think Fun "Shadows in the Forest"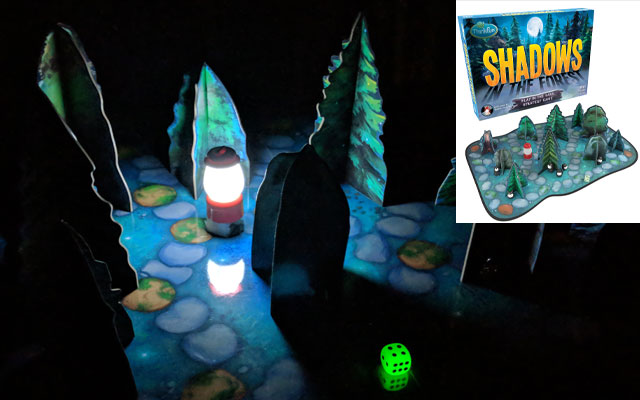 We were impressed by "Shadows in the Forest's" unique and clever gameplay. While most board games are played in the light, this game uses light and shadows and must be played in the dark, making it the perfect game for sleepover parties and evenings in the camp bunk. "Shadows in the Forest" tags one player as the Lantern, a pursuer represented on the board with a small LED lantern. All other players assume the roles of darkness-craving creatures called Shadowlings, which show up on the board as black-shrouded figures. The Shadowlings mission is to gather under one tree, while the Lantern's goal is to freeze all of the Shadowlings in its light. A die controls the players' moves, with the Shadowlings' movement further restricted by the fact that they cannot cross the light beams projected by the Lantern. "Shadows in the Forest" demands chess-like strategy and cooperative play.
For ages 8+.
Available in May 2018, $24.99
MERGE Mini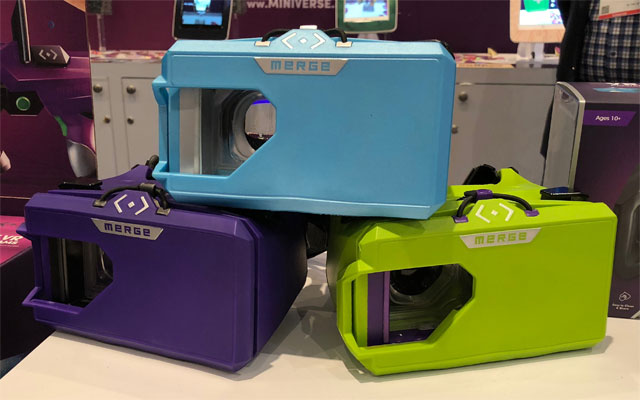 Virtual reality content can be really exciting with its immersive 360-degree views of the world. But oddly, VR goggles haven't been kid-friendly until now. The standard, cheap cardboard variety are hard to hold up to your eyes for more than a few minutes. Larger elastic strap-on VR goggles are bulky and heavy, sized for grownup heads and stronger necks. The MERGE Mini is designed to fit smaller hands and faces, with downsized frames, lenses and head straps and an easy-to-use image focusing ring. More importantly, the Mini is feather-light, nearly indestructable and cushy, marshmallow-soft. So comfy that the wearer forgets about the tech and just jumps into the virtual experience — be it a climb up a mountain, a ride through an African animal preserve or a Mardis Gras parade march through New Orleans. With a cutout in the front for your smartphone camera, MERGE Mini also lets you enjoy augmented reality. Masses of free VR content can be found at sites like Google, YouTube and MERGE's www.miniverse.io.
For ages 10+.
Available summer 2018, under $30
Beyblades Digital Control Kit

Playing with Beyblades has always been about switching up component parts — tweaks that make them fiercer combatants in the battle arena. But nothing is going to give these mecha-warriors a more distinctive personality revamp than the game-changing Beyblade Burst Digital Control Kit. The kit includes a smart Beyblade Burst top, which has Bluetooth for controlling your Beyblade's spin, and a motorized bottom, the Beyblade Burst Battle Platform. Once you've launched your Beyblade, you can change spin speed and direction using the app on your smartphone. Kits will be available with the Bluetooth tech-enabled Beyblade Burst Genesis Valtryek V3 or Farnir F3 top.
For ages 8+.
Available fall 2018, $49.99
Voice Originals "When In Rome"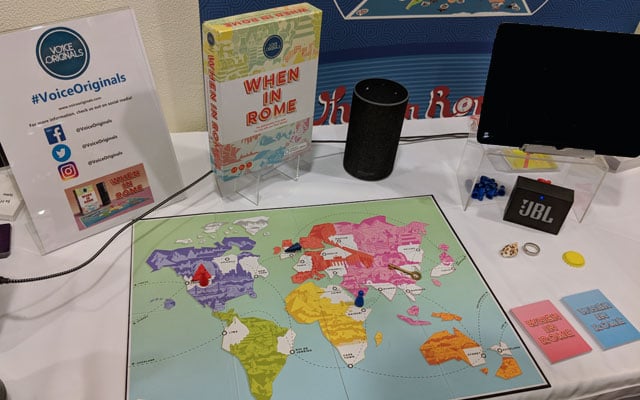 Amazon Alexa has debuted in everything from cars to refrigerators and now she's making boardgames smarter with the Voice Originals "When in Rome" boardgame. "When in Rome" is a travel trivia game, where you answer questions posed by locals about local customs, street food and more through your Alexa-enabled device. When you answer correctly, you collect points and souvenirs and move your piece to another place on the map. Alexa is there on guide duty to teach the rules, keep track of your progress and help out in times of trouble. "When in Rome" is the first Voice Originals title; "The Wild Rover" and "Hit Record" will follow in the fall.
For ages 5+.
Available June 2018, $29.95
Hasbro Speech Breaker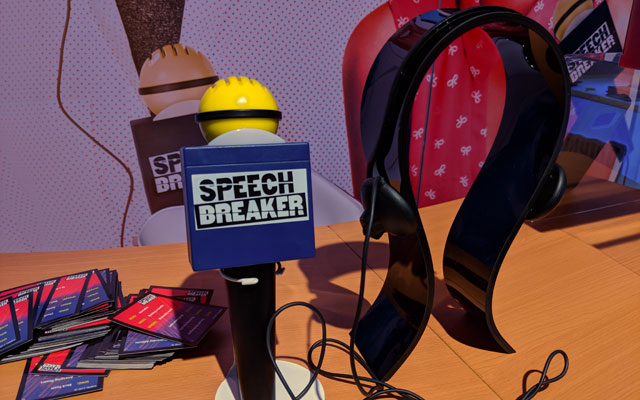 The concept behind Speech Breaker is that you're a TV reporter broadcasting live from a breaking news scene or sporting event, working with a set of cue cards that have just been handed to you. But you can't repeat any of the words on the cards — you have to improvise. Your team has to guess what you're covering before time is up. There are a lot of this type of guessing game out there, but Speech Breaker has a genius gameplay twist. Your microphone and headset are really messed up. Whatever you say is delayed by a half-second before playing back in your ears, making it hard to think and speak clearly. Not only do you have the fun of guessing, but also of seeing your friends turn into blathering idiots.
For ages 14+.
Available fall 2018, $19.99
Fisher-Price Laugh & Learn Smart Learning Home

We love that fact that the Fisher-Price Laugh & Learn Smart Learning Home is using toy versions of the latest smart home tech to teach kids about numbers, shapes and the weather. You'll find a smart thermostat, a solar panel and even an electric car charger, which works with the Fisher-Price Laugh & Learn 3-in-1 Smart Car (sold separately, $39.99). The home even recognizes the car, welcoming your child home.
For ages 9 to 36 months.
Available fall 2018, $149.99
Spin Master Boxer
There were a lot of robots at Toy Fair this year, but Boxer won our hearts with its deep gameplay and extra-lively personality.The robot boasts a wide array of infrared and touch sensors, has an emotive LED display and it responds to voice commands, which makes it very interactive. Boxer can perform nifty wheelies on two of its four wheels and play with its own special soccer ball. In addition to the activities preloaded on Boxer, you can add new ones by having Boxer scan game cards with its optical scanner. And, Boxer plays well with others: Up to three Boxer bots can interact.
For ages 6+.
Available fall 2018, $79.99
[Image credits: Techlicious, ThinkFun]
Discussion