We may earn commissions when you buy from links on our site. Why you can trust us.

Zombie Apocalypse: Ten Tech Products You Shouldn't Be Without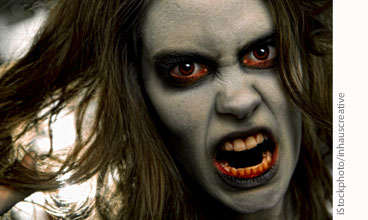 The potential for a zombie apocalypse gained considerable attention this year after the Centers for Disease Control (CDC) created a preparedness guide to help citizens protect themselves in the event of a zombie outbreak. No longer could Americans stick their heads in the sand and pretend that the threat wasn't real.
While the causes of zombification are still not well understood, both the CDC and most experts agree that the disease is likely caused by a virus. And, according to Nathan Brown, author of The Complete Idiot's Guide to Zombies, "The virus is usually transmitted via a bite. But generally any exchange of fluid will likely lead to infection."
Once infected, the virus will quickly reduce the victim's life-signs to near zero and decomposition will begin. Unfortunately, the virus has the dual effect of allowing a very basic level of metabolism to remain, while also inhibiting bacterial growth and slowing the decomposition process to a crawl. The result: victims continue to exhibit hunger and basic ambulatory capabilities for a considerable period of time after their bodies have begun to decay.
But just because zombies are slow and clumsy, doesn't mean they're not dangerous.
"Although zombies do indeed lack speed and agility, and though their bodies may be wounded, rotten, and generally deteriorated, they are also fearless, without pain, and relentless," notes Richard Lee Byers, the author of over thirty horror novels and an expert in zombies. And after zombification has occurred, "there are no documented cases of recovery."
So having the right technology tools at your disposal is critical to your survival. Here are my picks for ten that you really can't live without.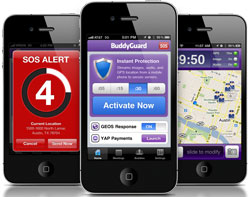 BuddyGuard
If you are on a mission to get gas and you wreck your car or fall down and get hurt, all of your emergency contacts will get an email and text message letting them know where you are and what is happening. Your emergency contact list will also be put on a conference call so they can decide if you are worth saving and who should save you. BuddyGuard is best during the early stages of the apocalypse, while cell networks are still operating. (Free on iTunes)
UPDATE 10/31/2012: We're sorry to report that the makers of BuddyGuard have succumbed to the zombie virus and the app is no longer available.
Glympse
Nothing is more frustrating than having a fellow survivor go missing, and then risking the entire group to go find him or her. With the Glympse app, you can track the movement of each member of your team in real-time on a map so you can see where they are and how quickly they are moving – walking, running or, in a worst case scenario, ambling erratically. The video demonstrates Glympse tracking an actual zombie. (Free, available for Android, iTunes, Windows Phone 7 and BlackBerry)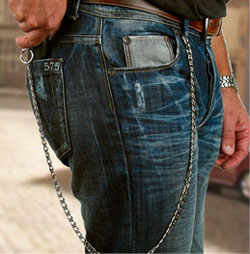 Z- Connector
More than one-third of zombie-related incidents are caused by forgetting or dropping an important item and needing to "go back for it." The Z- Connector (Z for Zombie?) allows you to keep your phone or other survival item secured to your clothing with a fashionable chain. The circular attachment has 100 pound bonding adhesive per square inch, so it is able to resist a tug from all but the most determined zombies. ($28.97)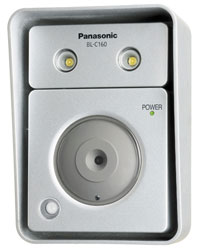 Panasonic's BL-160A Outdoor Network Camera
If you hear a noise outside your hideout, you may be tempted to go check on it, by yourself, armed with nothing more than a flashlight. Not a good idea. Instead use Panasonic's network camera to see if the coast is clear. The Panasonic camera transmits video to either your phone or PC, and with a 3 lux color night view mode, you can easily see if it's really a zombie or just the neighborhood cat. ($299.95)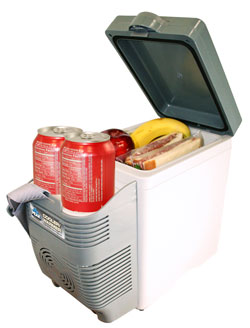 Peak Automotive 12V Can Cooler/Warmer
When you're constantly on the move trying to find survivors, shelter and food, you probably will be spending a lot of time in your car. So why not enjoy a little extra comfort? The Peak Automotive electronic cooler/warmer plugs into your car's lighter and lets you enjoy an occasional cold soda or beer. It also helps keep any road-kill you scavenge fresh for later consumption. ($89.99)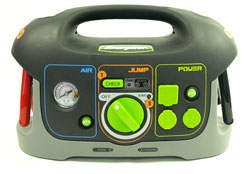 Energizer All-in-One Charger
We've all seen it. Someone is being chased by zombies, they jump in a car to escape and the darn thing just won't start. The Energizer All-in-One Charger has a built-in battery and cables so you can get your escape vehicle running in no time. And if you're not an auto repair expert, don't worry. Audio alarms warn you if you put the cables on backwards. Also includes an air compressor should you get a flat tire. ($149.99)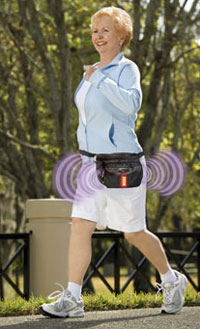 iSafe Waist Pack
Zombie attacks often come when you least expect them, so prepare yourself with the iSafe Waist Pack. If a group of zombies is honing in on you as dinner, a quick tug on the built-in activation cord sets off an ear-piercing 125 decibel alarm and flashing lights. The sound and lights will temporarily confuse the zombies, allowing you to make your escape. ($39.99)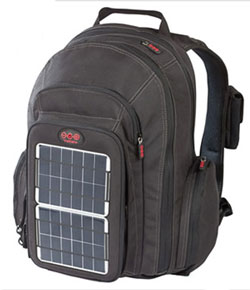 Voltaic OffGrid Solar Backpack
Think a Zombie apocalypse is bad? Imagine how much worse it would be without Angry Birds. Once the electrical grid fails, you're going to need a way to keep your smartphone charged while on the run. The OffGrid Solar Backpack charges your handheld electronics with its two 2.0 Watt Solar Panels that are waterproof, lightweight and built to withstand abuse. The built-in 3,000mAh battery stores juice for when you need it. ($249.00)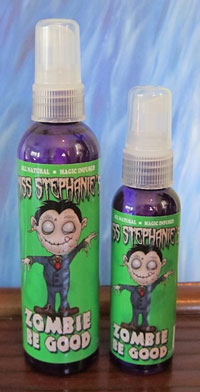 Zombie Be Good Spray
Children are usually the most afraid of a zombie invasion; and Zombie Be Good Spray was developed with that in mind. Simply spray the 100% vegan and certified green formula around a child's room (or allow the child to do it) and it will keep zombies at bay. The company guarantees that you will not be bitten by a zombie while using Zombie Be Good or your money back. Not a tech product, but I like it anyway. ($9.99 for 4oz)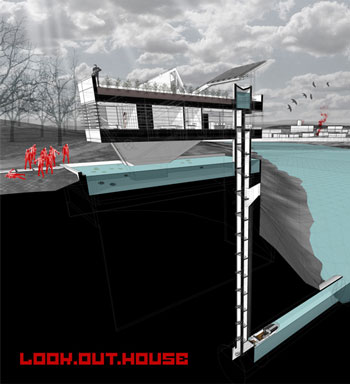 Look.Out.House
Designed by architects Matthew Jordan & Christina Geros, Look.Out.House is an 1800 sq ft two-bed, one-bath home that offers the ultimate in zombie-free living. Sited in the cliffs along the Tennessee River, occupants have a scenic view of the landscape and a perfect spot to survey any trouble in the event of danger. The roof features a garden, a rainwater collector, cistern, and purifier, along with an array of solar panels - enough to sustain both the home and its inhabitants.
For holding trouble at bay, the house is equipped with a drawbridge which extends over the infinity-edge moat and then draws up neatly into the concrete entry stair. Nestled into the interior mass of the concrete entry stair lies a built-in weapons arsenal. Around the rear of the fireplace is the entry to the escape stairwell, which leads directly to the subterranean boat canal. Secured by a steel gate, the boat canal opens into the river, which makes its way to the Gulf of Mexico and the open seas beyond. (estimated cost is around $1 million)
---
Discussion