AfterShokz Bone-conduction Headphones Review
Techlicious editors independently review products. To help support our mission, we may earn affiliate commissions from links contained on this page.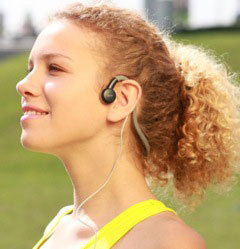 As an endurance athlete who logs many hours cycling and running, I often listen to music while training to help get me through those longer sessions. However, living in NYC wearing those ear buds is equivalent to putting your life in the hands of the thousands of distracted NYC motorists.
VoxLinc AfterShokz headphones ($40.28 on Amazon.com
) solve this problem with their bone-conduction technology. There's no speaker to cover your ear or bud to stick into it. The AfterShokz have two circular conductors (about the size of a nickel) that sit directly in front of the ears and send sound waves through the bone directly into your inner ear.
I recently spent a week trying them out in a variety of scenarios from long lonely rides on quiet roads to riding in NYC traffic to running in hot conditions with the sweat flying. Here are my observations: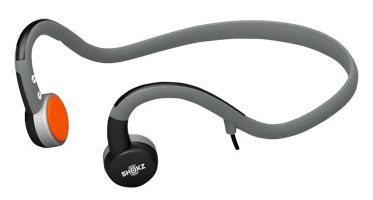 The Positives
I love the small sleek design of the headset, which fits comfortably behind the neck and over the ears.
The sound was incredibly clear and crisp, yet I was still able to easily hear surrounding sounds (such as the cab who did not like me riding in his lane and let me know with his horn).
Where I really noticed an improvement was on my long, hot run. For me, normal ear buds easily fall out of the ear once the heavy sweating begins – often leading me to actually use surgical tape over the ears to keep them in place! Not so with the AfterShockz, that remains in place just in front of the ear – not affected at all by my overactive sweat glands!
The Negatives (small, yet worth mentioning)
I was not a huge fan of the size of the volume control box located on the cord running from headset to plug in. While it was not too noticeable while riding, it was a tad annoying running as it is not ideally located to clip onto the bottom or top of a shirt or jersey (kinda in the middle).
Additionally, while the behind the neck and over the ear design of the headset is ideal when wearing a bike helmet, there is no size adjustment on it for smaller heads (such as my wife), making the fit a tad sloppy.
As one who relies on some musical entertainment to push myself through those longer workouts, the AfterShokz are the perfect answer to fulfill my needs and keep me safe in the big city.
Discussion