Apple iPad 2 Review
Techlicious editors independently review products. To help support our mission, we may earn affiliate commissions from links contained on this page.

Don't be swayed by reports of lines at stores or how the iPad 2 has been sold out in so many places. The hysteria over what is essentially a second-generation upgrade is no indication of how improved the iPad 2 is over the original. Yes, the iPad 2 is a great tablet. Arguably, the best on the market for the foreseeable future. But are the improvements worth the $100 premium over the iPad 1?

The iPad 2 includes three major upgrades over the original iPad 1:
iPad 2 is a third thinner and a few ounces lighter than the original. It also has a slightly smaller surface area – the screen is the same 9.7 inches, but the screen bezel is narrower.
Apple has added front and back cameras, primarily to enable Apple's FaceTime video chatting but likely to spark a wave of photo-related apps such as Apple's own PhotoBooth app, a fun take-off on the instant photo booths often found in malls.
Dual core processors, essentially two 1 GHz processors on a chip of Apple's own design. According to Apple, the dual core engine doubles iPad 2's speed for booting and running apps, and boosts graphics for processing video and gaming nine times.
Otherwise, aside from a few other minor tweaks – such as the speaker now placed on the rear – iPad 2 is essentially an iPad 1 in a smaller, thinner box. Both are great choices.
How it feels in the hand
Like the original, iPad 2 is the same slippery little devil as iPad 1, except now it's 10% lighter, which makes it even more slippery – the original's heft, even by a few ounces, was enough to keep it in your hands. iPad 2 is like a giant thin slice of soap and screams for a rubberized rear.
Apple's answer is an accessory, the Smart Cover. Using magnets embedded in the frame of the iPad 2, the Smart Cover clicks into place to protect the iPad screen, yet adds practically no weight or bulk. When the Smart Cover is closed, the iPad goes to sleep automatically, and then awakens when the cover is opened. The Smart Cover can also be folded to act as a stand for typing or movie watching. The Smart Cover comes in 10 colors— including five in leather—and is priced at $39 for the polyurethane and $69 for leather.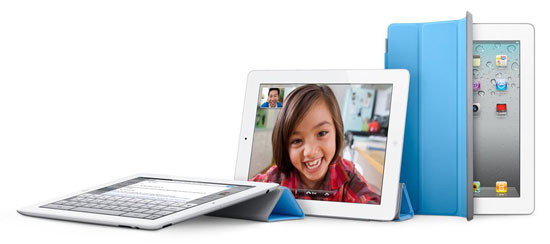 To avoid sharp edges, the sides of the iPad 2 slope, which puts the headphone jack and Apple 30-pin connector on around a 135 degree angle almost behind the screen.
Display and sound
What Apple has failed to do is improve iPad's screen, a literally glaring omission. Amazon has and will continue to make marketing hay over iPad's poor performance in daylight relative to the Kindle, which the iPad 2 doesn't improve upon. And for varying supply reasons, Apple wasn't able to import iPhone 4's high-resolution Retina screen to the iPad 2.
This doesn't mean it's a bad screen – it isn't. iPad 2's screen is as brilliant as the original. Though it is lower resolution than competitors, such as the Motorola Xoom, which offers a 1280x800 display versus the iPad 2's 1024x768—a difference you'll definitely notice when watching movies.
The iPad 2's speaker has been moved from the side to the rear, its perforated grill now a part of the iPad 2's solid rear. This is not a positive change. The iPad 2 lacks the original's solid bass and its sound is thicker and a bit hollow. But you're likely to use iPad 2 with earphones, and it sounds just as good as an iPod or iPhone.
Web browsing
All Web pages, and Web-based content from apps, load visibly faster on the iPad 2 than on the original, although I never complained that the iPad 1 was slow. As always, Apple refuses to support Adobe Flash, so video on some Web sites may not play.
iPad 2 looks to be better at sucking in Wi-Fi signal. iPad 2 often showed more connection waves than an adjacent iPad running on the same network.
Camera and video recording
Tablets, especially large ones like the iPad 2, have awful camera ergonomics. They're too big, you have to hold them too far away from your face to frame your subject and, for video, they're nearly impossible to hold still, which means you get jumpy video.
Apple didn't do us any favors with cameras on the iPad 2. Instead of installing iPhone 4's 5 MP HDR camera, iPad 2 has a lousy .69 MP (960 x 720) rear-facing camera and a mere .33 MP (640 x 480) camera in front. You can imagine the results–stills taken by either camera are grainy and even those shot outdoors lack color and vibrancy, and don't blow-up well.
What the front-facing camera does offer is the ability to video chat using either Apple's FaceTime or Skype. Here again, Apple is a step behind the competition, with the Motorola Xoom offering a 2MP front camera.

However, iPad 2 does much better at video from the rear camera, capturing 1280 x 720 HD video at 30 frames a second. Results are solid, if a little jerky.
Storage
iPad 2 comes in the same memory capacity choices as the original – 16 GB, 32 GB and 64 GB. For whatever reason, Apple still chooses not to offer an external SD card slot.
Battery Life
During my casual usage, it looks as if iPad 2 drains power a bit faster than the original. However, Apple says you'll get the same 10-hour-plus video watching life on the iPad 2 as the original provided.
Pricing and availability
iPad 2 is available in six configurations, in either black or white—if you can find it (many stores are sold out already). Pricing is the same as the original iPad. Meanwhile, the iPad 1 has been discounted by $100, making it a real bargain.:
iPad 2
Wi-Fi
iPad 2
Wi-Fi & 3G
iPad
Wi-Fi
iPad
Wi-Fi & 3G
16GB
$499
$629
$399
$529
32GB
$599
$729
$499
$629
64GB
$699
$829
$599
$729
In addition to Apple's own stores, iPad 2 can be bought at Best Buy, Walmart and Target, and at Verizon and AT&T stores. Ordering online from Apple, means a 3-4 week wait.
Should you buy it?
Despite its limited upgrades and new competitors in the Motorola Xoom and Samsung Galaxy Tab 10-inch, the iPad 2 is still the tablet to buy. For an extra $100 over the iPad 1, you get a much thinner, lighter device, with significantly more power and front and rear-facing cameras.
But if those upgrades aren't important to you, the original iPad at it's newly reduced price is makes for an excellent choice as well.
Rating: Highly Recommended
Detailed Specs
Talk and Standby Time: up to 10 hours video use
OS: Apple iOS 4.3
Weight: 1.33 pounds (Wi-Fi), 1.34 pounds (Wi-Fi+3G)
Dimensions: 9.5" x 7.31" x 0.34"
Display: 9.7" WSVGA LCD (768 x 1024)
Video: 720p HD video recording
Camera: .69 MP (960 x 720) with autofocus
Front-facing camera: VGA (640 x 480)
Processor: 1GHz dual-core Apple A5 Processor
Memory:16, 32, 64 GB on-board
Wi-Fi: 802.11 a/b/g/n
Discussion
New Articles on Techlicious