Can Sony's X-Reality-PRO Make Low-Quality Video Look Better?
Techlicious editors independently review products. To help support our mission, we may earn affiliate commissions from links contained on this page.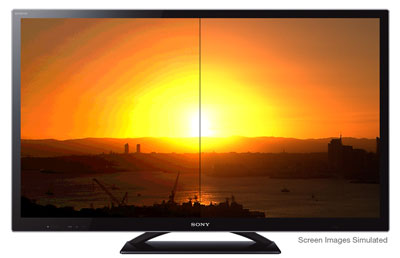 Your TV looks its best when you're watching high-quality video. But sometimes you don't have control over the quality of your source. Maybe you're watching a YouTube video or a movie streamed over the Internet—when the quality of your video source goes down, even the best TVs can look bad.
You're not totally at the mercy of your video source, though. TV manufacturers have come up with ways to enhance even low-quality, standard-definition fare. TVs today have image processors that analyze each frame of video and make tweaks to make it look better, whether it's streamed Internet video or standard definition DVDs.
How much of a difference does this image processing make? I've been testing Sony's X-Reality PRO Picture Engine on the Sony KDL-HX850 LED TV to find out. For testing, I put the HX850 into a demo mode that lets you view video in a split screen mode with the picture effect active on one side and inactive on the other side. I also tested the picture settings outside of demo mode.
The X-Reality PRO Picture Engine aims to compensate for three types of image issues—1) noise around the edges of objects and text, 2) jagged edges on the outlines of objects and 3) noise in low-light images and continuous blocks of color. Each frame of video is analyzed for the outline of objects in the picture, the texture of those objects, plus contrast and color.
Edge and text noise
The most noticeable difference using X-Reality PRO picture engine was in the appearance of noise around the edges of objects, logos and text. While there was some added blurring, it was much better than the more apparent dots and mottling that was visible with X-Reality's Dot Noise Reduction and Reality Creation settings turned off. Turing up Reality Creation to reduce noise further added too much blurring, so I'd keep it at its default auto or medium level.
Jagged edges
Flipping the Motionflow setting on and off made a negligible difference to jagginess; I was hoping for more pronounced line and edge smoothing.
Noise in continuous color
When the Smooth Gradation setting was turned up high enough to smooth out the color in large color blocks, I found the image to be too blurred. I recommend leaving that feature turned off or on low.
So is it worth paying more for a TV that has image smoothing and other picture enhancement technologies like Sony's X-Reality PRO Picture Engine? Yes, but don't expect miracles. That standard definition YouTube video won't ever pass for anything close to HD, but it will become more watchable on the big screen.
Discussion