We may earn commissions when you buy from links on our site. Why you can trust us.

Lenovo Legion Go Hands-on: A Powerful but Bulky Handheld Gaming PC
Lenovo has a new entrant in the handheld gaming PC market, the Legion Go (starting at $699). It competes directly with the ASUS ROG Ally (starting at $599) and Valve's Steam Deck OLED (starting at $549), and offers a unique blend of features that make it stand out. After using the Legion Go for the past week, my impressions are mixed: there's a lot to like about it, but there are also a couple of key drawbacks.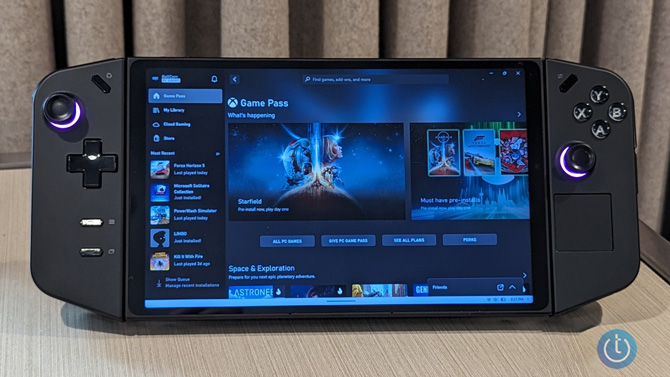 + Pros
– Cons

Bright, fast display
Detachable controller design
Serves as a Windows 11 computer and a game system

Heavy and awkward to hold
Controller doesn't work well as a mouse
Easy to accidentally touch the screen while playing, interfering with gameplay
Some games don't size properly to the display
Design
The Legion Go distinguishes itself in the handheld gaming PC market with its large 8.8-inch LCD display and unique detachable controllers. However, this large display comes with a drawback: the device is thick and heavy, making it cumbersome to hold for long periods. This bulkiness is more pronounced when compared to the slimmer Steam Deck OLED and ROG Ally. Despite this, the large screen and detachable controllers enhance its versatility.
Users can remove the controllers for independent use or place the Legion Go on a surface for tabletop gaming, thanks to its built-in kickstand. The right controller can even transform into a mouse when docked into the provided base. While innovative, I found this mouse functionality somewhat challenging to use.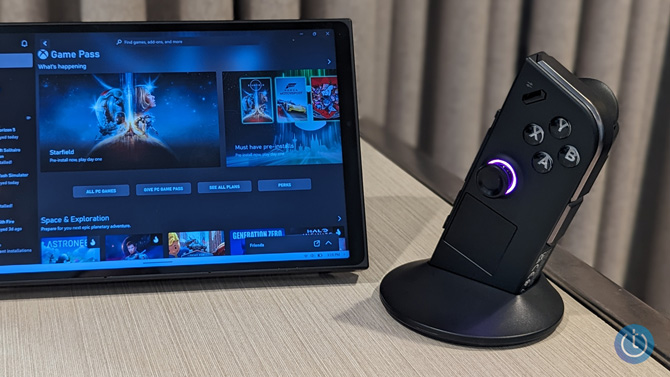 In contrast, the ROG Ally (7-inch) and Steam Deck OLED (7.4-inch) are more compact and lighter, offering a more traditional handheld experience with integrated controls.
Display and processor
The Legion Go's 8.8-inch 144Hz IPS LCD screen is bright and responsive. However, the ROG Ally's 7-inch 120Hz IPS LCD with a variable refresh rate can deliver a superior gaming experience in certain situations. Neither matches the Steam Deck OLED's OLED, which provides superior contrast and more vibrant colors.
Powering the Legion Go and the $699 ROG Ally is the AMD Ryzen Z1 Extreme processor. The Steam Deck OLED uses a proprietary 6nm AMD processor, which I expect to be slightly slower when it comes to market.
Battery Life
Both the Legion Go and ROG Ally consume more power than the Steam Deck OLED, resulting in shorter battery life. Although the Legion Go has a marginally larger battery than the ROG Ally, its larger screen size likely levels the battery life between the two.
Ease of use
The Legion Go, as a Windows 11 PC, provides the flexibility of a traditional computer, allowing connections to external devices such as monitors, keyboards, and mice.
Gaming, however, presents some challenges. For instance, games like Rocket League do not fit the screen properly, leading to awkward stretching. Additionally, during gameplay, it's easy to accidentally touch the screen due to the controller's placement, which disrupts the game.
Navigating the standard Windows environment with the controllers is cumbersome. The touchpad, meant to aid navigation, often falls short in performance, forcing reliance on the controller's scroll wheel for tasks like scrolling.
The takeaway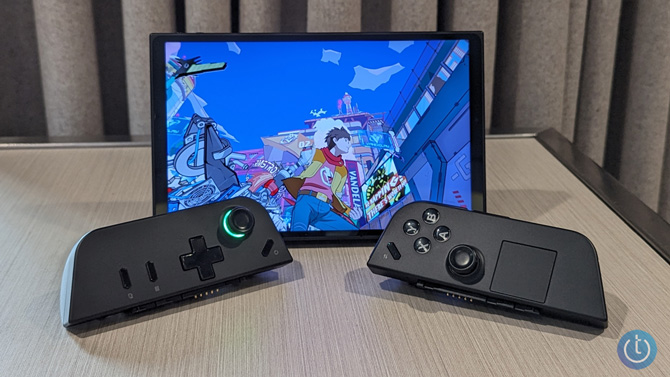 The Lenovo Legion Go stands out in the handheld gaming PC market. It's particularly appealing for those seeking a device that can double as a computer. However, the associated larger size and weight will be drawbacks for some people.

[Image credit: Techlicious]
For the past 20+ years, Techlicious founder Suzanne Kantra has been exploring and writing about the world's most exciting and important science and technology issues. Prior to Techlicious, Suzanne was the Technology Editor for Martha Stewart Living Omnimedia and the Senior Technology Editor for Popular Science. Suzanne has been featured on CNN, CBS, and NBC.
---
Discussion