We may earn commissions when you buy from links on our site. Why you can trust us.

Linner Nova OTC Hearing Aids Make Sound Louder but Not Better
While over-the-counter hearing (OTC) aids are thousands of dollars less than going to an audiologist, the best OTC hearing aids, such as the Eargo 7 or Sony CRE-E10 and Sony CRE-C10, are still expensive, costing $1,000 up to $3,000. So you're forgiven if your first thought upon seeing the price tag for the Linner Nova over-the-counter hearing aid – just $299, currently discounted to $254.99 – is "if these hearing aids are less than 300 bucks, and others are even less than $100, why do the others cost so much?"
Your puzzlement is understandable. We thought the same thing, especially based on the Linner marketing hype about how effective the Nova are at improving your hearing. The Nova are Apple AirPod-like stick buds that boost your hearing and also double as wireless Bluetooth earbuds, increasing their potential value vs. plain, non-Bluetooth OTC hearing aids such as the nearly invisible Eargo 7.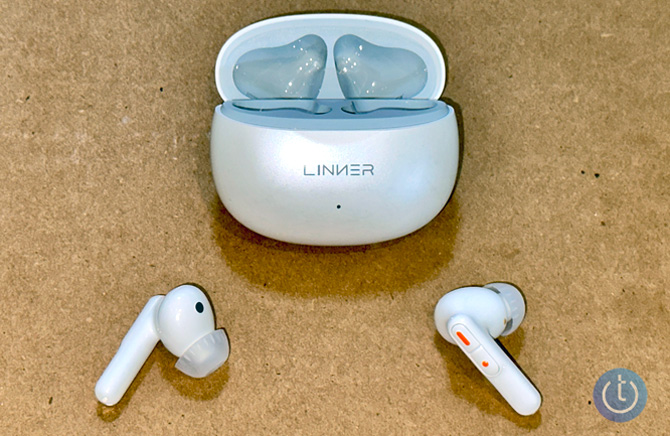 + Pros
– Cons

Low price
Bluetooth music streaming
inclusion of Bluetooth TV audio adapter
Plenty of volume

Does not compensate for individual hearing loss
Incomprehensible user manual
Hearing test is useless
Once we stuck the Nova into our ears and listened to the world around us, however, we soon discovered why the Nova are so cheap and why you shouldn't be cheap when buying OTC hearing aids.
Nova's primary problem is they amplify without clarifying. If your hearing issue is muddiness, that muddiness will be amplified by the Linner. If you're missing high or low frequencies, the Nova will not restore them but merely magnify the sounds you can hear. In short, the Nova only makes what you already hear louder – MUCH louder – without additional clarity and without any restoration of what sounds you might be missing.
The reason the Linner Nova don't compensate for what sounds you're missing is that they are not "self-fitting," which means the buds can't be customized to match your specific hearing deficiencies. Yes, the Linner app includes a self-administered hearing test like other self-fitting OTC hearing aids, such as the Eargo 7 and the Bluetooth-enabled HP Hearing Pro, which takes only a couple of minutes to complete. But the screen displaying your test results states in small type that "This test is only for evaluating your hearing, which can't replace a medical test." In other words, the results of your hearing test are not applied to the buds to customize their performance to compensate for your hearing loss; the test exists merely to give you a vague idea of how poor your hearing is. This is why the Nova carry an FDA plain hearing aid QUG designation rather than the FDA's more expansive QUH "self-fitting" designation [For more details, read What You Need to Know Before Buying OTC Hearing Aids]. And because the Linnear double as Bluetooth earbuds for music, they also are slightly pricier than the bargain non-self-fitting hearing-only hearing aids you often see advertised on TV.
But the Linner Nova also represent what a larger problem in the burgeoning OTC hearing aid business is – often purposely imprecise, oftentimes misleading, if not outright fraudulent labeling.
For instance, emblazoned on the Nova's main web sales page is an official-looking gold badge that proudly proclaims "FDA Approved." This is false. The FDA does not "approve" OTC hearing aids, with a gold badge or otherwise, which implies a federal government quality imprimatur. The FDA only "certifies" OTC hearing aids, which means devices simply comply with the agency's device technical specifications and regulations, not recommending them for their quality or performance.
So, if you're tempted by the Nova's low price to improve your hearing – caveat emptor. The sound you hear will be louder but not better. But the low price, their ability to stream music, and the surprising inclusion of Linner Connect, a small TV adaptor that provides wireless amplified TV listening, may be enough for some.
Ergonomics and setup
Linner's white Nova buds bear an uncanny – well, maybe not so uncanny – resemblance to Apple's AirPods Pro. I intensely dislike the AirPods/Nova stick form factor; sticks are not as secure as other in-ear buds and are too easily accidentally dislodged. The white flat oval Nova recharging case is only slightly larger than that of the AirPods Pro; like the AirPods Pro, the Nova can be recharged wirelessly, although you may have the press the button next to the USB-C charging port on the case to activate charging.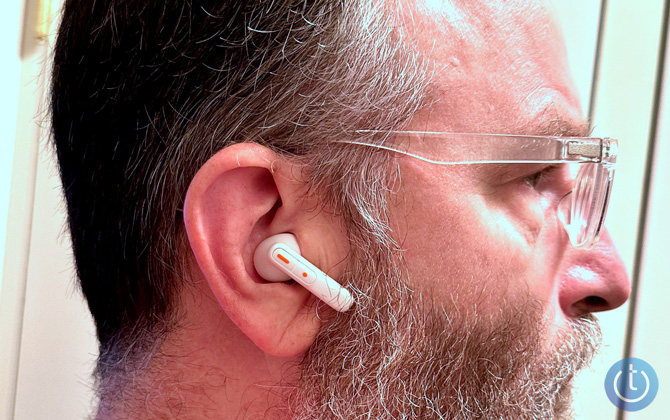 Included are four sets of different-sized translucent silicone tips.
The buds automatically Bluetooth pair with your phone through the relatively simple Linner HA app. Initially, the app would not let me conduct the hearing test beyond my left ear, then refused to boot altogether. I finally deleted the app and reinstalled it, and everything worked fine.
Each Nova bud is equipped with two vertically aligned multi-use buttons, a line and a dot, colored red on the right bud and blue on the left. Single clicks of either long button increase volume, single clicks of either dot lowers the volume, a double click of either line pauses/plays music, a single push of the line picks up an incoming call, and a long two-second push of the line hangs up a call.
Linner doesn't list a battery life rating – or any specs, another caveat – on its website. In real-world usage, I got 6.5-7 hours of mixed listening/music/TV watching usage, with remaining life for each bud displayed on the app's splash screen. I have been unable to find out how many times the case will recharge the buds. For some reason, however, each bud drained power at different rates. Five hours of continuous wear and mixed ambience and music listening left the left earbud with 41% of power – but the right bud only 26%.
Inside the case is a UV-C lamp to sterilize the buds, perhaps a nod to folks who like to share. Linner recommends at least a minute of in-case sterilization to fully eliminate lingering bacteria and other assorted ear cooties.
The Nova user manual is a mess. For one thing, it could use a good copy editing, or at least proof reading, as it is replete with typos and misspellings. The manual also fails to adequately explain – or even include – many of the Nova's functions, functions, and specs.
Performance
As noted, the Nova doesn't improve sound – it doesn't make what you hear cleaner or clearer or restore previously unheard frequencies. It merely amplifies what you can already hear. If voices sound muddy to you or difficult to distinguish or comprehend, they'll still be with the Nova – only louder.
And because the Nova ear tips essentially seal your ears, you are totally dependent on the sound you get from the buds. Hearing through the Nova sounds like a good loud phone connection, not as natural as higher priced self-fitting OTC hearing aids, like our All Around Top Pick, the Sony CRE-E10. And because your ears are nearly sealed as they are with all the Bluetooth OTC hearing aid models, you'll barely be able to hear your own voice, which means you'll start talking louder.
You get four hearing improvement presets: Dialogue [sic], Restaurant, Commute, and Outdoor; each preset boosts voices a little less than the previous, while the Outdoor preset helps cut down on wind whine. While the Dialogue and Restaurant presets do raise voice volume levels, all other sounds also are raised indiscriminately and often create an incomprehensible cacophony. You'll also hear slight occlusion as the ear tips move/rub against the inside of your ear as you unconsciously move your ears or jaws, or talk. Both these conditions can further muffle conversation and comprehension.
While the Nova don't really increase conversation comprehension, they are loud. You can increase the volume from 1 (lowest) to 5 (highest) for each bud individually in the app or on each bud to compensate for uneven hearing. But the 5 setting is LOUD and introduces a great deal of distortion. I kept each bud at 1, which amply amplified all sounds.
Under the Media tab in the Linner HA app, you get two additional sound enhancement options. The first is Mix Mode, which "enable/disable hearing amplification when Bluetooth audio is streaming." When toggled off, Mix Mode essentially muffles ambient sound when you are streaming music or TV sound; when toggled on, you'll hear a mix of Bluetooth and ambient sound. Nova, however, do not include active noise canceling – how much ambient noise you hear (or don't) depends entirely on how tight an ear canal seal you can create with each bud. With Mix Mode off, there's a 2-3 second delay before the Nova's ambient sound amplification returns after you pause music play.
The second Media option, Audio Enhancement, applies a mysterious "hearing amplification gain to Bluetooth audio." For music listening, however, this mode just further amps up the distortion and muddies the sound.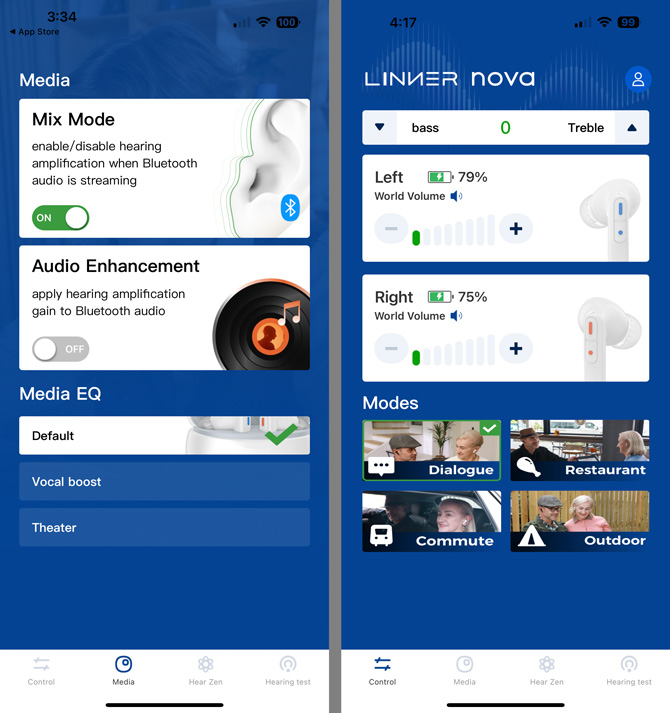 For music listening sans Audio Enhancement, the Nova actually perform quite well with a solid response – or, as much as I could tell since the Nova don't restore my missing high frequencies as other self-fitting hearing aids will.
Linner Connect
The included Linner Connect, a small rectangular puck that connects to your TV's headphone jack via a double-male headphone jack for private TV listening, may be worth the Nova's price tag all by itself.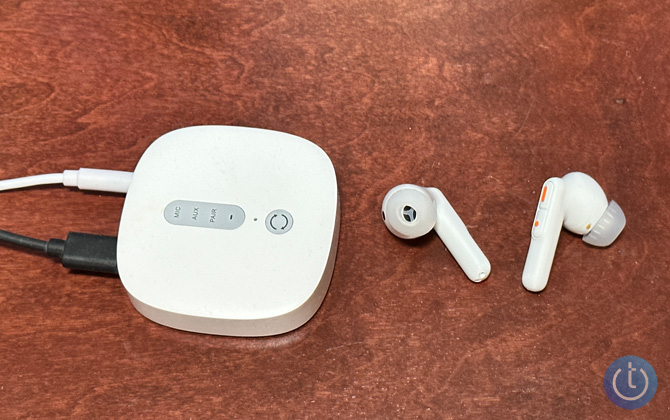 If your TV isn't equipped with a headphone jack – and many modern sets are not – you're SOL – they can't be paired to a TV via standard Bluetooth, at least not as far as we can tell, considering how sparse the instruction manual is. Also, connecting the Connect means only you will be able to hear the TV, not anyone else watching with you.
Successfully connecting/pairing the Nova buds to the Connect is a little tricky. Don't put the Nova buds in your ears first – leave them in their case to start. You first have to plug the Connect into the TV's headphone jack and switch the Connect on so its AUX LED switches on and the Pairing LED flashes. NOW take the buds out of their case and put them in your ears. I figured this sequence out via trial and error since the manual's four-step instructions don't indicate any of this.
Once the Nova and the Connect are successfully paired, you get plenty of earbud volume controllable by your TV remote, not the Nova on-bud volume buttons. Lip sync is a nanosecond off, but not annoyingly so. As with music listening, the Nova don't compensate for your hearing deficiencies, but the app's Media Audio Enhancement option, bad for music listening, does effectively boost TV dialog.
You may have to raise your TV volume far higher for Connect listening than it would normally be set at. If you do raise the TV volume for the Connect, make sure you lower it before you pull out the headphone jack to avoid an explosion of TV speaker sound.
Connect can be powered by its rechargeable battery, but you can just keep it plugged in for power via a USB jack, so you only have to worry about the earbuds' power.
Connect also enables wireless microphone function. But the four-line manual instructions are more useless to figuring this function out than the TV listening instructions. Besides, a single wireless Lavalier mic is a more efficient – and far cheaper – wireless mic solution.
The bottom line
For those whose hearing issue is purely low volume, the Nova provide plenty of volume help. There are other non-self-fitting "hearing aids" you can buy for half or a third of the Nova's price. But unlike most of these often sub-$100 hearing assist models designed only to raise the volume of the world around you, the Nova helpfully add Bluetooth music listening and hands-free calling, and the included Connect accessory successfully paired with the Nova buds provide an effective volume-boosting private TV listening experience.
But if your hearing issues include clarity or frequency loss, the Nova will simply amplify those problems, not solve them, which means you should opt for a pricier self-fitting OTC hearing aid.


[Image credit: Stewart Wolpin/Techlicious]
Stewart Wolpin has been writing about consumer electronics for more than 35 years, including news, reviews, analysis and history, and has attended and covered nearly 50 Consumer Electronic Shows and around a dozen IFA shows in Berlin. For the Consumer Technology Association (CTA), he is an elector for and writes the official biographies of the annual CT Hall of Fame inductees, and is the keeper of the industry's official history.
---
Discussion