Nokia Astound C7 Review (T-Mobile)
Techlicious editors independently review products. To help support our mission, we may earn affiliate commissions from links contained on this page.
When I received my Nokia Astound review unit, I was immediately impressed by its svelte, classy design and high build quality. Unfortunately, things started to go downhill quickly once I turned it on. Running Nokia's Symbian 3.1 operating system, the Astound was plagued by slow performance, error messages and a user interface that is a step (if not a generation) behind Android and Apple's iOS.
I tested the Astound for a full two weeks to see if I could find enough appealing features to overlook the problems—I couldn't. And at a $79.99 price, there are too many better choices out there to recommend it.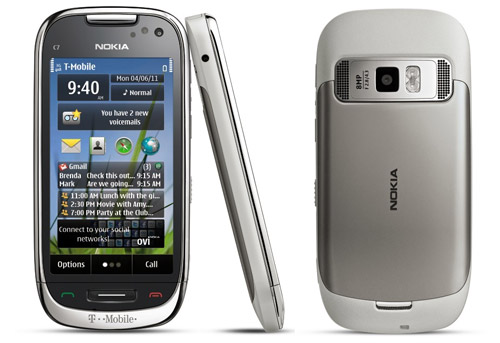 How it feels in the hand
The Nokia Astound is the perfect size for those who find other smartphones too wide. At 2.24-inches wide, it's one of the slimmest smartphone on the market and is very comfortable to hold in your hand. It also weighs in at 4.58 ounces, making it light, but not as light as a 4.2 ounce Motorola Defy or Samsung Galaxy S 4G.
The Nokia Astound also feels solid and well-built. Looking like the younger sibling of the HTC MyTouch 4G, it has a high-quality plastic case with metal accents around the sides and back. Definitely beyond what I would have expected in a $79 device.
On the side of the Astound is a physical slider switch for locking and unlocking the phone. It is placed exactly where your thumb rests when holding the phone and is far superior to the "swipe screen" function on Android.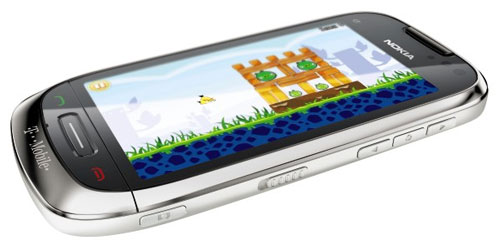 Display and sound
The display on the Nokia Astound is a bright, rich 3.5-inch AMOLED 640 x 360 screen. Compared to most Android phones, the Astound has both a smaller display and lower resolution. And though the screen is the same 3.5 inches diagonally as on the iPhone 4, the Astound's elongated 16x9 aspect ratio ends up creating a cramped viewing experience for most typical smartphone functions. The 16x9 ratio does make more efficient use of the screen real estate when watching movies, but if you're a movie buff, you would be better served with a larger screen.
Sound from the built-in speaker was fine and music through the headphone jack was loud and clear. But trying to multitask while listening to music causes tracks to pause or become choppy as the Nokia's processor struggles to keep up.
Making calls
Call quality on the Nokia Astound was very good, with no sound issues on either end during calls in New York City.
Looking up recent calls you've received requires three steps—open option menu, click recent calls, click on the received calls tab. Not a big deal on its own, but this, unfortunately, was a consistent theme with Symbian—burying commands in menus rather than placing the tabs up front.
Web browsing & mobile hotspot
The Nokia Astound really misses when it comes to web browsing. When pitted head-to-head against other 3G Android phones on T-Mobile, sites took almost twice as long to load. And, once loaded, scrolling was slow and choppy. So slow, in fact, that on more complex sites like the NY Times web browsing essentially became impossible.
My 3G performance testing showed the Astound barely able to break 1Mbps, while a Motorola Defy running Android 2.1, also a 3G T-Mobile device, was happily chugging along at over 2Mbps.
The Nokia Astound does not offer a personal mobile hotspot.
Camera and video recording
The Astound has an 8MP camera with an LED flash and can shoot 720p video. Camera quality was very good, though somewhat washed-out and noisy in low-light conditions. Video quality was better than most other smartphones I've tested, but still doesn't approach that of the iPhone 4. Controls are more advanced than other smartphones, including a very helpful feature for creating custom scene modes.
Even though my phone was set for Eastern Time, photos I took were timestamped with Greenwich Mean Time. Nokia says this issue will be fixed in a future maintenance release.
There is a front-facing VGA camera for shooting pictures of yourself or for video chat. Though, oddly, there is no video chat app included with the phone. Fring or Qik can be downloaded from Nokia's Ovi store.
Keyboard and navigation
Similar to Android, Symbian allows for customizable homescreens (only three for Symbian), that can contain a combination of apps and widgets. Most functions can be accessed through the main menu, with icons appearing in a grid—again similar to Android. But unlike Android, the Symbian 3.1 OS was a constant source of frustration.
Unlike Android, Symbian will not easily sync contacts or calendars from Gmail, Yahoo! or Facebook. The only way to make it work is to set up your account as an Exchange account, which will only work with certain services, like Gmail. When I went this route, it caused constant login pop-ups—far from ideal.
Everywhere you go, Symbian seems to require a step or two more than Android or iOS to get the same job done. There's no button to reply to an email, you have to open a menu and then click "reply". There's no way to delete multiple email messages at once. Viewing recent calls requires three steps—and that's once you're already in the calling app.
The Astound also regularly pops up "memory full" error messages, suggesting that I close apps even though none are running. This issue has been seen by other reviewers as well, so clearly there is a bug that needs to be fixed.
The narrow display of the Astound makes typing on the virtual keyboard very difficult in portrait mode. Unless you have pencils for fingers, expect lots of spelling mistakes. Swype is included on the phone but can only be used when the keyboard is in landscape mode, which is very bizarre because it is so desperately needed in portrait mode.
Storage
The Astound comes with 8GB of internal memory and a microSD card slot, expandable up to 32GB.
Battery life
The Nokia Astound did well in battery life at least, lasting well over 24 hours under normal usage. Official talk time is 9.6 hours, with standby time of 23.1 days.
Yet, here again, Nokia frustrates. Rather than using a standard micro USB connection on their charger, they use a non-standard micro-pin plug. You can still charge through the Astound's USB port, but you'll have to supply your own charger.
Pricing and availability
The Nokia Astound is available through T-Mobile for $79.99 with a new, two-year customer agreement, but Wirefly
and AmazonWireless are already giving it away for free.
Should you buy it?
The Nokia Astound is a beautifully made phone that is hamstrung by a clunky, outdated operating system, underpowered processor and compressed keyboard layout. As a step up from a feature phone, it may make some people happy. But it's hard to imagine that anyone wouldn't be better off with an inexpensive Android phone like the Motorola Defy ($.01 on AmazonWireless) or HTC MyTouch 4G
($79.99 on AmazonWireless).
Rating: Not Recommended
Detailed Specs
Talk and Standby Time: Up to 9.6 hours talk time and 23.1 days of standby
OS: Symbian 3
Network: WCDMA 850/900/1700/2100, GSM 850/900/1800/1900, HSDPA (Category 9)
Weight: 4.58 ounces
Dimensions: 4.62" x 2.24" x 0.41"
Battery: 1200 mAh
Display: 3.5" AMOLED (360 x 640)
Video: 720p HD video recording
Camera: 8.0 megapixel, LED flash, digital zoom
Front-facing camera: VGA (640 x 480)
Processor: 680MHz ARM 11 processor
Storage: 8GB on-board, microSD card slot (expandable to 32 GB)
Wi-FI: 802.11 b/g/n
Wi-Fi Hotspot: No
Colors: Frosty metal
Discussion
New Articles on Techlicious