We may earn commissions when you buy from links on our site. Why you can trust us.

T-Mobile HTC myTouch 4G Review
In case you couldn't guess by its name, the new HTC myTouch 4G for T-Mobile ($199.99) is the latest Android entrant into the 4G space. And after a week of hands-on testing, I can comfortably say it's one of the best Android phones available from any carrier.
Beyond the network speed, the HTC myTouch 4G also offers a front-facing camera for video chat over Wi-Fi and 3G/4G; hotspot support for up to four devices; has a bright, rich 3.8" LCD display; and it runs the newest version of Android 2.2.1, with support for Flash web browsing. What's not to like?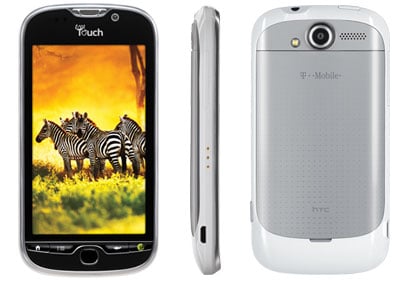 How it feels in the hand
The HTC myTouch 4G is a solidly built phone that feels comfortable and secure in your hand. Measuring 4.8 x 2.44 x .43 inches, it has a slim profile nearly identical to our other favorite from T-Mobile, the Samsung Vibrant.
That solid build comes at the cost of weight, though. The HTC myTouch 4G weighs 5 ounces, about an ounce more than the Vibrant's 4.2 ounces. Whether you prefer the heavier, solid feel of the myTouch 4G or the lighter, more plasticky Vibrant will be a matter of personal preference. And given the array of features on the myTouch not available on the Vibrant, you get a lot of value for that extra ounce.
Aesthetically, the myTouch 4G is a nice looking phone, though not a standout, with brushed metal accents on the back and a choice of colors—black, white, red and plum.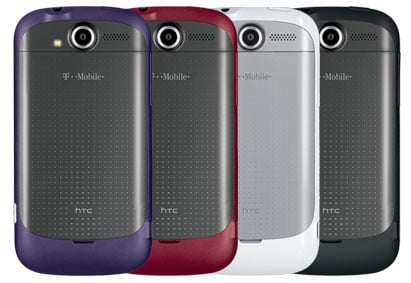 Display and sound
The display on the HTC myTouch 4G is a standard 3.8-inch 800x480 capacitive LCD touchscreen. It's bigger than the Apple iPhone 4 (3.5 inches), but slightly smaller than other Android devices, like the Samsung Vibrant (4 inches) or Motorola's DROID X and HTC's EVO (both 4.3 inches). But display quality was very good, with rich colors and very good brightness. Perhaps not quite up to the Samsung Galaxy S class phones, which is brighter and has sharper text, but I found the myTouch 4G to generally have more accurate colors and less oversaturation.
Sound from the built-in speaker was tinny and on the quiet side, but was acceptable.
Making Calls
There's not a lot to say in this area. The HTC myTouch 4G had no trouble making calls and sound quality was very good—just what you would expect from your cell phone.
Web browsing & Mobile Hotspot
Technically, the myTouch 4G is not "true" 4G, because it operates on T-Mobile's HSPA+ network. However, T-Mobile claims HSPA+ is capable of supporting "4G speeds".
The HSPA+ network averaged downloads speeds of around 2Mbps (with a maximum of 3.5Mbps) for me in Manhattan—only slightly faster than what I currently get on my 3G T-Mobile phones. As the T-Mobile HSPA+ network gets built out, perhaps we'll see those speeds improve. Other reviewers have seen speeds as high as 7Mbps. Unlike some carriers, T-Mobile does not charge extra for its "4G" service.
The myTouch 4G is running Android 2.2.1 with support for Flash during web browsing. And thank goodness. There are those out there who claim that you don't need Flash except for watching videos, so it's not that important. Those people are wrong. Many sites use Flash components for navigation or to display information, and I'm constantly frustrated by its absence in the iPhone and most Android phones.
The myTouch 4G can act as a mobile hot spot for up to four devices. In testing, the feature was a breeze to set up and worked flawlessly. Using the hot spot costs an additional $14.99 per month.
Camera and video recording
The myTouch 4G has a 5MP camera with an LED flash and takes 720p HD video. For those that want it, there is also a front-facing camera—a first for T-Mobile—that lets you do face-to-face video chat over either Wi-Fi or 3G/4G using Qik. I can't say that I was overly impressed with the quality of the chat, and don't value this feature highly for myself, but if you're into chatting it up over video from your cell phone, the myTouch 4G provides it.
Both camera and video quality were decent, but a slight step below the Samsung Galaxy phones and a good step below the iPhone 4. Low-light photos were noisy and the autofocus takes a long time to lock on, making it difficult to snap great pictures of young kids or other "constant motion" subjects. They also came out rather soft.
In video, color accuracy was off and moving the camera caused significant stutter. In other words, just like almost every other cell phone. If you're going to be recording memories for posterity, a dedicated camcorder is preferable.
Controls were rather basic, but well laid-out and easy to use. You can adjust the ISO, turn on and off the flash, select visual effects and make adjustment to image saturation, white balance, etc. For the most part, I would recommend just leaving these alone and doing any image adjustments on your computer.
Keyboard and navigation
The large display of the myTouch 4G allows for a nice, big virtual keyboard with helpful haptic feedback. Though the myTouch 4G also ships with Swype, which makes virtual typing a breeze.
Navigation was very similar to other Android phones, with seven panels, each customizable with various widgets and apps. The new processor and Android 2.2 made for snappy response times.
There are many opinions as to whether HTC's customized interface is better or worse than Samsung's, Motorola's or stock Android. Personally, I think the differences are minor—mostly noticed by tech writers who constantly go back and forth between the various phones. The average phone buyer should be pleased no matter which brand they go with.
The myTouch 4G has five physical buttons along the bottom: Home, Menu, Back, Genius and a mini trackpad for navigating without touching the screen. The buttons would benefit from being a little less flush with the body, but were otherwise fine. I don't think the trackpad serves much purpose.
The Genius button lets you control various aspects of you phone, get directions and compose text messages via voice commands. Useful, but not significantly more so than the search features on other Android phones.
Continuing the trend, the myTouch 4G also comes with its share of bloatware that can't be uninstalled, such as a trial version of Monopoly. Dear T-Mobile (and every other carrier), please stop. Is annoying your customers with crap really worth whatever incremental revenue you bring in?
Storage
The HTC myTouch 4G comes with 4GB of onboard memory and an 8GB microSD card (expandable to 32GB), which should be plenty for most people.
Battery life
I was moderately surprised by the battery life on the myTouch 4G. It consistently will last me a day under normal usage, and using the hot spot capability for an hour during a recent meeting drained the battery by less than ten percent.
Pricing and availability
The HTC myTouch 4G is available at T-Mobile.com for $199.99 with a new, two-year customer agreement. I expect to see it discounted on AmazonWireless and Wirefly shortly.
(UPDATE 11/3/10 Well, that didn't take long. Wirefly is already offering the MyTouch 4G for $79.99 with a new account and $149.99 for renewals)
Should you buy it?
I really like the HTC myTouch 4G. As you go down the feature checklist, it has almost everything you could want—large 3.8-inch display, high-speed network access, Flash support, mobile hot spot support, front-facing camera, etc.—in a slim, compact design. The only drawback over my previous favorite, the Samsung Vibrant, is that it packs a little more weight into its solidly built chassis and the display isn't quite as...vibrant. But I can live with that.
Rating: Highly Recommended
---
Detailed Specs
Talk and Standby Time: Up to 6.7 hours talk time, up to 11.9 days standby
OS: Android 2.2.1 (Froyo)
Weight: 5 ounces
Dimensions: 4.8" x 2.44" x 0.43"
Battery: 1400 mAh
Display: 3.8" WVGA LCD (480 x 800)
Video: 720p HD video recording
Camera: 5.0 megapixel, Digital Zoom, Auto Focus, flash
Front-facing camera: Yes
Processor: 1 GHz Qualcomm Snapdragon MSM8255 Processor
Memory: 4 GB on-board, 8 GB microSD card included (expandable to 32 GB)
Wi-FI: 802.11 b/g/n
Wi-Fi Hotspot: Yes
Colors: Black, white, red, plum
Discussion