We may earn commissions when you buy from links on our site. Why you can trust us.

Review of Striiv Play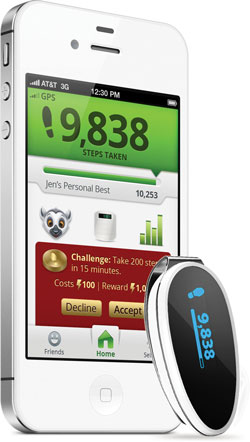 I remember testing my first activity monitor a few years ago and realizing that, aside from those days I made it to the gym, I was largely sedentary. It was a big wake-up call, and now I make the effort to walk or take the stairs when I can.
I would call that the "stick" approach—my activity monitor tells me I need to get off my butt, so I do. And that's fine. But I wouldn't mind a little bit of a carrot, too.
That's where a new activity monitor called the Striiv Play ($69.95 on striiv.com) comes in. By using Striiv Play with the free Striiv iPhone app (free in iTunes), it literally turns exercise into a game on your iPhone 4S, iPhone 5, 5th generation iPod touch or new iPad.
So how does that work? The Striiv iPhone app contains a virtual world game called MyLand. You power the game with your energy through steps captured by the Striiv Play activity monitor and use those energy points to develop your virtual world.
The tiny (1.9"x1.1"x.5") monitor clips to your waistband and captures your movement with its 3-axis accelerometer. Then whenever you fire up the Striiv iPhone app, the Play automatically pairs via Bluetooth with your iOS device and downloads your activity. In my testing, the battery lasted a couple of days between charges. But depending on your activity level, it could last up to a week.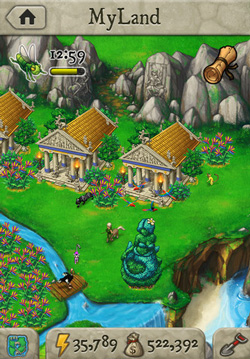 With energy in your MyLand bank, you can exchange energy points for coins to buy plants and buildings. You can't just buy them, you also have to grow your plants and build your structures, which you can only do with energy points. So you need a constant supply of both. Fortunately plants and buildings start generating cash once they're complete and there's always something more exotic and expensive to buy. And many attract animals and mythic creatures that then wander through your world. If that doesn't inspire you, you can accept in-game challenges to build a number of buildings or collect an amount of coins.
I have to admit that I'm a little addicted to the game. I check in at least a few times a day to check my steps and collect coins and I've even found myself running in place to earn more energy points to finish growing a flowering bush or buy a fountain. That's because Striiv has made earning energy points easy by offering small activity challenges. For instance, taking 100 steps in ten minutes can earn 2,700 energy points, enough to grow a small plant.
I'm sure the novelty of the game will wear off if they don't create more elements to the game. It's not very deep right now. But there's also a social element; you can connect with friends and family that use Striiv through Facebook, email or text. Then, you can see their daily progress and use it to help challenge each other to achieve your goals. And if you're into trophies, you can earn those every day for things like having an active start to your day or burning a soda's worth of calories.
While it's easier to capture your daily activity with the Striiv Play, you can also use the Striiv iPhone app on its own. The app pulls activity data from your iOS device's built-in accelerometer.
---
Discussion