Review of the HTC Wildfire S (T-Mobile)
Techlicious editors independently review products. To help support our mission, we may earn affiliate commissions from links contained on this page.
The HTC Wildfire S is a compact, low-cost smartphone being marketed by T-Mobile as "built with simplicity in mind". Unfortunately, the small display and anemic processor make many normal activities anything but simple, with cramped screens and slow response times.
That said, the HTC Wildfire S is a very nice looking and well-built phone, especially considering it's now free with a 2-year agreement. And for those for whom (small) size matters, the Wildfire S is among the smallest Android phones on the market (i would say THE smallest, but you never know what else may be hiding out there).
So I came away from my review of the HTC Wildfire S with the strong belief that most people would be better served by one of other inexpensive Android phones on T-Mobile, such as the HTC MyTouch 4G or Samsung Galaxy S 4G. But for those looking for a cute, tiny phone, the Wildfire S may fit the bill.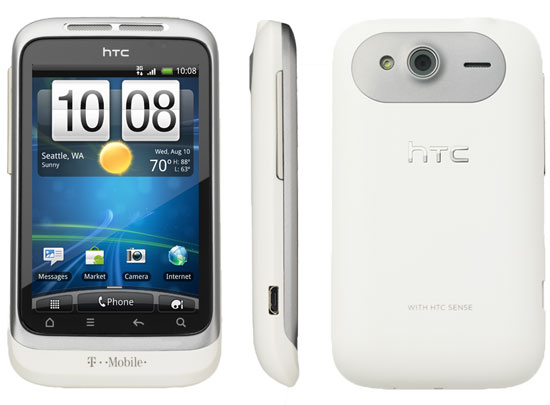 How it feels in the hand
At only 3.7 ounces and with a 3.2" display, the HTC Wildfire S is one of the smallest, lightest Android phones on the market, so it's pretty darn comfortable to hold. Those with tiny hands will be especially appreciative. And the matte-finished plastic back provides decent grip.
The volume rocker on the top left side is easy to access, though, like other HTC models, is a little too smooth and narrow.
Display & Sound
One of the biggest drawbacks of the HTC Wildfire S is its small, relatively low-resolution 3.2" display. The 320 x 480 resolution is less than half that of the leading phones on the market, but the display is reasonably bright with good contrast and the resolution is fine for most purposes. The real issue is the size. The 3.2 inches just isn't enough space for Android. I'll get into that more when I talk about web browsing and navigation below.
The built-in speaker on the HTC Wildfire S was among the quietest I've heard in recent memory, making it difficult to use as a speakerphone. Standard calling volume was okay, but not great.
Web browsing & mobile hotspot
The Wildfire S is a 3G phone, and speed tests were very typical for T-Mobile in my area — download speeds averaging around 2Mbps and upload around 350Kbps. (see: The Fastest 4G? It's No Contest for an idea of how much you would gain moving up to a 4G phone).
Speed aside, the tiny 3.2" display makes it presence felt when browsing the web. You're basically faced with the choice of a lot of scrolling or text that's too small to read. For those coming from a BlackBerry, you'll feel right at home. But this isn't what the Android experience should be.
The HTC Sensation can act as a mobile hotspot.
Camera & video recording
The HTC Wildfire S has a 5MP rear-facing camera that does a surprisingly good job for a budget camera. Details were pretty good considering this is "only" a 5MP camera and colors were accurate, if a little muted (like other HTC phones). The camera also offer touch-to-focus, a feature I wish were in every cell phone.
Video quality was significantly worse. The HTC Wildfire S shoots a maximum of 480p, and it seemed to have trouble achieving even that. Details were poor and there was considerable graininess in the image, almost giving the video a vintage film effect. That would have been nice if I were going for that vintage look—I wasn't.
There is no front-facing camera, so video chat is not an option.
Keyboard & Navigation
The HTC Wildfire S is running Android 2.3 Gingerbread and HTC Sense, both of which I am a fan of. But neither can overcome the limitations of the Wildfire's tiny display and underpowered 600MHz processor. Everything from the number of apps on the homescreen, to web browsing, to using the virtual keyboard was hampered by the Wildfire's small display.
The biggest frustration was when composing emails (something I do pretty regularly). The address suggestion dropdown is truncated, forcing me to type more of the address than on other phones. And the virtual keyboard has the unfortunate quality of being too small to type accurately and so big that it hides most of the email body. It's clear that Android was not designed for a 3.2" screen.
Beyond the display size issues, navigation and apps were hindered by lags and stutters. It wasn't horrible, but there are so many phones where this is not an issue that the Wildfire S really stood out (not in a good way)..
Storage
The HTC Wildfire S has an included 2GB microSD card (expandable to 32 GB) and 512MB of onboard memory. So expect to spend some money for a larger SD card if you plan on storing much music or video.
Battery life
Battery life on the HTC Wildfire S was pretty good (there is some benefit to a small display and weak processor!). It lasted through the day and into the next with occasional usage.
Pricing and availability
The HTC Wildfire S is available for free from T-Mobile with a new, two-year customer agreement.
Should you buy it?
I really wanted to like the HTC Wildfire S. Its compact, cute design seemed like the perfect antidote to the 4.5" monsters everyone seems to be focused on. But at the end of the day, it was just too much of a compromise. And the slow, stuttery navigation was just icing on the cake (I don't like cake, hence the odd analogy).
Customers looking for a free phone on T-Mobile would be better served by the HTC MyTouch 4G, a phone which came out more than a year ago, yet out-classes the Wildfire S in almost every way. Or, spend a little more and get the Samsung Galaxy S 4G. You'll be happy you did.
Rating: Not Recommended
Detailed Specs
Talk and Standby Time: Up to 6.7 hours talk time, up to 13 days standby
Band/Modes: GSM 850/900/1800/1900 MHz
OS: Android 2.3 Gingerbread
Weight: 3.7 oz
Dimensions: 4.1 x 2.34 x 0.49 inches
Battery: 1230 mAh
Display: 302" LCD (480 x 320)
Video: 480p
Camera: Rear-facing 5.0 megapixel, Auto Focus, LED flash
Front-facing Camera: None
Mobile hotspot: Yes
Processor: 600MHz Single Core
Memory: 512MB RAM, 512MB onboard storage and 2GB microSD card (expandable to 32GB)
Discussion
New Articles on Techlicious