We may earn commissions when you buy from links on our site. Why you can trust us.

Review of the Sparkup Magical Book Reader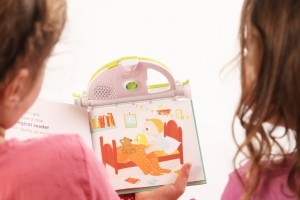 We all know reading to our kids is important – early readers enjoy better test scores in school and are less likely to experience poverty as adults. But, as much as we'd like to sit down and read with our families on a daily basis, sometimes it just isn't possible.
Sparkup, the self-described magical book reader, aims to solve this problem by reading to your kids for you using your own voice. The device works using camera-sensing technology – essentially, it scans each page and lets you record a brief sound file to be associated with it. The next time your child opens to that page, Sparkup will recognize it and replay the sound file you recorded.
But does it actually work as advertised? And is the $59 Sparkup worth your hard-earned money? I tested out a review version of the device to find out.
The Technology
The Sparkup box comes with only a few items: The Sparkup itself, a USB cable, a sample book and an instruction booklet. It comes preloaded with 3 AA batteries, which is a bit of a disappointment when most technology is now rechargeable. According to the included booklet, you'll only get about 30 hours of playback out of the batteries. And when they run out, you'll need to grab a Phillips-head screwdriver to replace them.
Sparkup stores saved images of each page to its internal memory, which you can access by connecting the device to your computer using the included USB cable. Sadly, the manufacturer decided to give the device just 256MB of memory. That limits the number of books Sparkup can learn to 50, with room for 4 hours of audio. Of course, you can save files to your computer and download new ones onto the Sparkup at will, but the process is a bit tedious.
How well does it work?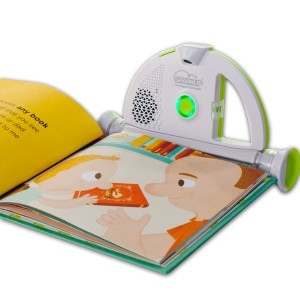 When I used the Sparkup to record my own children's book (OK, technically I used an old issue of Teen Vogue from 2009 that I found in the recycling bin), the process was smooth and intuitive. I simply attached the Sparkup to the rear cover, pressed and held the record key, and started talking after the tone. The process didn't take much longer than reading the book aloud without a device attached. I simply had to press the center button after reading each page to hear (and confirm) what I just recorded. Of course, you probably won't record an issue of Teen Vogue, but the point here is that Sparkup can work with just about any picture book you already own.
Playback of books works terrific when there's ample light. If you skip a page, Sparkup catches the fact and skips a page too. When things were dimmer – as they often are during a bedtime reading session – the Sparkup occasionally struggles to identify pages. You also need to keep tiny hands away from the page while the camera gets its look. These technical challenges are minor, but a child who doesn't understands the fine points of tech troubleshooting may become frustrated.
More than just a book reader…
The Sparkup has a lot of potential as an entertainment device, but the most exciting aspect of the toy is how it assists in learning. With the aid of your recorded voice, your younger son or daughter can pick up a book and follow along any time they wish, boosting their reading skills along the way. Kids can even record their own voice as they read the books, adding in fun sound effects and voices.
Since the Sparkup works with any book that the camera can recognize as unique, kids can also use the device as a creativity tool to narrate stories they write and illustrate themselves. Just hand your child a notebook or even a blank hardcover book (sold at art stores) to fill with pictures and words. Or, use a service like Blurb to print your child's book professionally. Sparkup can then bring that book to life – with a little tech help from mom and dad, of course. It's a really fun way to encourage imagination in a high-tech way that kids will love.
The Bottom Line
Personally, I had a lot of fun playing with the Sparkup Magical Book Reader. Sure, it has its flaws, but the child-friendly device really is worth more than the sum of its parts. Whether story time is a big event in your household, or just something you wish was a big event, Sparkup is a great educational tech toy that's worth checking out.
The Sparkup Magical Book Reader is available for purchase at sparkupreader.com for $59.99. Printed book sets with professional recordings are also available at prices ranging from $9.99 to $19.96.
---
Discussion