Yahoo Axis: A New Visual Way to Search
Techlicious editors independently review products. To help support our mission, we may earn affiliate commissions from links contained on this page.
Regardless of which browser you use—whether it's Google Chrome, Internet Explorer, Firefox, Safari, or another—you can usually initiate an Internet search right inside the address bar. That's because several years ago Google merged the address bar and the search bar in Chrome and called it an "omnibox." If you needed to look something up you didn't have to visit Google.com, you could input your query in the same place you'd type a specific web page address.
Now most of the popular browsers let you search from the address bar, or if you prefer, from the search bar located to the right of the address bar.
Depending on which browser you use and how it's configured, you could be using one of many search engines to perform your search—Google, Bing and Yahoo Search being the three most popular. Whichever one you use, though, your search results show up in largely the same format—as a list of links with a short word description underneath.
But now there's an interesting new option.
Calling it a "search browser," Yahoo recently released a browser plug-in and iPhone and iPad app called Axis that gives you a new and visual way to perform Internet searches.
Axis on the Desktop is a Novelty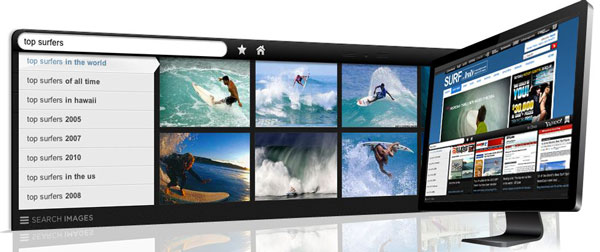 The desktop version of Axis is for Firefox 7 and above, Safari version 5 and up, Internet Explorer 9 and all versions of Chrome. Once you download Axis to your computer, a small black search bar appears permanently on the bottom left of your browser window.
Put your cursor inside the bar and the Yahoo Axis widget pops up to take up about the bottom third of your screen. Start typing a search query and Axis starts suggesting topics before you're even done entering your search terms.
Instead of giving you a list of search results as other search engines do, Axis displays thumbnails along the bottom of your screen for the web pages it suggests. If a page doesn't have a thumbnail, you receive a text box that describes the page. To peruse the thumbnails you click on right and left arrows on the sides of the page to scroll horizontally.
When I played around with Axis on my PC, I was able to keep all my Chrome tabs open and partially viewable on the top of the page while Axis stayed down on the bottom, which makes for a lot of useful information on the screen at once. I right-clicked on Axis thumbnails to open them in a new Chrome tab, but if you want the thumbnail to open and take up your entire screen you can just click on it to do so.
Even so, aside from the novelty of search results being more visual, honestly, I'll probably stick with Chrome for performing search. That's because Google recently improved its search with Knowledge Graph, a tool that adds an area on the right of your regular search results that offers other related topic results, such as maps or Wikipedia entries related to what you're looking for.
Axis is Fabulous on the iPad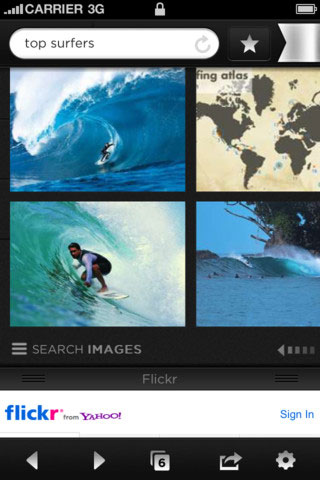 But Axis is really optimized for use on the iPad and iPhone (free on iTunes), with Android compatibility coming at some point.
The mobile browser app has a simple interface and on the iPad's larger screen it's a fantastic and intuitive search tool. It syncs activity between your computer and Apple devices so if you leave the desktop you can continue your search on the go without having to start from scratch. It also lets you create a home page that saves all your favorite sites, save results into a read later folder and share items via email, Pinterest and Twitter.
It's worth checking out. Axis is a refreshing and visually satisfying alternative to regular search. To watch a video that shows how it works, visit axis.yahoo.com where you can also download the software to your PC, laptop, iPhone or iPad.
Discussion