Sometimes having the money to buy the things you want isn't about what you earn but about how you budget. Making and sticking to a budget isn't always easy. Fortunately, online tools can make this difficult task more manageable. We've rounded up our favorite online budgeting tools that can help you make — and not break — a budget that meets your financial goals. Not only can you eliminate debt, but you can save for that vacation you've been wanting to take.
Best for all around budgeting: Mint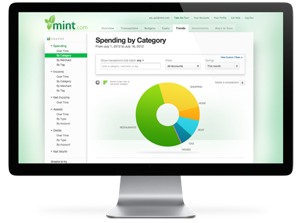 This personal finance site aims to make budgeting as simple as possible. To get started with Mint, just follow the set up process to connect with your other financial accounts. Mint will pull in your data and automatically calculate a budget based on your current spending, though you can modify it as much as you'd like.
As you spend or save, Mint keeps track of your transactions, automatically filing them in the appropriate budget categories. The service even emails you when you go over budget in a category, reminds you of bill due dates, and suggests signs when a specific transaction might be fraudulent. Automatically generated charts and graphs along with those email notifications make it easy to stay on top of your finances and reach your financial goals, whatever they may be.
When you're sharing this kind of information with a service, you have reason to be concerned about security. Mint is owned and operated by well-known software company Intuit, makers of QuickBooks and TurboTax. Although Mint can view your financial data, it can't edit it or make any transactions, which means no one can use Mint to get at your money. Additionally, Mint uses bank-level security that's verified by TRUSTe and VeriSign, which is to say it's very secure.
Mint is a free service, though it does recommend other financial services that might have their own fees if you choose to use them. However, you can get plenty out of Mint without paying a dime. You can also use Mint on your iPhone or Android device for free.
Best for customizing budgets: PocketSmith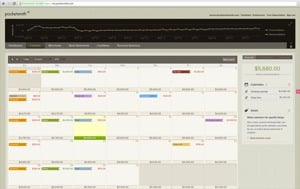 If you like the idea of Mint but want something that goes a bit deeper, PocketSmith may be just the thing. It provides tools similar to Mint's, importing information directly from your bank accounts, sorting your transactions, and providing great visual graphs. Then it takes these features further.
While Mint only lets you enter data by linking accounts, PocketSmith lets you enter information manually or import from a budget spreadsheet you maintain yourself. Instead of budgeting month to month, PocketSmith lets you create weekly or bi-weekly budgets if that works better for you. For example, if you get paid twice a month, it might make more sense to create budgets that cover two weeks at a time. We love the added flexibility, though not everyone will necessarily need it.
PocketSmith can even predict your finances, estimating how much money you'll have next week or next month based on current data. This can make it easy to spot financial trouble before you're in trouble — and it's tremendously helpful for planning future spending.
As with Mint, PocketSmith takes your financial information security seriously. Everything is encrypted, and no one but you has access to your personal information.
The only thing we don't like about PocketSmith is the subscription fee. While the basic service is free, that won't get you access to all of PocketSmith's features; you only get two accounts, two calendars, and six months of financial projections. For $9.95 a month, however, PocketSmith can access live bank feeds and use 10 calendars, 10 accounts, and 10 years' worth of financial projections. If you're on the fence, try creating a free account to see if you like it; you can sign up without any commitment.
Best for debt payment planning: ReadyForZero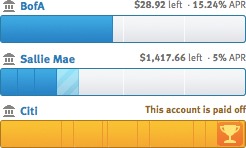 From credit cards to student loans, most of us are in debt — and once you get into debt, it can be tricky to get out. ReadyForZero is the solution. Feed your financial information into ReadyForZero, and the site helps you create a personalized plan to pay off your debts as quickly and painlessly as possible. There's also an iPhone app for checking up on your finances on the go. As with all of these financial services, ReadyFor Zero's security is paramount. It runs on secure Amazon Web Services servers and is certified secure by McAfee.
There's no tricky financial magic to what ReadyForZero does; it just gives you a clear picture of your finances, recommends a payment plan to pay down higher interest loans first, and sends you reminders so your bills get paid on time. But even though it's not complicated, the service can really help you pay down your debt — in fact, ReadyForZero says regular users pay off their debts twice as fast as typical debtors.
The basic service is free. For more features, there's a Plus service, which costs $7 a month or $75 a year. In addition to the standard features, ReadyForZero Plus also helps track your credit score and lets you configure automatic online payments to anyone you owe money to. Though many online banking services offer online bill payment services, they don't always accommodate all of the payment destinations you need — and they certainly don't offer them alongside ReadyForZero's advice on paying down debt.
Investigate your online banking options
Before you sign up for any third-party service, take a look at the online tools your own bank offers. Though they probably won't have the slick, budget-making features of Mint or PocketSmith, they're the best way to get a current picture of your finances for whatever budgeting method you choose to use
Many banks also offer online bill management and payment tools, though your bank may or may not support all of the companies you have accounts with. For example, if you typically bank with Bank of America but have a credit card with Chase Bank, you may not be able to pay it through Bank of America's online bill payment. Be sure to check all of your financial accounts against the service you want to use to make sure they talk to each other before taking the plunge and later discovering you aren't getting the whole financial picture you hoped for.
While budgeting can be a headache, we think these online financial services make it a lot easier especially come tax time. One of them may be a perfect fit in your budgeting picture!