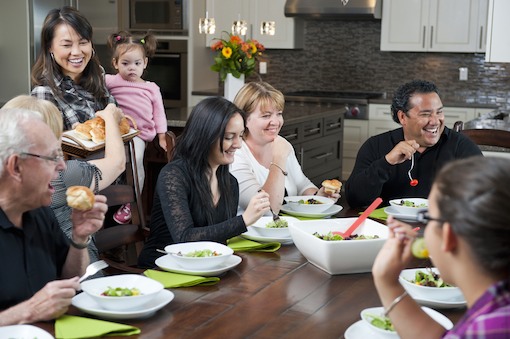 The party season is in full swing, and guest lists aren't filling themselves. An online invitation site can be a brilliant way to send memorable invitations as well as manage the finer details of the party itself.
An online invitation site offers a plethora of invitation designs covering events as different as a simple child's birthday sleepover to a New Year's Eve party. Many sites also offer printed invitations based on your chosen digital design, useful for landmark occasions like weddings or for that portion of your guest list that's less conversant with this internet malarkey.
If your party budget is a concern, fear not: Plenty of great-looking e-invitations are available free, with printed counterparts going for less than a couple of bucks each. And an online invitation site can help you keep track of party details as well as invite the guests by tracking RSVPs and sending updates to guests if anything changes.
Below are our favorite online invitation sites, with a summary of their best features. Let us know what you think in the comments — and tell us if we've missed your favorite.
Best Designs: Paperless Post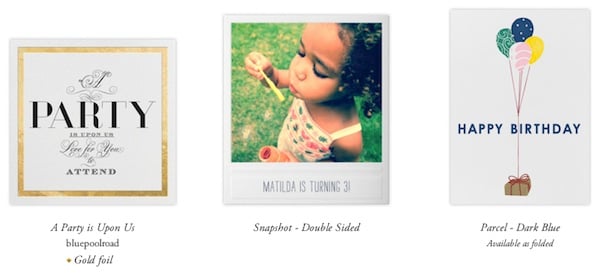 Paperless Post offers tons of contemporary, elegant designs for online and print invitations in a minimalist, intuitive interface. Browse dozens of invitations based on occasion, or filter for color, shape, price and designers (including Vera Wang, Kate Spade and Oscar de la Renta as well as The New Yorker and Crate and Barrel).
With most invitations, once you choose a base design, you can customize any text on the card and change the font, color, size and justification. For example, if you dig a particular cocktail party invitation that happens to say "Eat, drink and be merry," you can keep the design but edit the text to say something more personal. You can also customize the backdrop of the design and the color of its digital envelope and its liner, though these options cost a little extra.
Digital invitations are sent embedded in emails with a link that lets guests view an animation of the addressed envelope opening and the invitations sliding out. They can RSVP from the invitation or directly from email if you forego the digital envelope, as well as add the event to their calendars, and message the other guests..
For the less tech-savvy guests on your guest list — or if you simply want real-life invitations for extra-special occasions — your selected design can be printed and ordered with envelopes, RSVP cards and self-addressed return envelopes.
Out of 4,000 invitation designs, 1,000 are free, and they are no less well designed than their for-sale counterparts. Online invitations and customization options are charged in "coin," the site's currency that can be bought in packages starting from 20 coins for $6. Rates range anywhere from 1 to 8 coins per invitation, depending on the design and customization. Paper invitations must be paid for in dollars and cost about $1 to $2 per print, depending on quantity.
Free online invitations: Yes; customizing features such as digital envelopes and backdrops costs extra.
Paper option: Yes, with envelopes and optional RSVP cards and return envelopes.
Import email addresses: Yes, from Gmail, Yahoo Mail and AOL Mail.
Ability to track RSVPs: Yes, through browser or iPad/iPhone app.
Smartphone app: iOS only.
Send updates to guests: Yes.
For Frequent Event Hosts: Pingg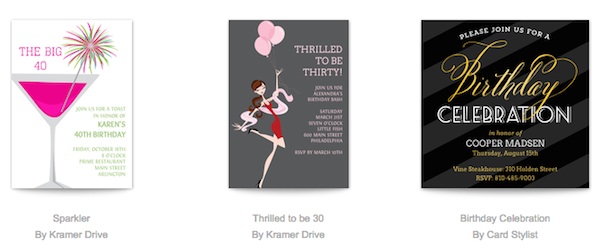 Pingg allows you to send invitations to personal events as well as ticketed events. After picking a design, choose whether or not to request an RSVP, or set up an event page to sell tickets.
As the only e-invitation site with designs from a large community of independent designers, Pingg offers a vast range of invitation styles. You can select designs based on specific events including bridal showers, dinner parties, Christmas shindigs or even save-the-date requests. Then browse design collections by color and style (such as whimsical, retro or modern) as well as options for free or paid templates.
Pingg also offers each event its own webpage, with free options to add photos, videos or links plus a "potluck" list where guests can sign up to bring things to the party. You can add registry links to sites including Bed Bath and Beyond, and there's a PayPal event fund page so that guests can contribute toward expenses or a group gift. All this is easily navigated in Pingg's minimalist, stylish interface.
Large guest lists are easily managed on Pingg, because email addresses can be imported from several webmail services as well Outlook and Mac address books. You can also set reminders to guests, as well as automatically send a thank-you note. Previous guest lists can be added to new events, which is useful for corporate event planners.
Some cards only allow editing of the words pertaining to the details of the event, which can be a deal-breaker if you like a design but find its preset text (such as "Please Join Us for a Holiday Party") trite or unnatural.
There are hundreds of free designs to choose from, but the caveat is that ads are displayed on the invitations and event page, and you can only invite up to 75 people. Purchase a single-use, $10 premium design package that lets you pick from an extended collection of designs created by an "independent designer community" (bios about the designers appear on the site), invite up to 2,500 people and includes an event page with no ads and a custom URL, or sign up for a membership to get unlimited event invitations using premium designs, no ads and 10 percent off paper invitations. Memberships cost $30 a year for up to 250 guests each event, or $70 a year for a pro plan that allows up to 2,500 guests and 20% off paper invites.
Paper invitation versions can be created from all online invitations. These are printed with a URL and unique RSVP code so guests can respond online. Paper cards cost an additional $2.50 per card plus postage and are sent directly from Pingg.
Free online invitations: Yes, for up to 75 guests, but event invitations show ads and digital envelopes aren't permitted.
Paper option: Yes, with stamped and addressed envelopes, plus a URL to RSVP online.
Import email addresses: Yes, from Live.com, Gmail, Outlook, Yahoo Mail and AOL Mail, as well Excel spreadsheets and Mac address books.
Ability to track RSVPs: Yes, through the browser.
Smartphone app? No.
Send updates to guests: Yes.
Great for Party Planning: Punchbowl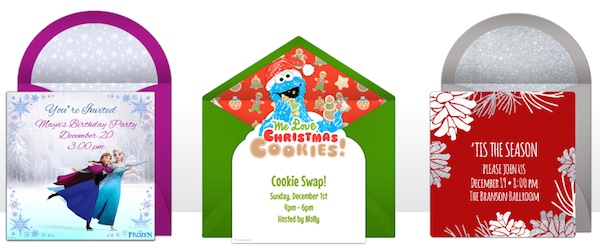 Punchbowl can handle many features specific to larger events, such as gift registries, funds for shared expenses and potluck checklists. It also offers extra ways to manage your guest list, including tracking the number of adults, kids and infants, fine-tuning how the guest list is displayed (for example, yesses only or not at all) and allowing guests to forward the invitation.
Browse invitations from a long list of rather specific events, from a "Baby Gender Reveal" to classic events like anniversaries, graduations or Christmas parties. Then bolt on extras through a simple tabbed interface divided into basic, advanced and members-only features.
The text on the invitations is fully customizable, as are details such as the liner of the digital envelope and the design of its (virtual) stamp. For example, if you were organizing a baby shower, you could customize the invitation from a drop-down menu of "Baby & Kid"-themed options. (There are also plenty of famous kid-friendly characters to feature including Mickey Mouse, Frozen, Hello Kitty, and more.)
Invitations are embedded in emails with only the envelope showing. Guests must click through to see the details and to RSVP. The interface is plain but serviceable, and what it lacks in style, it makes up for in functionality, with the ability for guests to add names of their plus-ones and post comments on a group message board.
As the host, you can manage RSVPs from a similarly straightforward interface, with options to invite more guests, share the event on Facebook and email all guests at once.
A decent range of designs and features are available for free, with three membership tiers from $1.99/month to $6.99/month, offering features including additional designs, ad-free invitations, and options to add co-hosts, guest polls or a recurring event. Like a free account, the first two tiers allow up to 100 guests; the top, 500; while pro organizers may want to check out the business membership from $29.99/month, allowing up to 5000 guests.
Free online invitations: Yes, up to 75 guests online; ads show on invites.
Paper option: No.
Import email addresses: Yes, from Gmail, AOL Mail, Yahoo Mail and Live.com, plus Evite address books.
Ability to track RSVPs: Yes.
Smartphone app: Yes, iOS
Send updates to guests: Yes.
Best As an Event Hub: Yapp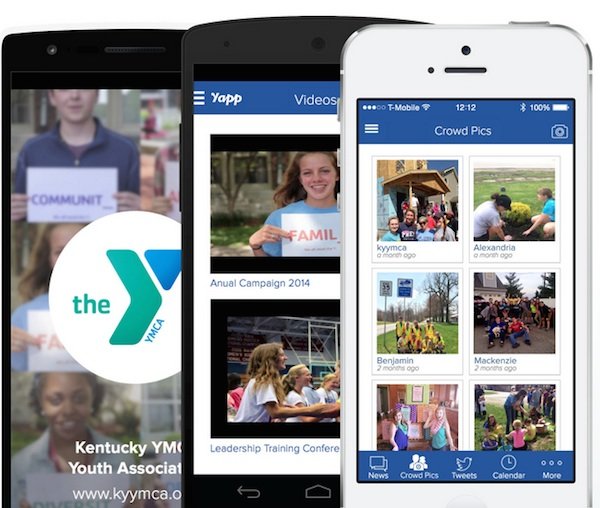 If even digital invitations feel so last decade to most of your guests, check out Yapp, a simple, feature-packed app builder that turns your invitation into a bona fide Android or iOS app. Its intuitive browser interface lets you create an app with five pages: a cover where you can add an image and event title, an invitation page for all the details and others such as a schedule of events, a news feed where guests can post, and a gallery of pictures from yourself as well as your guests.
Other page types include a Twitter feed of selected users, a page where guests can upload their event photos, a poll page, a videos page, a page for bios of guests and a ticket page if you're selling tickets.
Once an invitation-app is created, you email its URL to your guests, who then visit the link via their mobile browser in order to download the app. (Visiting the link on a computer browser lets guests preview the app but not post on it.)
One drawback of Yapp: There's no official RSVP button, although guests could post their responses on the newsfeed page. From your Yapp dashboard, you can see who has installed the app and viewed your invitation.
These free features are sufficient for most events, but if you're organizing a work do or professional event, you may want to shell out for Yapp Plus. For $499 a year, Yapp Plus offers additional management features including a Twitter page showing the feed from a particular hashtag, the ability to see who's attending particular events on the schedule, and a documents page for sharing files. Yapp Plus events also get custom URLs.
Free online invitations: Yes, unlimited guest lists.
Paper option: No.
Import email addresses: No; an app URL is created that you manually email to your address book contacts.
Ability to track RSVPs: No, but you can see how many people have installed your app.
Smartphone app: Android and iOS.
Send updates to guests: Yes.
Updated on 11/2/2015 with new service and pricing information
[family gathering via Shutterstock]