Stop Paying for Texting with These Free Messaging Apps
Techlicious editors independently review products. To help support our mission, we may earn affiliate commissions from links contained on this page.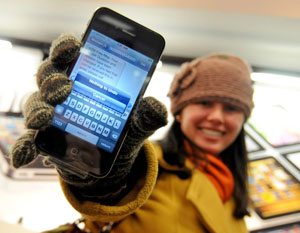 Do you pay for text messaging? If you have a smartphone, you don't have to. There are plenty of mobile messaging app alternatives that you can try at no cost. They work with different types of phones, your computer, and even communicate with your friends' regular phones. Plus they work over Wi-Fi — great if you're traveling internationally.
Mobile messaging vs text messages
So what's the difference between mobile messages and text messages? Text messaging is an app that your carrier loads on the smartphones and feature phones they sell you. Mobile messaging is an app you download on to your smartphone, but is not available on feature phones. Both types of messaging let you send text and photos.
Text messaging is billed as text messaging or may be part of a bundle of voice, text and data. And if you're paying per message, photos cost more than plain text — 30 cents for photos and 20 cents per message. Mobile messaging uses your data network, so you are either using your billed data or Wi-Fi, which is free.
Most important, text-messaging apps use your cellphone number. Mobile-messaging apps use a user name or a phone number generated by the service, which means you'll have two mobile numbers.
Free messaging apps to try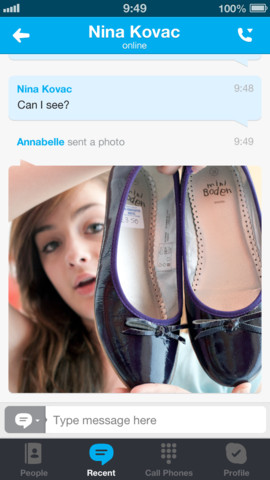 If you own an iPhone, you may already be using mobile messaging. The text app that comes loaded on the iPhone, iMessenger automatically defaults to sending mobile messages rather than texts to other iOS devices. You'll know someone is sending you a message via iMessenger if it shows up in a blue bubble, rather than a green bubble.
Beyond the iOS universe, an easy way to get started with mobile messaging is to try a service that you know friends and family already use. For instance, I use Skype a lot with my parents and mother-in-law, so it's a great way to message with them. Skype is available for Android, iOS, Windows Phone, BlackBerry, Macs and PCs.
If you connect with people through Facebook, Facebook Messenger can be a good substitute for texting. The app shows who's available for chatting and if the person isn't online, the message will be saved for later — just like a traditional texting app. Like Skype, Facebook Messenger is available for Android, iOS, Windows Phone, BlackBerry, Macs and PCs.
If you or your friends and family don't have smartphones, you can still use mobile messaging via Google Voice. Like Skype and Facebook Messenger, you can chat online with your Mac or PC in addition to the apps that are available for Android and iOS devices. Or try TextNow, which also works with Macs and PCs, plus Android and iOS devices.
Finally, if you're willing to pay a dollar, Whatsapp is a very popular mobile messaging app available on all smartphone systems. It includes group chats, video and picture sharing as well location sharing. It uses your data connection instead of your phone service connection to transmit messages. So as long as you are using wifi or haven't exceeded your monthly data limit on your celphone plan, you should incur no extra costs to use this app.
Before making the switch, check to see if your plan is still available from your carrier. Because once you shut off texting, you may not be able to get your same plan back. And regardless of your text plan or which mobile messaging service you go with, you should wait to shut off text messaging until you know it will work for you and the people you text.
Also worth noting: Parents lose the ability to monitor their kids' texting habits with mobile messaging. Your carrier's parental controls only work with the text-messaging app that comes with the phone.
Discussion