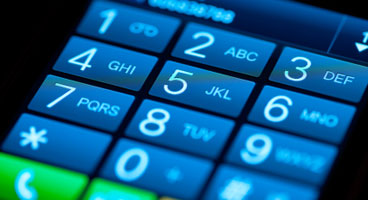 When my daughter was born, we placed an advertisement for a nanny in a local newspaper. At 6:30 a.m. on the first day the ad ran, the phone started ringing. It was the first applicant out of hundreds who would call inquiring about the position. What I would have given then for a disposable phone number — something I could turn off once I'd made my hire.
Today there are a number of good options for keeping your phone number private.
If you're looking to post your phone number online — for a dating site, if you're selling something on eBay — you can get post a free disposable link to your phone number on Babble.ly. When someone clicks on the link, they are prompted to enter their phone number and Babble.ly will call your phone and their phone to connect the call. The link is good for as long as you want it to be, but calls are limited to 10 minutes.
For a temporary disposable number, I like NotMyNumber. You buy a phone number for an hour (60 minutes, $2.99), day (120 minutes $4.99) or week (240 minutes, $6.99), and can forward it to any phone. What's great about this service is that if you call your disposable number, you can call that eBay buyer back and your disposable number will be the one that shows up on caller ID. Plus you can send text messages for an additional fee, if you use the NotMyNumber iPhone app (free, iTunes).
iNumbr and TossableDigits provide more permanent calling solutions. For $6.99 a month you get a phone number and a bucket of minutes — 60 for TossableDigits and 120 for iNumbr. In addition, you get voicemail, call screening and do not disturb, among other features. iNumbr also has an outbound Caller ID Privacy option that shows your disposable number instead of your real one.
If you don't want to use your disposable phone number minutes, you can block your outbound Caller ID by turning it off in your phone's call "settings" on your mobile phone, setting it up in your phone management software if you use a digital phone service or dial *67 before the number on a regular landline phone. Your number will appear as unavailable.
While I value openness — even when it comes to Caller ID, I can see real value in protecting my privacy in a situation where I would be dealing with strangers. It's safer and smarter.