Are you tired of others accessing your Netflix profile and messing up your recommendations or altering your watchlist? Or maybe you want to ensure your kids can't watch mature content? If so, using a PIN code to protect your Netflix profile is the answer.
Netflix allows you to have up to five profiles on your account for a customized viewing experience for each family member. When you use a profile, Netflix will keep track, so you can pick up where you left off watching, receive recommendations based on your viewing habits, and save content to your watch list. You can also assign content maturity level, viewing restrictions, and a PIN code, among other things, for each profile. Here's how to secure your profile with a PIN code.
How to add a PIN code to an individual profile
You only add a profile PIN using a web browser. It's not an option when you access Netflix with a streaming media player, your phone, or tablet. Here's how:
Go to the Netflix website and sign in.
Choose a profile.
Hit the drop-down menu next to the profile picture to select the "Account" option.

Scroll down to the "Profile & Parental Controls" section.
Hit the drop-down button next to the profile name.
Click the "Change" link next to the "Profile Lock" entry.
Enter the account password to edit Profile Lock for the chosen profile. Then, hit the "Continue" button.
Check the box next to "Require a pin to access [name] profile."
Enter the PIN and hit the "Save" button.
Once you save the PIN settings for the profile, you will be prompted to enter the PIN code each time you access Netflix for any PIN-protected profile.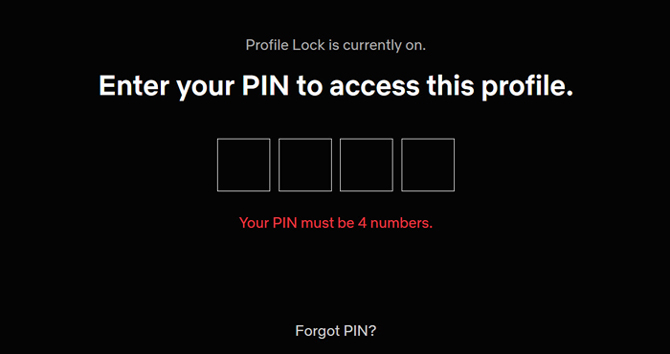 What to do if you forget your Netflix PIN code
If you have your Netflix account login information, resetting your PIN code if you forget it is easy. You follow the same steps above that you used to set up the PIN code. You can also turn off your PIN code here if you find entering every time you watch annoying.
Looking for more ways to enhance your Netflix experience? Check out our story on how to turn off Netflix autoplay.
[Image credit: Screenshots via Techlicious]
As a lifelong tech enthusiast, Hemant Saxena is always looking for the latest gadgets that intersect with his hobbies. For more than a decade, he has been writing about consumer gadgets, popular apps, and social media tips for publications, including Windows Club and Techmate Tricks.