When you operate your phone, it stores bits of data from the apps and features you use to help them run more smoothly. Over time, this data can pile up and cause multiple issues on your phone, including running slowly and becoming unresponsive. Sometimes freeing up space on your phone will help, but often, clearing the data by resetting your phone is the best way to address the problem
There are two types of reset, a soft reset and a hard reset. To perform a soft reset, you power off your phone and turn it back on. Restarting your phone closes all the processes and apps running on your phone and loads all the system files from scratch. A soft reset does not come with the risk of losing your data.
The second type of reset is a hard reset, also known as a factory reset. A factory reset removes all the files stored on your Android phone, including your data, and brings the condition of your device back to how it was when it left the factory. But if you follow these steps carefully, you can perform a factory reset your Android phone without losing your data.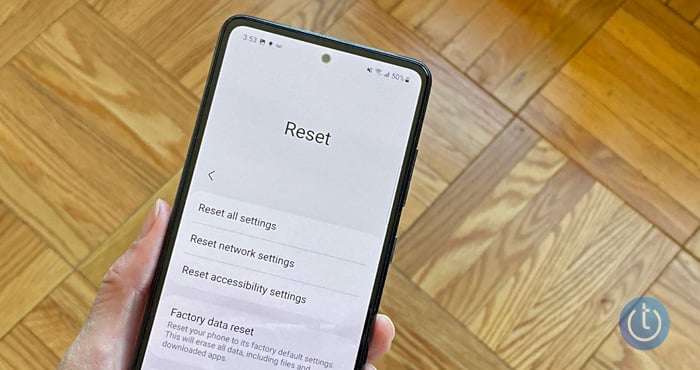 1. Back up your authenticator app
Two-factor authentication adds an extra layer of security to your accounts by requiring you to provide a one-time passcode in addition to your password. If you use an authenticator app to generate those one-time passcodes, you need to back it up separate from your phone backup. Most authenticator apps have the option to backup to the cloud, including Microsoft Authenticator (see how), Authy (see how), Duo Mobile (see how), and LastPass Authenticator (see how). Google Authenticator does not have a cloud backup option. Instead, you can create QR Codes that house your account information. Here's how:
Open the Google Authenticator app.
Select "More" (the triple dots).
Select "Transfer accounts."
Select "Export accounts."
Select an account you want to restore to your phone.
Take a screenshot of the QR Code.
Repeat steps 5 and 6 for each account, and make sure you have the screenshots of the QR codes safely backed up. You'll be doing a complete phone backup in the next step, but I recommend saving an extra copy.
2. Back up your phone
The only way to keep your data when doing a factory reset is to back it up and restore it when the reset is complete. Google's built-in backup feature is the easiest way to back up your data.
Open Settings.
Select "Google."
Select "Backup." If you have backed up your phone before, you will see a list of what's backed up. If everything is backed up or if this is the first time you're backing up to Google, proceed to the next step. If you don't see everything being backed up, open the Google One app and select "Storage." Then select "View details." Now you can select "Manage backup" to select the data you want backed up.
Select "Back up now." If this is your first backup, you will be able to select what you want backed up.
Note that it can take up to 24 hours to back up your data for the first time. When your data is saved, you'll see "On" below all of the data types you selected for backup.
Now that you have created a backup of your data let us check out the steps to factory reset your smartphone.
3. Perform a factory reset
If you own an Android smartphone running plain Android, you can follow the steps below (steps may vary slightly depending on the manufacturer and version of Android).
Open Settings.
Scroll down and select "System."
Expand the "Advanced" option. (For some manufacturers, you may see a reset option here. If you see a reset option, select it and go to step 5.)
Select "Reset options."
Select "Erase all data" (for some manufacturers you may see factory reset).
On the confirmation page, select "Reset phone."
Another confirmation screen will show up, and you need to select "Erase everything."
You will be asked to confirm your pattern.
That's it.
If you own a Samsung phone, follow the steps below. If you have encrypted the microSD card, you must decrypt it before resetting the phone. Otherwise, your phone will not be able to read the data on the card. From Settings, search for and select "Decrypt SD card," and then follow the on-screen prompts.
Open Settings.
Select "General management."
Select "Factory data reset." You will see a list of the data and accounts that will be removed from your phone after the reset.
Scroll down and select "Reset."
If your phone is protected by a pattern or PIN code, you will be asked to re-enter it.
Select "Delete All." Your phone will start the reset process and will boot up once the process is completed.
Now that you have factory reset your phone, the next step is to set up your phone and restore your data.
4. Restore your data
When you set up your device again, you'll be able to restore your data from the backup you just created.
Select "Copy apps & data."
Connect to your WiFi network.
On the "Bring your data from" screen, select "A Backup from an Android phone."
When prompted, log into the Google account you used to create your backup.
Select the backup you just created to restore your data.
Select the apps you want to restore.
Follow the prompts to finish setting up your phone. The apps and data will be restored in the background.
[Image credit: Techlicious]
Sagar Naresh Bhavsar has been writing about technology for more than two years. Previously, he was a staff writer at Guiding Tech and TechWiser. He loves working out, having a cup of coffee, and playing guitar.