T-Mobile 5G Home Internet can be an effective replacement for traditional cable and fiber ISPs. However, because T-Mobile's Home Internet relies on cellular signals rather than wiring into your home, it usually requires placing the 5G gateway near a window facing the direction of your local cell tower. While that placement optimizes the signal into your home, it may not be ideal for sending a WiFi signal throughout your home or apartment. And the best way to overcome issues with in-home WiFi coverage for your T-Mobile Home Internet is to install a mesh network.
I have been testing T-Mobile 5G Home Internet for the last six months and connected it to my Eero mesh system. Setting up the mesh network with the 5G Home Internet gateway was straightforward. I'll walk you through the steps and give you an essential tip for optimal performance. These steps will be the same whether you're using Eero, Google Nest, TP-Link, or any of the other major mesh systems.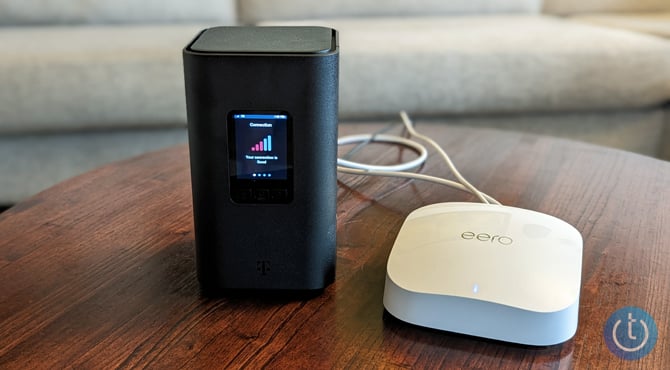 Equipment you'll need
Your T-Mobile 5G Home Internet gateway (obviously)
The mesh system of your choice (I use the Eero Pro 6e, but any mesh system will work)
3-foot or longer Ethernet cable (I'll get into why this length is important later)
Installation steps
Set up your T-Mobile 5G Home Internet gateway for optimal cell signal using the placement guidance in the T-Mobile Internet app.
Plug your mesh router into the T-Mobile gateway using the ethernet cable. Either of the two ethernet jacks on the back of the T-Mobile gateway will work to supply a connection to your mesh system. Because the WiFi on the T-Mobile gateway cannot be turned off, there is the potential for WiFi signal interference between the gateway and your router (I experienced this when I had the two devices placed near each other in my initial setup). So, I suggest separating the two by at least three feet.

Set up your mesh system using the associated app. The mesh system should automatically detect the internet connection from your T-Mobile gateway. You can now also set up any additional mesh access points.
And that's it; you should be all set with strong wireless throughout your home. This process will be the same if you already have an existing mesh network set up in your home and are switching from cable to T-Mobile for internet access.
Based on my experience and feedback from our readers, T-Mobile 5G Home Internet can be a life-changer or rather frustrating, with occasional internet drops, depending on your local cell tower congestion. The good news is that if you're not happy with cable and considering moving to T-Mobile 5G Home Internet, the cost is $50 total per month (no extra fees) and has no contract or setup fees. So you can test it out to see if it works well for your home with very little financial commitment.
[Image credit: Josh Kirschner/Techlicious]
Josh Kirschner is the co-founder of Techlicious and has been covering consumer tech for more than a decade. Josh started his first company while still in college, a consumer electronics retailer focused on students. His writing has been featured in Today.com, NBC News and Time.