Do you need to monitor your children's cellphones? With the average age of a child getting their first smartphone now 10.3 years, it's increasingly important to set some ground rules to make sure young smartphone users are practicing online safety – including the apps they're using.
Certain apps can put children and teenagers at risk for issues such as cyberbullying, while even mainstream apps such as social media networks can be a conduit for inappropriate content.
Does your child use risky apps?
Anonymous social networking apps such as Ask.fm, Whisper and the now-defunct YikYak are one category of apps that have been linked to cyberbullying. While such apps can have the benefit of giving young people a safe space to discuss sensitive issues, their very selling point of anonymity has also offered bullies a shield behind which they could post threatening content, with tragic consequences. As of last year, another anonymous messaging app, Saharah, was being widely used to post negative and racist comments about particular users. Kids change platforms frequently, so make sure you know which apps they have loaded and what their purpose is.
Other apps can make it far too easy for your child to connect with people outside of their existing contacts book. Kik Messenger, allows users to connect via username instead of phone number, and despite its 17+ rating on app stores, does not verify age. The app is popular with teens, but has been linked with predators who use it to develop an online relationship with a minor, with the goal of a real-life meetup. Instead, you might want to encourage your under-13 kids to use the recently launched Facebook Messenger for Kids, which lets parents approve contacts before young users can video-chat or message them. For older children, impress on them the importance of knowing contacts before accepting friend requests: about 270 million Facebook profiles are fake or duplicate accounts (though the bulk of these are likely set up for spamming).
Then there are the dating apps – despite the fact that services like Tinder or Badoo are adults-only, this isn't necessarily policed well, and many teens are on such apps. Your teen might end up chatting with an adult posing as a fellow teen; or they might pose as an adult, making for an at best awkward and at worst dangerous real-life meetup. Even purportedly teen-focused apps are often risky: Yellow is a dating app with a rating of "12 and up" that like Tinder, allows users who don't know each other to swipe left or right (based on proximity), then connect via Snapchat. However, the app has come under fire for putting the location of its young users up for display – potentially to predators – and for its emphasis on connecting for the purpose of dating.
You can easily find out what's been downloaded to the account or accounts associated with your child's phone.
For iPhones, go to go to Settings > [your child's name] > iTunes & App Store, select your child's Apple ID and then View Apple ID. You'll likely have to re-enter the Apple ID password. Scroll to Purchase History and select. You'll see recent downloads. For the full download history, tap on Last 90 Days. You can then see all apps downloaded by month and year. You can also open iTunes and go to Account > View My Account and then authenticate your Apple ID and click View Account. Scroll down to Purchase History. To the right of Most Recent Purchase, click See All.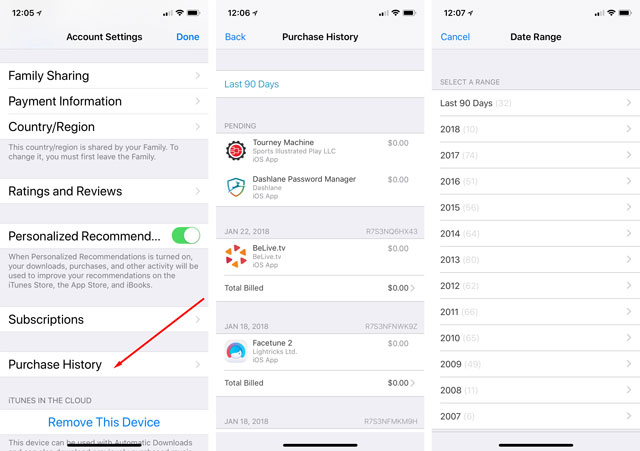 For Android phones, go to Goog Play Store App, select Menu > Account > Order History. If you have multiple accounts associated with the phone, you can switch between the account to view all downloads. On a computer, go to play.google.com/store/account and scroll down to Order History. If there is more than one account associated with the phone, you can click on the photo in the upper right corner to switch accounts.
Where there's internet, there's potentially harmful content
On social media, harmful content can all too easily pop up on kids' radars. The risk rises especially for children under 13 – one survey found that about 43 percent of children with social media profiles had messaged strangers online by age 12, and that by about age 13, kids send their first sext: a message with sexually explicit or suggestive content.
Sexting may be the new normal for a generation that was born after the internet, but sending explicit images, text or video online can have emotional and legal consequences. One study found that more than 25 percent of teens who receive a sext forwarded it to someone else. Since messages are being sent between minors, such actions can be construed as child pornography, as well as causing distress and humiliation.
In 2016, three high school students were charged with heading up a sexting ring – circulating explicit images and videos of fellow students, while one survey found that over half of teens had seen their friends share such images in acts of "revenge porn", and a third had seen someone set up a "bait out" social media page to incite more of their peers to post explicit content.
Snapchat, the app most closely associated with sexting, is not necessarily a safe outlet with its promise of self-deleting Snaps: Third-party apps can recover disappeared content, and in 2014, 98,000 Snapchat photos and videos made their way online after these apps' servers were hacked.
Monitoring your child's phone
If you discover your child is using any of the above apps, hold up – it doesn't necessarily mean anything is wrong, but it is worthwhile observing their behavior when they use their phones: Do they appear upset? Are they "always on" a messenger app, which they quickly shut down when you approach? Kids and teens have a right to some privacy, but they are also still learning to navigate the fast-moving laws of the internet and social media. And social media can affect their impressionable young brains, triggering the reward circuitry with likes, favorites and reposts.
Keep an eye on the apps they're downloading
If you and your child both use iPhones, you can use Family Sharing to create a child's Apple ID and manage it with your Apple ID. This lets you see whenever they download an app. You can also turn on 'Ask to Buy' to ensure you give permission for purchasing apps (this is default on for under-13s).
Android and iOS families can download Family Link (Android / iOS) for parents' and kids phones. Like with Family Sharing, you'll need to create a new child's account with the Family Link app and then set up a new device with the Family Link app. The app offers more control than iOS does: along with approving or blocking which apps can be downloaded from Google Play, this app lets parents see how much time kids are spending on their device, set limits on this screen time, as well as remotely lock the phone at bedtime or homework time.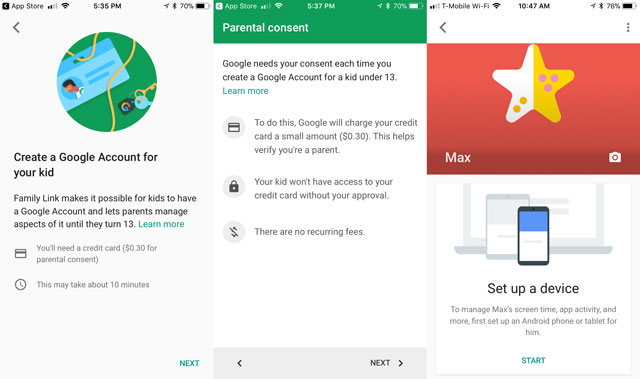 For Android devices, you can also install the Amazon FreeTime Unlimited (free to download of Google Play, plus $4.99 per month subscription/ $2.99 for Amazon Prime members), which will keep kids within the app and enables you to filter content based on age, set hours for use, total amount of time used and even let you require reading before playing games or videos.
How to check which apps they used last
Did your child just shut down an app really quickly? You can see what apps they've been using. On an (unlocked) iPhone, double-tap the home button (or swipe up from the bottom on iPhone X) and you can see what apps have most recently been in use.
On an Android, head into Settings > More > Application Manager or, for some phones, go to Settings > Apps & Notifications. Or, you can dial the following sequence on the phone's dial pad: *#*#4636#*#* You'll see a screen that says 'Testing'. Select Usage Statistics and you'll see a list of every app, when it was last used, and how long it's been used.
How to check which apps they use the most
Since most apps require the screen to be on, looking at the percentage of battery an app uses, can tell you how much time your child is spending on a particular app.
For iPhones, go to Settings > Battery and scroll down to see which ones are the battery hogs. You can check usage over the last 24 hours and the last 7 days.
For Android go to Settings > Battery > and check the App usage since full charge.
Look up the apps your kids use
Call it the parent safety filter: Go through your kids' list of apps and look up each one online, even the innocuous-sounding ones. Checking apps' reviews on app stores might reveal who's downloading them. Often, apps that put kids at risk for cyberbullying or predators are popular with a large amount of the school-age population and may already have been making headlines.
How to find hidden apps
One sign that your child or teen might be hiding something could be if their phone has "ghost apps" – apps that appear to have a particular function but instead hide a cache of files, images or messages that are revealed on the entry of a passcode. A common ghost app is Calculator% (no typo), which has a functional calculator interface, and Audio Manager/Hide It Pro, which appears to control the phone's audio settings - but there are many more across the app stores.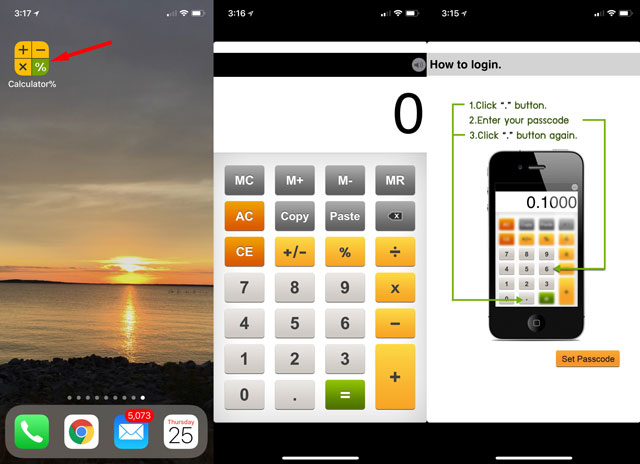 You might be able to figure out if that calculator app your kid downloaded is actually hiding a bunch of other files by checking how much storage it takes up on the phone. Calculator apps – or other apps that purport to fulfill basic functions typical of ghost apps – shouldn't require over 100MB or so.
[Image credits: girls looking at smartphone via BigStockPhoto, Techlicious/Apple, Techlicious/ Google]