Smartphones are distracting. Our handheld sources of social interaction, entertainment and fitness motivation are strongly linked to increased distraction, a state that's only exacerbated by the multiple screens that surround most of us. Putting down our smartphones — or, better, putting them in another room — is the first (but possibly the most difficult) step toward reclaiming our mindfulness of the present moment, which itself is linked to increased focus and productivity.
The second logical step towards mindfulness is meditation. Meditation is an increasingly widespread technique for achieving mindfulness; in the last several years, it's broken out of its shackles of perception as a slightly esoteric practice and become a tool that anyone can master — at least, that's the promise of the hundreds of meditation apps found across Google Play and the Apple App Store.
The balance between technology and mindfulness is a precarious one, so it might seem a little ironic to turn to a smartphone app for help meditating. Yet apps for mental health were one of the most popular categories of downloads in the App Store in 2017, and corporations such as Google and Ford have taken to encouraging meditation in the workplace with gusto. No wonder that heavy-hitters in the wellness market such as Headspace are valued at hundreds of millions of dollars, with more than 15 million downloads in 190 countries.
So what's the sell? The touted benefits of meditation are manifold — better sleep, reduced anxiety, increased focus and productivity, enhanced self-esteem. It would be a magic pill for the conscious mind if it weren't so difficult for most of us. Meditation apps can help ease people into the practice in a range of ways — through guided sessions as short as a minute, through the straightforward discussion of topics such as managing negative thoughts and by gamifying the whole journey with records of meditating time and streaks of meditation days. The right meditation app could be the motivator to start a regular practice that nearly 18 million Americans have made part of their lives. It's helpful to note that when you enter the world of guided meditation, feeling comfortable and tuned in really depends on whether you get on with the voice of the person leading your session — so do try a few if you don't instantly find a go-to. Here are five of our favorites for you to start with.
Headspace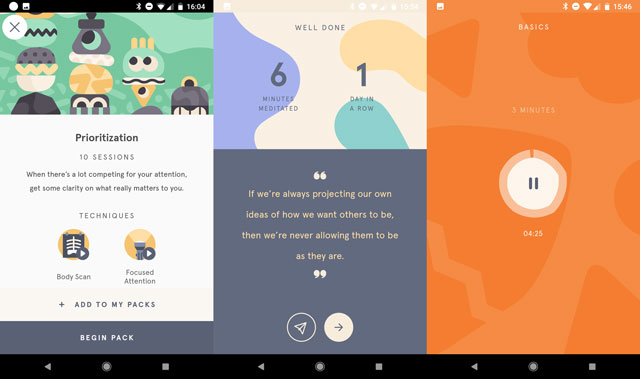 This app offers guided meditation sessions with the soothing, lightly Bristolian voice of founder Andy Puddicombe walking users through the basics of meditation and the various psychological traps we create for ourselves (for example, the projection of expectations onto others, which leads to tension). There's a free 10-day "course" with daily guided sessions that last from a few minutes to 20 or more, teaching listeners the basics of engaging bodily awareness and focusing attention. Other courses cover such topics as prioritization, anxiety or relationships in a huge range of work-related, personal, health and social awareness categories. There are also one-off sessions, sessions designed for kids, and "minis" of one, two or three minutes designed for a quick breather on busy days. Most of these come only with the premium subscription, though there are a few free sessions on offer so you can try different types before shelling out. Additional features include an animation library that breaks down ideas such as why the mind has thoughts; Puddicombe spent 10 years studying Tibetan Buddhism, the teachings of which inform this app.
Free for Android, iOS with free 10-day session; $11.99/month or $7.99/month if committing to one-year subscription
Stop, Breathe & Think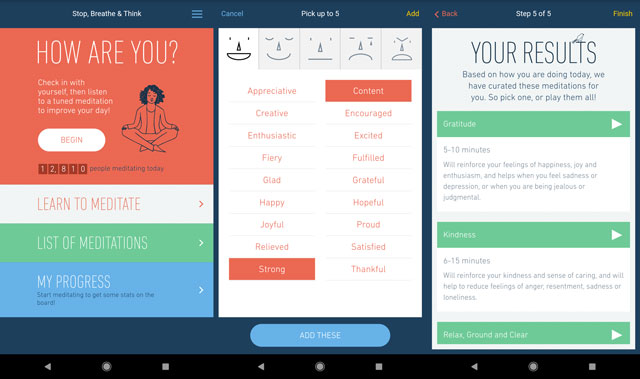 Emotional self-awareness can go a long way toward controlling negative feelings, which is where Stop, Breathe & Think finds its niche. Before going into its library of guided meditations, you're encouraged to "check in" with how you feel physically and emotionally (on a five-point scale from terrible to great), further clarifying this with five emotions out of a fairly detailed list that includes feelings such as appreciative, calm, guilty, angry or judgmental. Then, the app suggests a meditation based on your check-in — perhaps a meditation on gratitude or the commonality of suffering, or guidance such as how to observe the appearance of thoughts without following them. There are a couple dozen guided sessions ranging from 3 to 20 minutes, including body-centered meditations that encourage focus on the physical senses. Most are free, while others can be purchased singly or in packs of a few sessions on a particular topic. Tools for Peace, a mindfulness-focused nonprofit dedicated to helping at-risk youth, receives 10% of the revenue from the app. Once you have the hang of meditation, you can also use the in-app timer to time a session on your own.
Free for Android, iOS; from $0.99 for additional session packs
Calm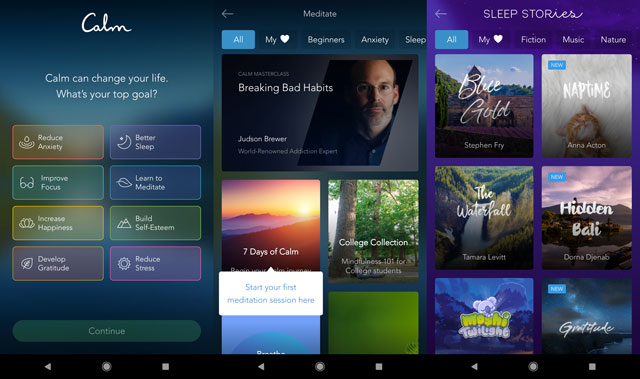 Like Headspace, Calm works on the principle that meditation works best in a routine. Many of the guided sessions are part of seven-day courses on topics such as focus, happiness or managing stress. The main topic of the free, introductory seven-day course is suggestions for achieving calmness, with guided sessions lasting 10 minutes or more. Other courses are centered on goal-oriented outcomes such as breaking bad habits, and you can search for meditations by themes such as personal growth, self-care or resilience. The app also goes beyond guided meditation sessions to reach into the heart of an issue suffered by many: sleeplessness or restlessness before bedtime. Along with a sleep-focused meditation course, a separate Sleep section includes sleep-friendly music, nature sounds and slow-moving bedtime stories narrated by the likes of plummy UK TV presenter Stephen Fry. There's also a Music section where you can select playlists of ambient music in themes ranging from focus, composure and willpower to the rather esoteric sculpture and pulse. A Daily Calm vocal session is available each day, dealing with themes such as fear of intimacy.
Free for Android, iOS, web browser; free seven-day trial, then $12.99/month or $59.99/year
Insight Timer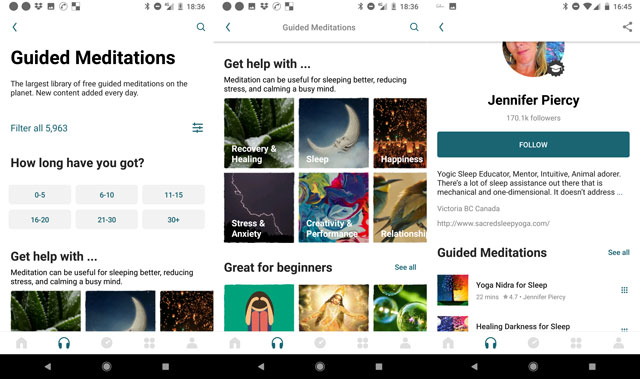 For more of a community feel around the solitary act of meditation, you might turn to Insight Timer. The app has thousands of free guided meditations led by celebrities — such as authors and teachers — in the field of mindfulness and wellness and you can join discussion groups and view a stream of posts. There's also a Facebook-esque wall that shows which sessions various users are meditating to and a progress section dedicated to graphs and stats on your meditating prowess.
If you've tried a few meditation apps and haven't found one you get along with, another advantage here is that you have access to sessions led by people with different voices and speaking styles — pitch, gender, modulation — which can affect how immersed you feel in your session.
Insight Timer features more than meditation too, with videos of talks and interviews that explore a vast range of mindfulness- and Buddhism-related ideas such as the benefit of yoga or the path of the bodhisattva in difficult times. As on other video sites on the less-mindful web, these are reviewed by users, offering some filter as to which of the many you should start with. There's a privacy mode so the name of the talk or meditation you're listening to isn't displayed on your phone screen, and enabling sleep mode will automatically turn off the phone when your session or talk ends. A simple journal area lets you jot down notes while in-app.
Free for Android, iOS; $2.99/month for offline use, plus additional playback features on videos and talks
10% Happier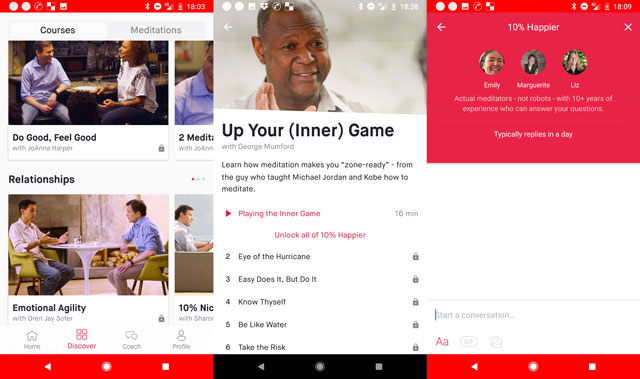 10% Happier is built on the premise that "fidgety skeptics," too, can experience the benefits of meditation. The guided meditation sessions here offer more-straightforward-than-most guidance on navigating mindfulness — and avoiding distraction — often with light humor from several well-known meditation teachers, some male and some female. The app itself is intuitively and simply designed, with one-tap access to a suggested meditation session, as well as an easy "Just Meditate" filter for guided sessions based on how many minutes you want to spend — from 3 to 25 or more. You can also choose featured sessions on topics with titles such as "On the way to work" or "I don't want to meditate," as well as more classic themes of forgiveness or winding down. The introductory meditation course includes eight sessions free, each offering a couple minutes of tips for mindfulness, but most of the meat lies in the subscription section of the app. These courses cover categories like relationships, work and stress management, including "Up Your (Inner) Game" from the instructor who taught Michael Jordan and Kobe Bryant how to meditate. These often include a free session or intro video so you can get a feel for what you'll get. A Coach section allows you to instant-message meditators — who, the app says, have more than 10 years of experience — with questions about meditating. If you're a convert to this app, you might even want to check out founder and journalist Dan Harris's book, "Meditation for Fidgety Skeptics," a memoir of the cross-country road trip he took with co-founder/meditation guru Jeff Warren to discover why people don't meditate — peppered with plenty of guidance on how to meditate, of course.
Free for Android and iOS with access to a few sessions; one-month free trial, then $11.99/month or $79.99/year for access to all sessions
[Image credit: man meditating at work via BigStockPhoto]