Fact checked and updated with new advisory and products on 4/17/2023
The port you use to charge your smartphone is the same one you can use to transfer data. And the FBI, FCC, and other government officials have recently re-issued warnings that hackers could use that connection to steal data from your phone or tablet when you plug into free charging stations in public spaces like airports, coffee shops, and hotel lobbies.
Called juice jacking, hackers could modify charging stations with hardware designed to install malware on your phone or tablet. Just plugging into a compromised charging station could infect your phone.
Both charging ports and charging cables can be used to deliver malware. So it's not your lucky day when you find a power adapter left behind in an outlet or a cord dangling from a public charging port. While an absentminded traveler may have left that cable or power adapter, it may also be a lure set by a hacker. And once a hacker has access to your phone, they can control it without your knowledge and steal your data.
While there haven't been reports of juice jacking in the wild, why take your chances? There are easy ways to take advantage of charging stations while protecting your data.
Four easy ways to prevent juice jacking
1. Use a data-blocking adapter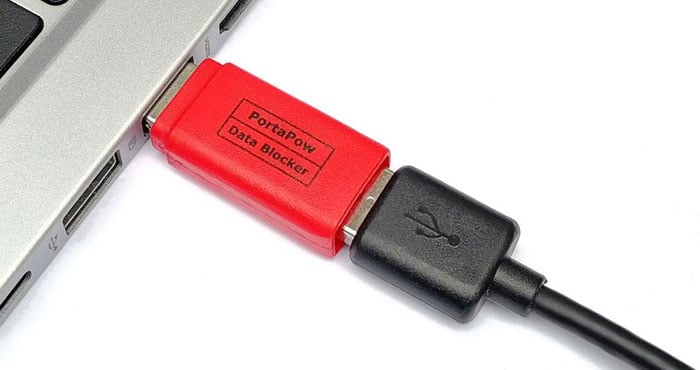 If you use a data blocking adapter, like the PortaPow 3rd Gen Data Blocker ($6.99, check price on Amazon), you can plug into public USB ports with your existing cable. PortaPow also makes a data-blocking USB-C cable, the USB-C to C ($11.99 for a two-pack, check price on Amazon). Note that you won't be able to quick-charge your devices with these cables and adapters.
2. Use the electric outlet, not the USB port.
Always use the electric outlet and your charger rather than the USB port at charging stations.
3. Invest in a portable charger
Skip the public charging stations and use a portable charger, like the Anker PowerCore III 10K Wireless Portable Charger ($49.99, check price on Amazon). It delivers 18-watt charging via USB and 10-watt wireless Qi charging.
4. Ensure you don't give data access to an unknown device.
When an iPhone connects to a computer or other device that wants to access data, you'll get a pop-up asking if you want to "Trust This Computer?" If you select "Don't Trust," you can charge without making your settings and data accessible. If you're concerned that you may have inadvertently given access to an untrusted device and want a clean slate, go to Settings > General > Reset > Reset Location & Privacy.
For Android phones, the default is to supply power. To double-check your preferences, go to Settings and search for "USB Preferences." You should see in the "USB controlled by" section "This device" selected, and in the "Use USB for" section, choose "No data transfer." If you have an older version of Android and receive a pop-up or a notification that says, "Charging this device via USB." Under "Use USB for," select "Supply Power."
[Image credit: airport charging station via BigStockPhoto]
For the past 20+ years, Techlicious founder Suzanne Kantra has been exploring and writing about the world's most exciting and important science and technology issues. Prior to Techlicious, Suzanne was the Technology Editor for Martha Stewart Living Omnimedia and the Senior Technology Editor for Popular Science. Suzanne has been featured on CNN, CBS, and NBC.