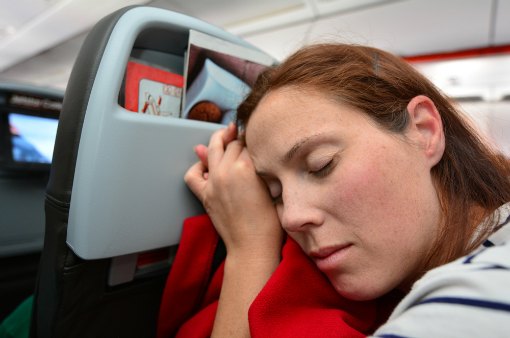 Crossing three or more time zones puts you at risk of a good case of jet lag. The greater the time shift in a single journey, the greater your symptoms: disrupted sleep, dodgy digestion and general fatigue.
Although jet lag affects people differently, adjusting to jet lag takes about a day per hour of time change, NASA's chief of fatigue management told The New York Times. Managing your exposure to light can speed up resetting your body's internal clock. Taking melatonin can help, too, notes the National Institutes of Health.
Our favorite way to beat jet lag? With apps, of course. Based on light exposure, sleep and melatonin, these apps deliver schedules to help you beat jet lag sooner.
Jet Lag Rooster
The claim: Sleep at your regular hours but manipulate your light exposure before bedtime to adjust time zones more quickly.
How it works: The sleep calculator is easy to use, with options to input your regular sleep and wake times. Once the app figures out your jet lag-beating schedule, you can set alarms for its events: seek light, avoid light, sleep and wake up. Jet Lag Rooster allows you to choose to start the adjustment process on arrival or a few days before departure, which may help prevent the lag entirely.
The itinerary: After I chose to start adjustment after arrival, Rooster set my plan: Seek light from 10 p.m. to 1 a.m. before bedding down, followed by waking at 8 a.m. and repeating the next day. Barring the odd recommendation to find myself a portable light box, these guidelines were easy to obey. Travelers crossing more time zones (say from New York to Singapore or Sydney to London) will get harder to follow suggestions about avoiding light in the middle of the day.
The experience: Though I followed instructions to the T on days one and two after arrival, day three saw me dozing off at 7 p.m. in bright indoor light, only to awaken at 10 p.m. and then doze off again at 1 a.m. But by day four, I had adjusted to my usual sleep schedule and felt I'd gotten over the lag – a total of three days of adjustment for crossing five time zones.
Overall: Jet Lag Rooster is a straightforward app based on research about the effect of light on jet lag, with a supporting website that offers resources including when to use the sleep aid melatonin and how quickly to adjust your sleep cycle.
Price: Free at iTunes or Google Play
Entrain
The claim: This mathematician-built app simulates your body clock to compute optimal light exposure schedules based on your behavior while syncing to your new time zone.
How it works: Once you've input your destination and time of arrival, select the type of light (low or bright office light, or low or bright daylight) you'll mostly be exposed to. According to the app, brighter light adjusts your body clock more quickly. The resulting schedule gives you up to seven days of suggested light exposure and sleep hours. The smartphone monitors whether you're in light or dark.
The itinerary: Selecting Low Daylight gave me 49 hours of "entraining" to get over a five-hour time change. The program started just before my departure, with suggested light and sleep hours for the day before departure and the first two days after arrival.
The experience: Though its design is clean, the app's interface is not intuitive, and some of its calculated schedules felt unfeasible. For example, on day two after arrival, the app suggested that I stay in the dark from 1 p.m. to 11 p.m., something not generally desirable for either leisure or business travelers. Luckily, if you haven't managed to follow the app's suggested itinerary, you can update the light and sleep you actually did get so the app can recalculate light and sleep time for subsequent days.
Overall: Entrain is somewhat complicated to use but could be a good option if you suffer from extreme jet lag and can invest in a day of odd sleeping to cut down your symptoms by a couple of days.
Price: Free at iTunes
Jet Lag App
The claim: Take melatonin and adjust your bedtimes before departure to diminish the symptoms of jet lag.
How it works: The jet lag calculator has a minimal, intuitive interface with different algorithms for short and long trips. Tap in your destination and arrival date, and you're given a schedule for sleep, light and melatonin that starts a few days before departure.
The itinerary: For a six-day trip to Singapore from London (a seven-hour time change), the app calculated two days of adjustment before departure and two after arrival, each with suggested sleep and wake times. If you take melatonin, the app also suggests when to pop this sleep aid (basically, any time you're supposed to feel sleepy, whether that's early morning or late night). All events can be exported to the phone calendar for reminders.
The experience: The pre-travel adjustment ─ sleeping at 9 p.m. the first night and 7 p.m. the second ─ was impossible for me to adhere to. Once I was on board, the airplane's lighting clashed with what the app suggested, so I made an executive decision to sleep during most of the 13-hour flight. The post-arrival adjustment ─ sleeping at 11 p.m. and waking at 5 a.m. the following day and 7 a.m. the next ─ was much easier. By day four, I felt reasonably free of jet lag symptoms.
Overall: If you take melatonin, Jet Lag App could help find the optimal times to take it. However, the pre-trip sleep times may be too extreme to follow.
Price: $2.99 at iTunes
We also recommend noise-cancelling headphones for sleeping on the flight and white noise apps for getting rest when you need it.