Back in the age before smartphones (scarily enough, it really wasn't so long ago), if you had a cell phone, it was yours and yours alone. It didn't need to be connected to an email account just to work, and if your kids used it, it was just to play Brick Breaker. A lot of us eventually upgraded to the iPhone, and as the kids came along, brought them into the iPhone/iPad fold by putting our Apple IDs onto their devices.
Of course, what was once the easiest solution for getting a new device up and running has now become a nightmare: you're getting messages from your kids' friends about Minecraft, and they're getting messages about Mom's wine club. Yikes.
And with Apple's introduction of Continuity with iOS 8, which lets all of your devices work in tandem and receive notifications at the same time, the problems have gone even deeper.
It can be really annoying, but fortunately, it's easy to stop the iMessage madness.pan
How to Choose Which Accounts Get Which Messages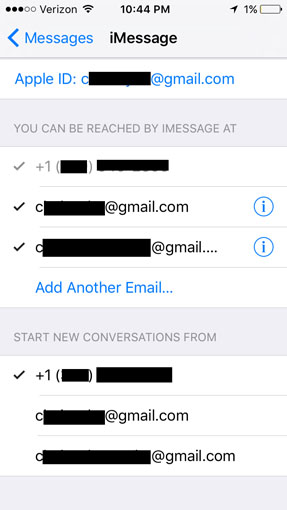 Like the majority of problems you can encounter while using your iPhone or iPad, the solution lies in Settings. While text messages are associated solely with your phone number, Apple's iMessage ties your phone number to your email address-based Apple ID; you can then send iMessages to anyone else who has an iOS device. If you're getting messages meant to go to another device or person in your family, it might be because your Apple ID is tied to their particular devices. To see which accounts are associated with your Apple ID, go to Settings>iCloud>select your account at the top>Devices.
Head to Settings>Messages>Send & Receive. You'll see your primary phone number, greyed out with a checkmark to its left. Usually, below the phone number, you'll see email addresses that you've set up on your phone with checkmarks to their left, too. By tapping an email address, you can choose whether you'd like people with your email address in their contacts to be able to send you iMessages. In this same window, you can also decide which number or email address you want to start new iMessage conversations from. Simply tap on the account you prefer, and a checkmark will appear to its left.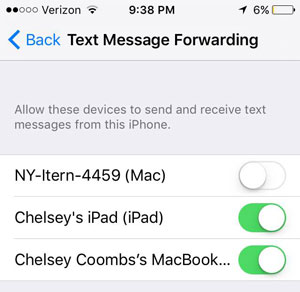 Continuity also made it so you can send and receive text messages on your iPads or Macs, as long as they are signed into the same iMessage account and are on the same Wi-Fi network as your phone. Go to Settings>Messages>Text Message Forwarding, then click on the devices listed to add or remove them.
The process is similar if you want to stop receiving other people's FaceTime or phone calls. Go to Settings>Phone>Calls on Other Devices. You can then choose which devices can receive phone calls when they are on the same Wi-Fi network. You can also choose which accounts you can get FaceTime calls from by going to Settings>FaceTime, then selecting the correct accounts as you did before.
Prevent the Problem in the First Place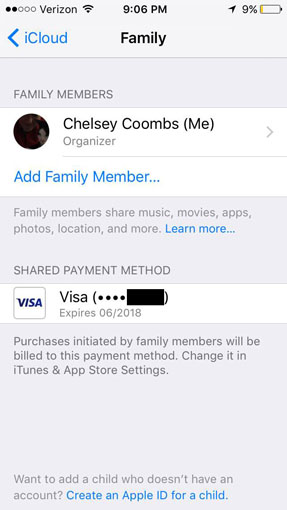 Although it's tempting to skip setting up a new Apple ID for your child, for their eventual privacy (and your eventual sanity), create an email address and set up an Apple ID for them. While it may seem like you're giving them free reign, Apple's Family Sharing still lets you have control over what your children can and cannot do with their devices, including parental approval for all apps, songs and videos they download from Apple's store.
If you want to be the Family Organizer (who pays for any purchases), go to Settings>iCloud>Set Up Family Sharing. You'll then follow the progressive steps, which will allow you to invite up to five other family members to your group.
The great thing about Family Sharing is that anyone who's in your group has access to any music, movies, books or apps that have been purchased by anyone in your group (Don't worry, you can also hide certain items and make it so people who want to purchase items have to get the go-ahead from you). Once you get to the last setup screen, select Add Family Member to send an invitation that will appear on each new member's device. They will accept the invitation and you're good to go.
You can always set up Family Sharing, even if you had previous shared your Apple ID with someone else. While one person may have to manually add contacts, calendars, etc. from the old Apple ID to the new one, you will definitely be glad to keep your messages all to yourself.