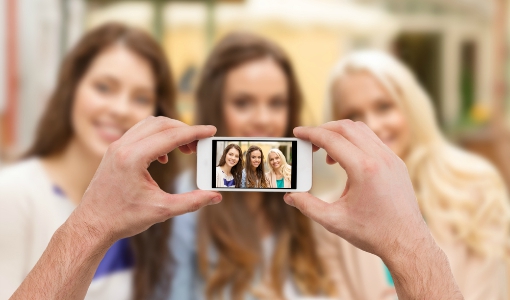 By 2016, InfoTrends predicts that almost 200 billion photos will be captured by cameras, phones and tablets in the U.S. These images record our most important moments and document our day-to-day lives. So how do you safely store all of these precious memories? Online, where they won't be subject to hard drive failures and other natural disasters.
Luckily, online storage for our digital photos isn't hard to find. Old faithfuls, such as Flickr or Shutterfly, offer ample storage for free, as do newcomers such as Amazon Cloud Drive. And even if you have never signed up for photo storage, it's likely your iPhone, Android or Windows Phone has been quietly syncing its pictures to iCloud, Google Drive or One Drive.
But what if you want to do something more than just store your photos? Taking the time to find a photo storage site that offers the post-snap features you want can help elevate your pictures out of their digital limbo.
We checked out the web's most popular sites for storing photos and chose the best ones for editing, creating albums and printing out photos, looking at:
Cost of storage: With increasingly powerful smartphone cameras, the pictures we take are larger and more plentiful, so you'll always want to look for maximum storage at minimum cost. Luckily, many sites offer abundant space for free – as long as you don't mind looking at ads.
Video: Not all files are created equal – many photo storage plans place a cap on the file size or length of video you can upload.
Auto-sync: If you're mainly concerned about not losing your photos when you switch phones or clean out an old one, make sure the photo site you choose will automatically backup new photos as you take them.
Full-size uploads: Some sites compress images to quicken upload times and save on their storage overhead. If you want to be able to download your pictures in their original size later – say for printing – you'll want to make sure you can upload full-size images.
Who can view your photos: Ideally, you should be able to adjust privacy controls so that you have the option for making some photos public (for a portfolio) semi-private (for a friend's event or child's team) or totally private.

Best for large photo and video collections: Amazon Photos
One of the best values in unlimited storage plans is Amazon Cloud Drive. For $11.99 a year, you can upload as many high-resolution images as you want; and if you want space to store your videos, music and documents as well, the "Unlimited Everything" option is $59.99 a year. (Amazon Prime members have free access to this plan.) You are able to upgrade to the "Unlimited Everything" plan at any time.
If you use a DSLR, you'll appreciate the support for RAW camera files from certain models of camera, as well as DNG files.
The interface is basic – just drag and drop files and folders to upload your photos. You can view photos you've shared or by date. A cute tab for "This Day" shows you pictures snapped on the same month and day in years past.
If you're keen to create one bucket for your photos, an auto-save feature on Fire phones as well as the Amazon Photo apps for iPhone and Android lets you automatically back up photos. Bonus: Once the snaps are in the Cloud Drive, you can delete them from your phone and save space without losing the photos.
Cost of storage: $11.99/year for unlimited photos; $59.99/year for unlimited photos, videos, documents and music; both plans have three-month free trials; free for Amazon Prime members
Video? Yes, up to 5GB free with the photos plan; otherwise, unlimited video uploads included in the "unlimited everything" $59.99/year plan.
Auto-sync: Only from phone; pictures on your hard drive have to be manually synced
Full-size uploads: Yes, including RAW files from some cameras as well as DNG files
Who can view your pictures: Anyone you share an album link with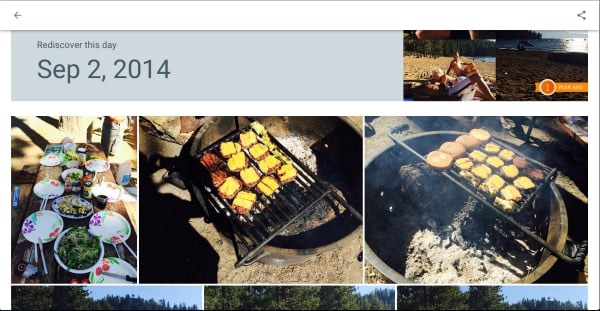 Best for auto-creating albums, collages & special effects: Google Photos
Google makes browsing your old photos a lot of fun. Once you download the Google Photos app for iPhone (Android phones automatically back up photos to the service unless photo backup is disabled), your phone's pictures will automatically sync to your Google account. There they are compiled based on similarities, date and location into collages of particular moments, animations of pictures you may have taken on burst mode and montage or slideshows of events and holidays.
The Assistant feature lets you enable or disable this auto-creation mode, as well as "rediscover," which brings up photos from, say, a year ago on this date. Photos are displayed in minimal, borderless collages that can be shared on social networks or email.
Photos and video are counted against your total Google Drive storage – anyone with a Google Account automatically has free access to 15GB – but if you enable compression to "high-quality" versus "original", you get unlimited storage for both photo and video files.
Cost of storage: Free for 15GB of high-res images; $1.99/month for 100GB; $9.99/month for 1TB; unlimited free storage of compressed images
Video? Yes
Auto-sync: Yes, from smartphone
Full-size uploads: Yes
Who can view your photos: Only people to whom you give the link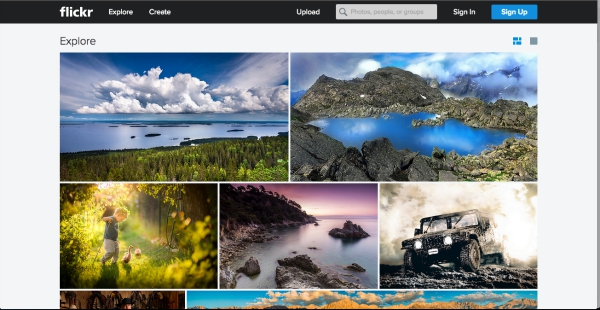 Best for sharing photos: Flickr
With 1TB of free storage to any user, Flickr is replete in striking, original and abundant photography. Now the original photo storage site is upping its offering with a sleek, unified photo search that allows you to filter photos by color, size and orientation and search by location or time – handy whether you need an image of grasslands for a project, or you're hunting through thousands of pics to find that one of your sister on her 21st birthday.
An updated auto-tagging technology also makes it easier to categorize massive photo collections – and if yours is particularly good-looking, you can take advantage of Flickr's Wall Art feature to print out your own photos as canvas photo prints or photo mounts.
Unlike the other high-volume photo storage sites on this list, Flickr offers an easy to use image editor that lets you do basic editing such as contrast and color tweaks, as well as add Instagram-esque filters, frames and stickers.
Flickr doesn't support RAW camera files—only JPEG, GIF and PNG, but high-res versions are always saved, along with alternative, web-friendly photo sizes to easily share on social networks or forums.
Cost of storage: Free 1TB (with ads)
Video? Yes, but limited to maximum three minutes each (up from the original 90 seconds) or 1GB.
Auto-sync? Yes, via the smartphone app
Full-size uploads: Yes
Who can view your photos: You can create public albums as well as private albums that require a link and/or password for others to view.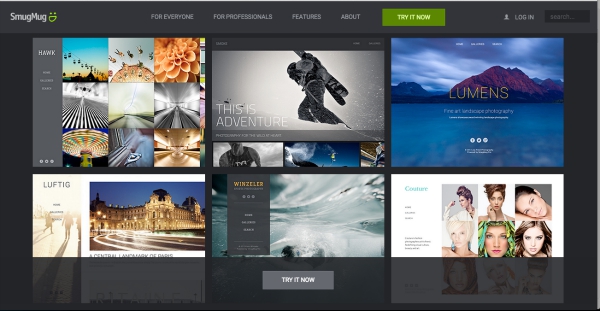 Best for video and portfolio: SmugMug
A professional-leaning photo hosting site, SmugMug is great if you want to back up large photographs, or if you shoot a lot of high-res video you'd rather not cut or compress to back up. All storage plans (starting at $3.34/month) offer unlimited, full-resolution photo and video upload, elegant design templates for display and the ability to adjust the privacy of particular albums.
The interface is clean and minimal with tools to customize title fonts, colors and layouts. A simple folder hierarchy lets you easily organize galleries by events and categories. From within the SmugMug site, you can also order hard copy prints as well as photo books from Blurb and Montage, which integrate with SmugMug so you can easily use your photos with these two excellent album creators.
If you purchase a Portfolio plan for $12.50/month you can also offer your photos for sale online as prints at various sizes.
Cost of storage: $3.34/month for unlimited storage; $5/month with additional personalization tools; $12.50/month if you also want to sell photos online; $25/month for the business user requiring marketing and promotional tools as well
Video: Yes, full-res uploads upt to 3GB
Auto-sync: No
Full-size uploads: Yes, limited to 150MB and 210MP
Who can see your photos: Only the people you want, as there is a high level of privacy controls, including the ability to add a password and watermark.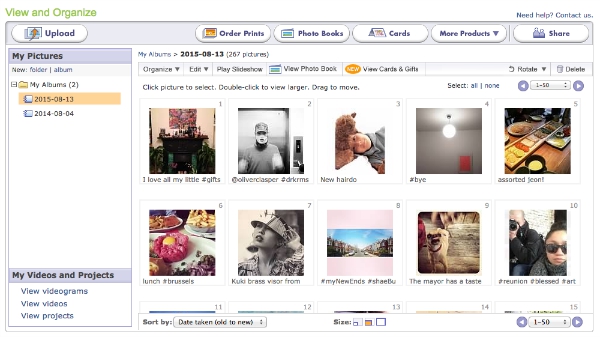 Best if you print out photos: Shutterfly
If you enjoy printing out photos into albums or as gifts, Shutterfly is a great option for backing up your photos to easily browse later for print-worthiness. Along with unlimited photo storage, there's a seemingly infinite variety of photo gifts possible, from personalized cushions and blankets to metal wall prints and children's puzzles. If you're interested in printing wall art, you can choose from your own pictures as well as hundreds of copyright-free images from Shutterfly's relatively new Art Library.
Of course, you can also compile dozens of your favorites into the ultimate wedding, birthday or just-because album. (For more about Shutterfly's album creator tools, check out our feature here.)
Photos can be uploaded from Facebook and Instagram, as well as directly – and in full-size – from your computer, smartphone or Adobe Photoshop. The only downside for DSLR photographers is that it only takes JPEG files – any other file type will have to be converted in a separate photo editor.
If you own a Roku media streamer, you can also easily view your Shutterfly photos on your TV with the Shutterfly for Roku app.
Cost of storage: Free for unlimited storage
Video? Yes, but limited to 10 videos up to 300MB(about 5 min long) on free accounts; or an unlimited number of videos up to 1GB (about 15 minutes long) for Premium Video plan ($29.99/year at the time of printing; $49.99/year usually)
Auto-sync: No
Full-size uploads: Yes
Privacy: You can share links to albums for people to view as well as add to and edit
[Images via Shutterstock, Amazon, Google, Flickr, SmugMug and Shutterfly]