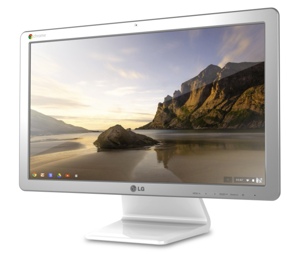 Electronics manufacturer LG announced this week that it will be unveiling its new 21.5" Chromebase all-in-one desktop computer running Chrome OS at next month's Consumer Electronics Show (CES).
Design-wise, the LG Chromebase's one-piece construction looks a lot like Apple's expensive all-in-one iMac desktop, right down to the lush 21.5" Full HD (1920x1080) widescreen. Really, though, the two couldn't be more different – the Chromebase is surely intended to be a value-priced desktop. It's powered by an Intel Celeron processor, houses a 16GB SSD for storage (it relies primarily on Google drive storage), 2GB of memory, and comes equipped with a 1.3 megapixel webcam for HD video chat. The hardware is hardly impressive, but definitely inexpensive and capable.
You can also expect serious savings to come from the fact that the Chromebase skips Microsoft's expensive Windows 8.1 operating system in favor of the Linux-based Chrome OS from Google. Chrome OS is a largely based around the Chrome browser and is fairly limited in what it can do – processor-intensive gaming and video editing are out, for example. For surfing the web and other light activity, though, the Chromebase promises to be a stylish option that won't break the bank – Chrome OS based laptops, after all, can be had for just $199.
We'll keep you updated on this new all-in-one desktop, including the all-important price tag, when LG reveals more about the Chromebase at the 2014 CES in Las Vegas this coming January.