Alienware has a nearly 20-year history of building top of the line gaming laptops, but with this year's CES offerings, they're moving to a new aesthetic. The new Alienware Area-51m is the company's first to use its sleek new Legend design, which gives the machine a sci-fi look that fits Alienware perfectly. And the first laptop to showcase this new style is no slouch: the company calls the Area-51m laptop "the first true desktop replacement."
The Area-51m is a laptop built around power. It has an Intel 9th-Gen i7 8-core processor — and that's a desktop processor rather than a lower-power model designed for laptops. A full 64 GB of memory and the NVIDIA GeForce RTX graphics card gives it plenty of power for gaming — and the processor graphics card, memory and storage can be upgraded if you need more power. The 17-inch display is sharp and bright, and it has a 144Hz refresh rate for smooth moving images.
Alienware doesn't stop with the simple specs, though. Alienware promises that the Area-51m offers stellar overclocking performance. Overclocking makes your processor run faster than it was designed to run, theoretically giving you more computing power — the main barrier to doing this is it overheats computers. But overclocking the Area-51m is supported by a Cryo-Tech 2.0 cooling solution, which pushes more cool air through the computer, so your CPU won't feel the heat.
The construction of the laptop is solid, with a magnesium alloy chassis to reduce weight. But all of those beefy, powerful components — and the 17" screen — are heavy, and the laptop still weighs in at 8.5 pounds. That's is in line with other gaming laptops, but still, quite a bit of weight to lug.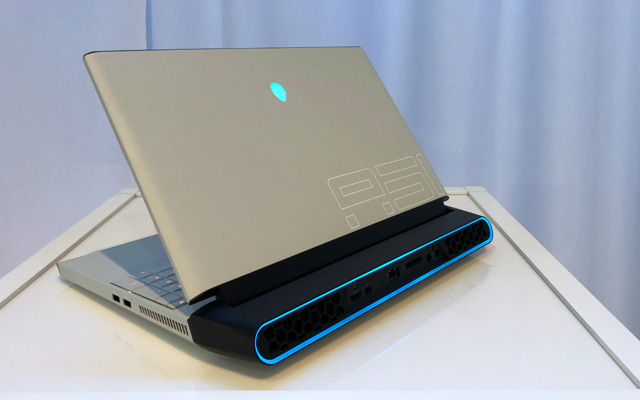 Though the internal components are certainly the star of the show, the leap to this new design makes this laptop something special. Gone are the angular lines of previous models. The Area-51m has a rounded rectangle ringed in an LED forming the backbone of the case. It is sleek, sophisticated, and is an updated version of the sci-fi feel Alienware is known for.
Alienware devotees won't be shocked by the price, but your average laptop user might be. The Area-51m starts at $2,549, and if you want to upgrade its already impressive base stats you can expect to spend even more. And while nothing from Alienware qualifies as a budget laptop, if you want to spend a little less the company has also updated the m15 and m17 models, which start at $1,379. None of them are exactly budget laptops. Look for the Area-51m to be available from Dell starting on January 29.
[Image credit: Alienware, Techlicious]