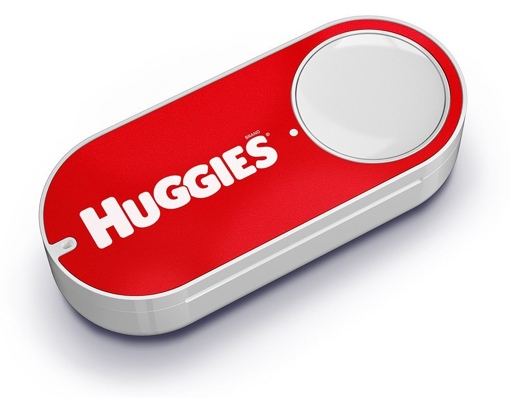 Amazon's Dash Button
, the one-touch physical button that instantly places orders for household products, is finally available to a wider audience. Yesterday, Amazon announced that Prime members can now purchase buttons at a cost of $4.99 each.
Amazon first launched its Dash Button in March on an invite-only basis, allowing select Prime members the ability to purchase Tide, Bounty, Glad, Huggies, Gerber and more through the program. There are 18 brands in all to choose from. Each button comes with adhesive so it can be mounted just about anywhere.
You set up your Dash button using the Amazon app on your smartphone. There, you'll be able to choose what specific item to associate with each button (powder detergent vs. liquid, small size vs. large, etc.), and set up your order preferences. Only one order is allowed to be out for delivery at a time, so there's no worry about accidental double presses. You'll get a notification when the button is pressed. And Amazon gives you a little bit of time to cancel the order before it ships, just in case.
This device definitely isn't for me – I'd rather comparison shop my purchases rather than blindly trusting Amazon. Still, if you're regularly buying wipes, diapers, razor blades and similar items from the online merchant, a Dash button could be a convenient way to replenish your household stock if you're willing to bite the $4.99 price tag. (It is easier than trying to remember to buy detergent at the supermarket when you're low.)
You can view Amazon's selection of Dash buttons
on the company's site. For more on the Dash button, check out the short promotional video below.
[Image credit: Amazon]