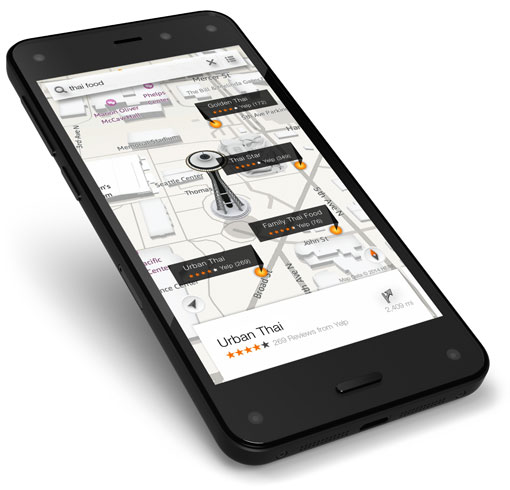 Amazon's Fire Phone just may be the smartest smartphone ever, thanks to two revolutionary technologies: Firefly, which can identify things by sight and sound, and Dynamic Perspective, which lets you access more features and content in apps by swiveling and tilting the phone.
Firefly can ID movies, music, household items and more

Press-and-hold the dedicated Firefly button and the Fire Phone's rear camera will capture and identify text, including phone numbers and email addresses, QR codes, and hundreds of millions of objects. Firefly also recognizes music, TV shows and movies. Once identified, Firefly will link you to either information, such as actors or plot details in a movie, or shopping sources.
Firefly was built to deal with less-than-ideal shooting conditions, such as reflections, glare, wrinkles, curves and shooting off-angle. For text, Firefly employs "semantic boosting" to intelligently decipher potentially garbled data.
Dynamic Perspective makes accessing info easy

Perhaps more wow and less functional than Firefly, Dynamic Perspective uses four invisible infrared cameras in the Fire Phone's front corners to locate your head in relation to the screen, then adjusts your viewing angle.
In practical terms, Dynamic Perspective allows true one-handed operation. Similar to Samsung's Smart Scrolling (but without eye control), you'll be able to scroll up and down through Web pages on Fire Phone's browser and Kindle e-books simply by tilting the Fire Phone – the more you tilt, the faster the scroll. Items arrayed on a carousel can be revolved simply by tilting the Fire horizontally.
In maps, you'll get a 3D perspective and can view sub-layers under pinned locations by tilting the phone. Dynamic Perspective-specific games allow a wider view of the action, as well as additional angles from which to play.
Amazon has opened both Firefly and Dynamic Perspective to developers to create app-specific functions. For instance, the Firefly-enhanced myfitnesspal app can acquire food-specific nutritional info and the wine app Vivino can identify vintages and suggest the right matching foods.
But wait, there's more
In addition to Firefly and Dynamic Perspective, Fire Phone includes dozens of additional smart touches, such as:
A timed silent mode – after silencing your phone, Fire will un-silence itself automatically in three hours
Supplying lyrics to songs in its music app
A dedicated camera button – one tap to access the camera app, a second tap to capture the photo.
Unlimited, free photo and video backup to Amazon's Cloud Drive
Also included on the Fire are a plethora of features ported from the company's Fire HDX tablets, such as Amazon's live video customer service Mayday assistant, Amazon's Miracast-powered Second Screen to fling video to TV through any Miracast device, such as Fire TV, Kindle's X-Ray function, which surfaces content for TV shows and movies you're watching, and instant-start video streaming that's available with ASAP (Advanced Streaming and Prediction).
Fire Phone features
Spec-wise, the Fire Phone competes at the mid to high end. It features a 4.7-inch 1080p HD display protected by the latest scratch-resistant Gorilla Glass 3 and a rubberized frame.
The rear 13MP camera sports a fast f/2.0 lens and has optical image stabilization, and there's a 2.1 MP front-facing camera.
Amazon doesn't skimp on audio. The Fire Phone has dual stereo speakers and Dolby Digital Plus surround sound. You also get flat rubberized tangle-free stereo ear buds with magnetized tip that clasp together when not in use.
For connectivity, there's NFC, WiFi ac and Bluetooth 3.0—not the Bluetooth 4.0 LE, which many of the activity and health monitors require.
And powering the phone is a quad core 2.2 GHz processor with two 2 GB of RAM.
Free year of Amazon Prime
Included with the Fire Phone is year of free Amazon Prime, even if you're already a Prime subscriber, with access to 200,000 Amazon Instant Video movie and TV titles, the company's new one-million-song Amazon Music service, unlimited Amazon Cloud photo storage and free two-day shipping.
Pricing and availability
Fire Phone can be pre-ordered today with availability on July 25. The Fire Phone will be available exclusively for AT&T customers for $199 for the 32 GB version with the usual two-year contract (or $27.09/month using AT&T's 24-month Next program), or $299 for the 64GB model ($31.25/month on the 24-month Next program).
Should you buy it?
There's a lot to love about the new Amazon Fire Phone. It has solid specs, super smart interface and search features, built-in live tech support, fast, easy-to-access camera and year for free Amazon Prime service.
What you're not getting is access to the full Google Play app store, which means you won't be able to get some apps. And, there's no Bluetooth 4.0/LE, which makes the phone incompatible with many activity and health monitoring devices. That's a big, unnecessary flaw that Amazon shouldn't have overlooked.
For new or less savvy smartphone users, the Fire Phone is hands down a great option. More savvy users will want to weigh the conveniences of the Fire Phone against a full access of a regular Android model, like the Samsung Galaxy S 5 or HTC One M8.