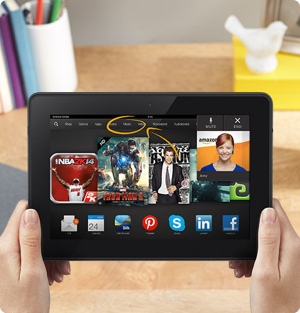 The Amazon Kindle has come a long way from its humble beginnings as a simple e-reader. Today, Amazon announced the third generation of Kindle Fire tablets: the powerful new Kindle Fire HDX 7" and Kindle Fire HDX 8.9" devices.
The headlining new feature on the Kindle is Amazon's new HDX screen, a display the company says goes "beyond HD." The larger HDX 8.9" screen comes in at 339 PPI (2,560 x 1,600), making it one of the highest resolution large-screen tablets on the market. The smaller 7-inch screen shares the same sharp 1,920 x 1,200 resolution (323 PPI) of the competing Nexus 7.
Of course, the new Kindles are more than just a nice screen. Amazon has packed a powerful quad-core 2.2GHz Snapdragon 800 processor inside the HDX models that puts the 1.5GHz processor on the Nexus 7 to shame. You'll also find a faster graphics engine, an 11-hour battery and on the larger HDX 8.9", an 8MP rear-facing camera. None of this weighs the tablets down, though – Amazon claims its HDX 8.9" is the "lightest large-screen tablet" at just 13.2 ounces.
There's one more really cool new feature built in to the HDX line called the Mayday Button. It's essentially a live 24/7/365 help service – kind of like OnStar, but for your tablet. Should something on the new device perplex you (or the person you gift it to), a tap of the new feature will bring up a human Amazon assistant on-screen to work you through it and answer questions. Amazon estimates wait times of 15 seconds to talk to its Mayday personnel, though I expect you'll probably be waiting longer during especially busy times like Christmas morning.
All of the new Android-backed (Fire OS 3.0) Kindle devices are competitively priced and currently available for pre-order. The new Kindle Fire HDX 8.9" starts at $379 and starts shipping October 18. The HDX 7" starts at just $229 and ships on November 7. Both are available in 4G LTE flavors (now on both AT&T and Verizon), though you'll need to wait an extra month and pay an extra $100 for your device. For those looking for a bargain-priced option, Amazon is also offering a basic 7-inch, 1,280 x 800 Kindle Fire HD model for just $139; it starts shipping October 2.