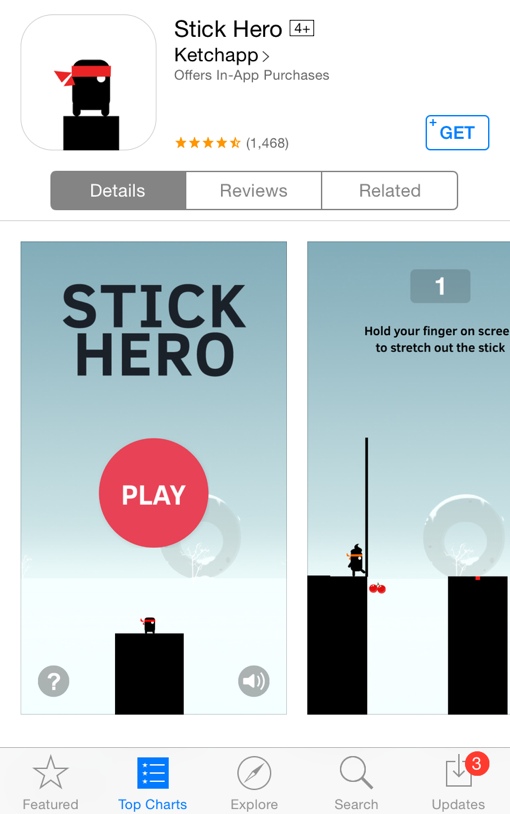 Free smartphone apps are about to disappear from the Apple App Store, at least in name only. The tech giant has now begun labeling free games and apps as "GET" instead of "FREE" in the name of honest advertising. Google agreed to make a similar change in its Google Play store earlier this year.
"Over the last year we made sure any app which enables customers to make in-app purchases is clearly marked," Apple explained in a statement. "We've also created a Kids Section on the App Store with even stronger protections to cover apps designed for children younger than 13."
The change comes at the request of European Union regulators, who have long argued that the use the word "free" is misleading about the true costs of an app. "In-app purchases are a legitimate business model, but it's essential for app-makers to understand and respect EU law while they develop these new business models," explains the European Commission's Neelie Kroes.
Apple has faced a lot of controversy over the way its handled in-app purchasing, and not just over wording semantics. In January, the company reached a $32.5 million settlement with the Federal Trade Commission to reimburse parents for unapproved in-app purchases made by minors. In some cases, children had run up surprise bills of $1,000 or more buying virtual donuts and electronic farm animals to advance further in "free" games. (You can read Techlicious's primer on disabling in-app purchases to prevent such a surprise from happening to you.)
The change probably won't affect the way you use the Apple App Store or change how you obtain and download apps. It does, however, represent a shift toward more honest and responsible mobile purchasing. As the number of available free apps continue to grow and the number of new smartphone owners soars, that's definitely a very good thing.