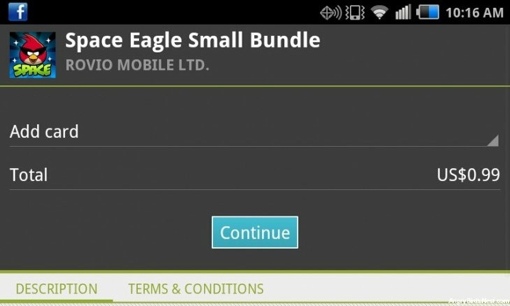 Google, under pressure from regulators in the European Union, has agreed to stop using the word "free" to describe games and apps that contain in-app purchase options, Engadget is reporting.
Many apps offers frustrated players small in-game boosts in exchange for real world currency – players of Angry Birds can skip difficult levels by paying 99 cents, for example. Unfortunately, many of these purchases proved too easy for kids to make without parental permission, leading to surprise credit card bills of $1,000 or more.
Google competitor Apple, meanwhile, has thus far resisted EU efforts to change the way it labels games with in-app purchases. The company has promised, however, to "continue to work with the EC member states to respond to their concerns."
In January, Apple reached an agreement with the U.S. government to refund parents $32.5 million over the lax controls standing between young children and in-app purchases. As part of the settlement, Apple instituted new, stronger parental controls. The company plans even more controls in its iOS 8 operating system, due out later this fall.
Amazon's App Store, popular with owners of Kindle ereaders and tablets, is under similar investigation by the government over its own in-app purchase procedures. Amazon, along with Google and Apple, all get a significant cut of in-app purchases made by game players.