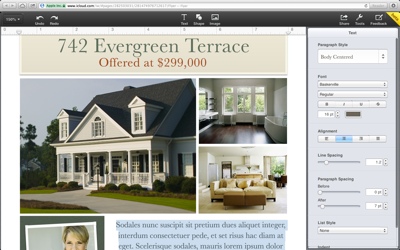 I've always been impressed with the iWork, Apple's answer to Microsoft Office. Pages, Numbers and Keynote provide all the word processing, spreadsheet and presentation functionality I need. And best of all, they do it for a fraction of the price of Microsoft Office.
Now, a good thing is going to get even better: Apple has finally made the iWork suite available in the iCloud. And while it's in its beta, iWork for iCloud is free to try.
The cool thing about iCloud for iWork is that, in theory, you no longer need a home computer to save your word processing programs to. Apple's Pages, Numbers and Keynote can now be accessed from any computer, along with your saved files (so long as you save them to the cloud). Microsoft Office can do this too, but only with a subscription to the $100-per-year Office 365 Home Premium.
Though iWork for iCloud is still in beta, the programs I tried seemed to work flawlessly. Creating and editing a document in Pages online was far easier than working with a document using Office for iPhone. Controls are intuitive enough to get anyone running in seconds, even if you've never used the suite before. Sure, it may lack a few of the bells and whistles found in Office, but 99% of what most of us need to create a document is there.
It's not known yet whether access to iCloud for iWork will be included as a free feature with the purchase of individual iWork programs ($19.99 each on the App Store), whether it'll be free with iCloud, or whether there will be an additional subscription fee required. For now, though, iCloud for iWork is free to all while it's in beta (which should last at least until September). You can give it a try now by signing in to your iCloud.com account with your Apple ID.