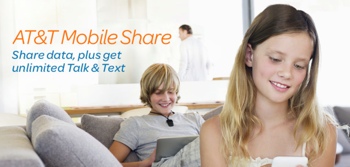 If you're looking to save a few bucks on your phone bill, it may be time to finally give up on the standard 2-year cell phone contract. Carrier AT&T announced today that it will be offering new Mobile Share Value plans offering discounts for passing on new phone subsidies.
"With the 'No Annual Service Contract' options, smartphone customers can save $15 a month on Mobile Share Value plans," the company explained in its official announcement. "Customers can receive these monthly savings when they: Get a new smartphone for no down payment with AT&T Next; bring their own smartphone; purchase a smartphone at full retail price; or when their smartphone is no longer under contract and they switch to the new plans."
AT&T's new plan creates a single data allowance pool for your entire family to share. Prices start at $45 per month for unlimited talk, unlimited text and 300MB of data; $80 buys a more reasonable 2GB data allowance pool. (Similar plans at Verizon would cost $80 and $100, respectively.) Additional phone lines can be added for $20 per month each.
With prices for mobile phones continuing to plummet – I love the $349 Nexus 5, and the Motorola Moto G smartphone is $179 off-contract – going contract-free has never been more alluring. And unlike its lower-cost competition, Consumer Reports does give AT&T decent marks this year, praising its 4G data coverage.
AT&T's new Mobile Share Value plans go into effect December 8. To learn more about them, visit att.com/mobilesharevalue/.