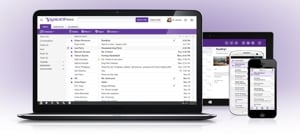 Do you still have a Yahoo! email account? Last week, the company shut down the classic version of Yahoo Mail, forcing customers to upgrade to the new Yahoo mail. And in doing so, you'll be required to consent to allowing the company to scan your personal communications for words and phrases that allow it to better target you with advertisements.
Of course, this type of context-based advertising is nothing new for the industry. Google has been looking through your inbox to suggest these types of ads for years. Only Outlook.com (formerly Hotmail) remains as a free, scan-free alternative – though the service offers advertisements, it doesn't read your individual emails to target the ads to you.
If you don't want to give Yahoo consent to scan your emails, you don't have much recourse at the moment. You can turn off context-based advertising using the company's Ad Interest Manager, but there's no way to turn off the scan. For those who don't want to use the new Yahoo Mail, the company offers two options: Either download your email using an IMAP program (like Mail) or close your account. Those who are paying for Yahoo's premium Mail Plus service can request a prorated refund.
The reality of the Internet is that nothing on it is really free – everything is supported by advertisements. And, of course, the more effective those advertisements are, the more money companies make and the more ad-supported services those companies will be able to offer.