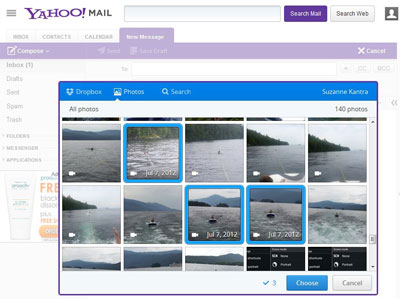 Sending large attachments by email has always been a hassle, since e-mail providers put highly restrictive limits on the size of files you can send. It's a significant problem begging for a solution – and it's about to get one.
Popular e-mail provider Yahoo! Mail announced a partnership with cloud-based file storage service Dropbox to dramatically boost the allowable size of e-mail attachments. Files under 25MB are still sent the traditional way; files over 25MB get sent to a dedicated, personal Dropbox account. The email recipient will then get a link to the file in their inbox, instead of the file itself.
Techlicious tested out the new feature today, and I'm happy to report that it works simply and elegantly. You can choose from a list view for all file types or browse just your photos and videos. If it's your first time trying to send a large file, Yahoo! Mail will prompt you to create a Dropbox account. Once the two accounts are linked (it literally took 15 seconds), large files will be sent automatically through Dropbox.
Yahoo! Mail and Dropbox both offer free accounts, so you can use them without having to get out your credit card. New Dropbox users are given 2GB of free space to start; those willing to pay for the privilege can boost that to a seemingly infinite 1TB. You can learn more about Dropbox and its competitors by reading Techlicious's guide to cloud storage services.